Tucker Carlson Says Joe Rogan Was Treated 'Like a War Criminal' Over Vaccine Comments
Tucker Carlson defended podcast host Joe Rogan against criticism of his suggestion that young people should avoid COVID-19 vaccines almost a week after Rogan insisted that he was "not anti-vaccine" while calling himself a "moron."
Carlson said that Rogan had been treated "like a war criminal" handing out the questionable medical advice on the Wednesday night edition of his Fox News opinion show Tucker Carlson Tonight. Rogan contradicted public health experts by insisting that COVID-19 vaccines were not needed "if you're a healthy person" who is "exercising all the time" and "eating well" during an April 23 episode of The Joe Rogan Experience.
"Famously, when podcaster Joe Rogan asked whether healthy young people ought to be getting the COVID vaccine, the media treated him like a war criminal," Carlson said on Wednesday before playing several clips of other cable news hosts saying that Rogan's remarks could fuel anti-vaccine conspiracy theories.
"Almost everything we just heard was a lie that obscured a very simple and potentially relevant question that he asked, which is should healthy young people receive the vaccine?" Carlson continued. "Why not rationally weigh the risk-reward ratio, as we do with every decision that we make? For that, he was denounced as an anti-vaxxer kook, a danger to public safety."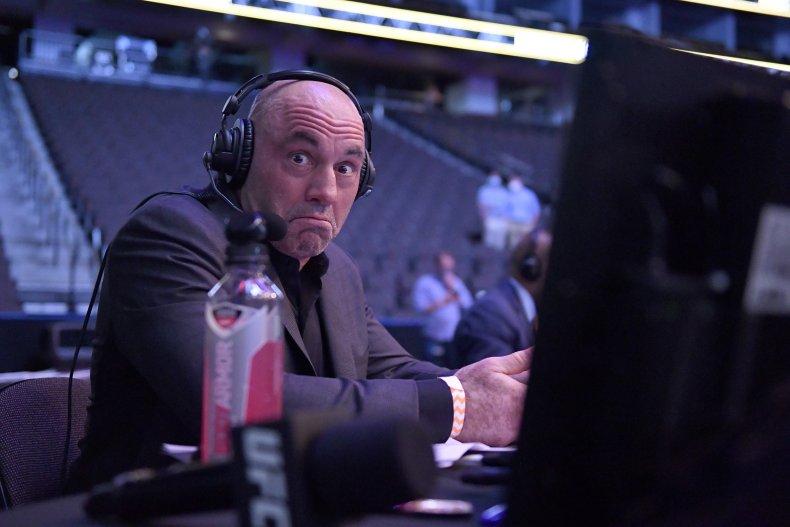 On an episode of The Joe Rogan Experience last Thursday, Rogan admitted that he was "not a respected source of information" while telling those who take his advice, "I'm not a doctor, I'm a f***ing moron." However, he continued to maintain that healthy young people do not "need" to be vaccinated.
"I'm not an anti-vaxx person," Rogan said. "I said I believe they're safe and I encourage many people to take them. My parents were vaccinated. I just said that if you're a young, healthy person that you don't need it."
The Centers for Disease Control and Prevention and most reputable public health experts agree that young people should be vaccinated against COVID-19 as soon as possible. In addition to mitigating serious risks to personal health, which are reduced but still exist for young people who catch the virus, widespread vaccinations could help limit the virus spreading and hasten the end of the continuing pandemic.
In May 2020, Rogan signed deal reportedly worth $100 million with Spotify to host his wildly popular podcast, which was the streaming service's top podcast last year. His time on Spotify has been marked by controversy.
Prior to Rogan's comments on vaccines, the platform deleted at least 42 past episodes featuring controversial guests, while a September 2020 interview with far-right conspiracy theorist Alex Jones sparked calls to boycott Spotify.
Newsweek reached out to Rogan's publicist for comment.