Tucker Carlson Slams Ilhan Omar After Lawmaker Speaks Out About President Trump's New Immigration Proposal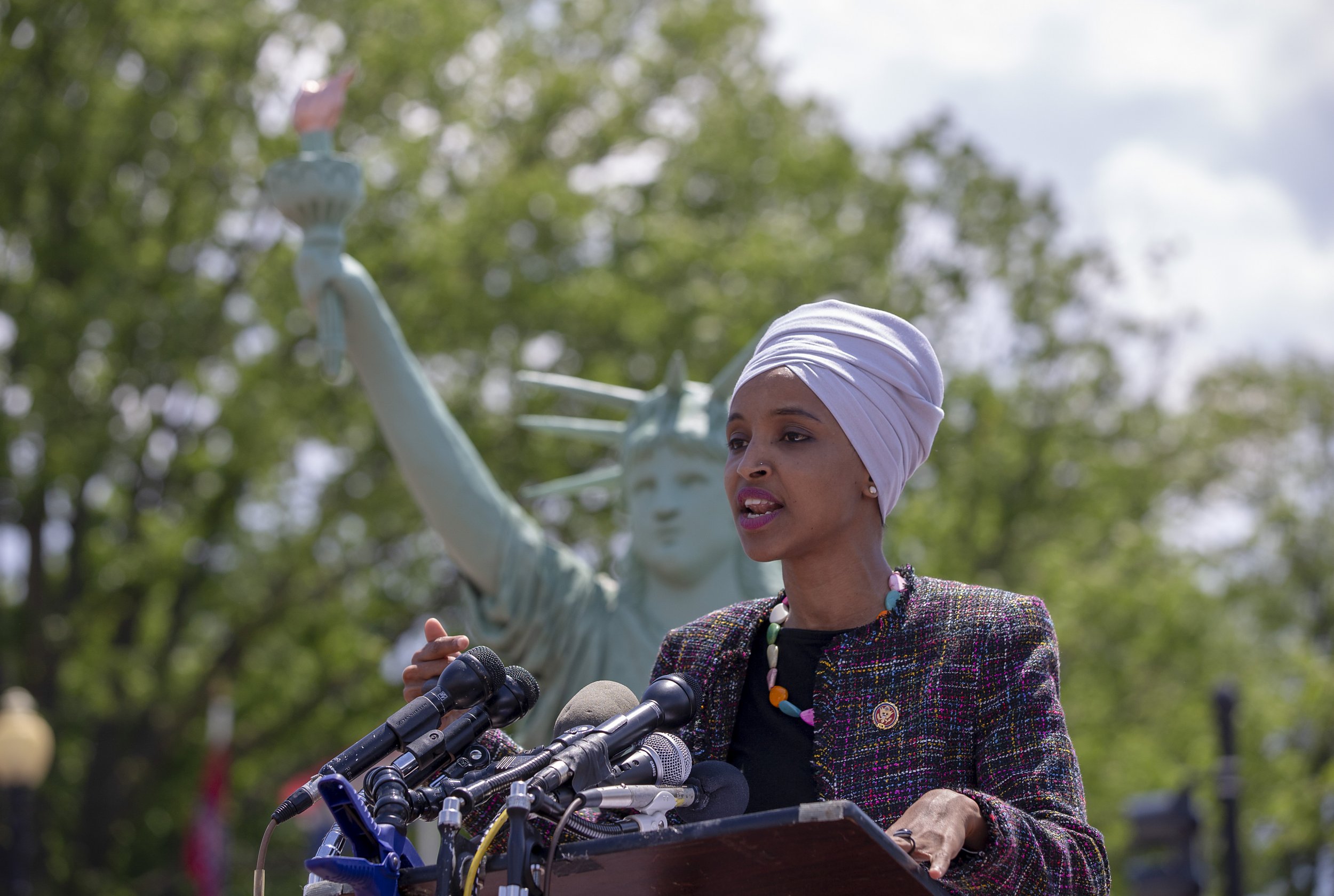 Tucker Carlson launched another tirade against Rep. Ilhan Omar during his Fox News show Friday, railing against the Somali-born lawmaker's opposition to Trump's new immigration proposal and slamming her as "a symbol of American's failed immigration system."
"Congresswoman Ilhan Omar, herself a symbol of America's failed immigration system if there ever was one, someone who hates this country coming here at public expense, spent yesterday demanding the abolition of ICE, the decriminalization of illegal immigration itself, and an end to all deportation programs," he opined.
His tirade against the Minnesota representative, who made history in 2018 as one of the first Muslim women elected to Congress, came during a segment focusing on the mounting backlash to President Donald Trump's immigration proposal, unveiled Thursday.
Crafted by Trump son-in-law Jared Kushner, the proposal includes a point scale that prioritizes highly-skilled workers who pass civic exams and learn English over immigrants who have family connections to the U.S.
As many on both sides of the aisle noted, the policy leaves many questions unanswered, including how it would affect undocumented immigrants currently in the U.S. and how it would differentiate between credible and non-credible asylum claims.
Omar raised those points during a Thursday speech for the unveiling of a Statue of Liberty replica at Union Station in Washington, D.C.
"Trump's immigration plan would have a devastating effect on millions around the world who, like me, have dreams of coming to this land of opportunity," she said. "Our nation should be a beacon of hope to the world. We should be welcoming immigrants, not treating them like criminals."
It's hardly the first time Carlson has directed his ire at Omar specifically. In April, he accused the lawmaker of being "ungrateful" for her success in the U.S, and he was also one of her leading critics after she made comments that many said invoked anti-Semitic tropes.
"So how does she repay her adopted country, the one that may literally have saved her life? She attacks it as hateful and racist," Carlson said in an April segment, focusing on an interview Omar gave to Vogue Arabia in which she described her experiences with racism.
The Fox News host, whose broadcast regularly reaches more than 2.5 million viewers, has so far weathered backlash to his insensitive comments.
In March, a longstanding boycott campaign directed at his advertisers picked up steam after a left-wing organization resurfaced offensive calls he made to a shock-jock radio show between 2006 and 2011. The deep dive revealed recordings of Carlson calling women "primitive" and describing Iraq as "a crappy place filled" with "semiliterate primitive monkeys."
Rather than suffer, his ratings reportedly jumped following the revelations.