Tucker Carlson Says 'Stupid People' Are Trying To Get Fox News off the Air
Tucker Carlson has said that "stupid" people are trying to get Fox News taken off the air.
The reactionary pundit railed against a recent Washington Post column that claimed the network is a "hazard to our democracy" following the insurrection at the Capitol in Washington D.C. on January 6.
Columnist Margaret Sullivan wrote that "citizens who care about the truth" should pressure Fox's advertisers.
"Their new idea is this channel shouldn't be allowed," Carlson raged on Monday night. "They're not arguing that Fox News is inaccurate and dishonest and you shouldn't watch it, they are arguing that you shouldn't be able to watch Fox News because Fox should be eliminated by force."
Referring to competitor CNN, Carlson mocked the cable news network and said they're arguing "allowing people to watch what they want to watch on TV is a massive threat to democracy."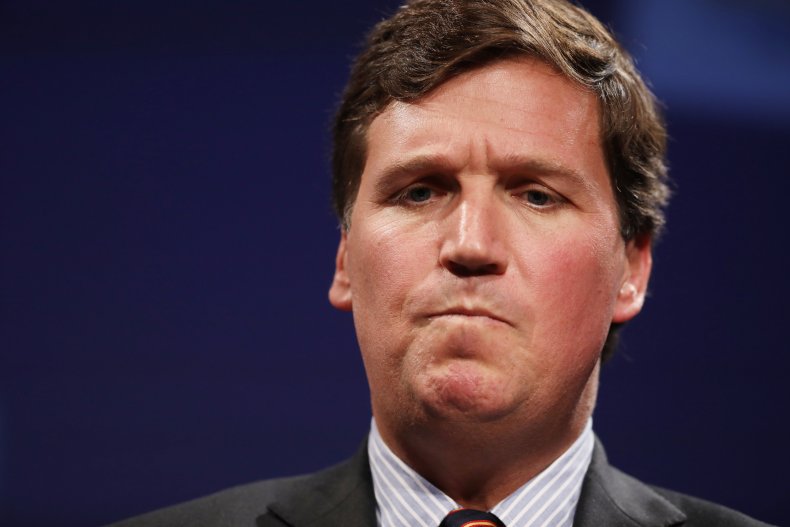 Carlson then referenced another Post column by Max Boot (titled "Trump couldn't have incited sedition without the help of Fox News") and remarked: "These people are stupid. Of course, they're stupid, that's why our country's in trouble. Because the people who run our country can't find their butts with both hands. Max Boot has no choice but to work at the Washington Post. No self-respecting landscaping company would have Max Boot."
Elsewhere, Carlson even quoted media tycoon Rupert Murdoch, who at the weekend, complained of "awful woke orthodoxy" in regards to the conservative trend of complaining to have been silenced.
"For those of us in media, there's a real challenge to confront: a wave of censorship that seeks to silence conversation, to stifle debate, and ultimately stop individuals and societies from realizing their potential," Murdoch said while accepting a lifetime achievement award from the Australia Day Foundation.
Carlson echoed those remarks made by the Fox founder, telling his viewers: "We don't quote our boss on this show very often—ever, actually—but that is exactly right. Awful woke orthodoxy is precisely what this is."
Carlson's rant comes as major Fox news advertiser MyPillow is being dropped by several retailers.
A petition demanding more major retailers stop selling MyPillow products due to CEO Mike Lindell's continuing support of Donald Trump has also gained tens of thousands of signatures.
Earlier this month, late-night host Seth Meyers has brutally mocked Carlson, deeming the Fox News anchor "whiny and hysterical" for his rant about Trump supporters facing consequences for their involvement in the riot at Capitol Hill.
Mimicking Carlson's tendency to describe hypothetical situations to try to prove his point, Meyers went on a bizarre and lengthy spiel—and whined about stealing shrimp as part of the gag.
"Republicans have responded by doing what they do best: making themselves the victims," Meyers said