Fox News's Tucker Carlson, White Man, Says He Gets Racism, Oppression Because He's American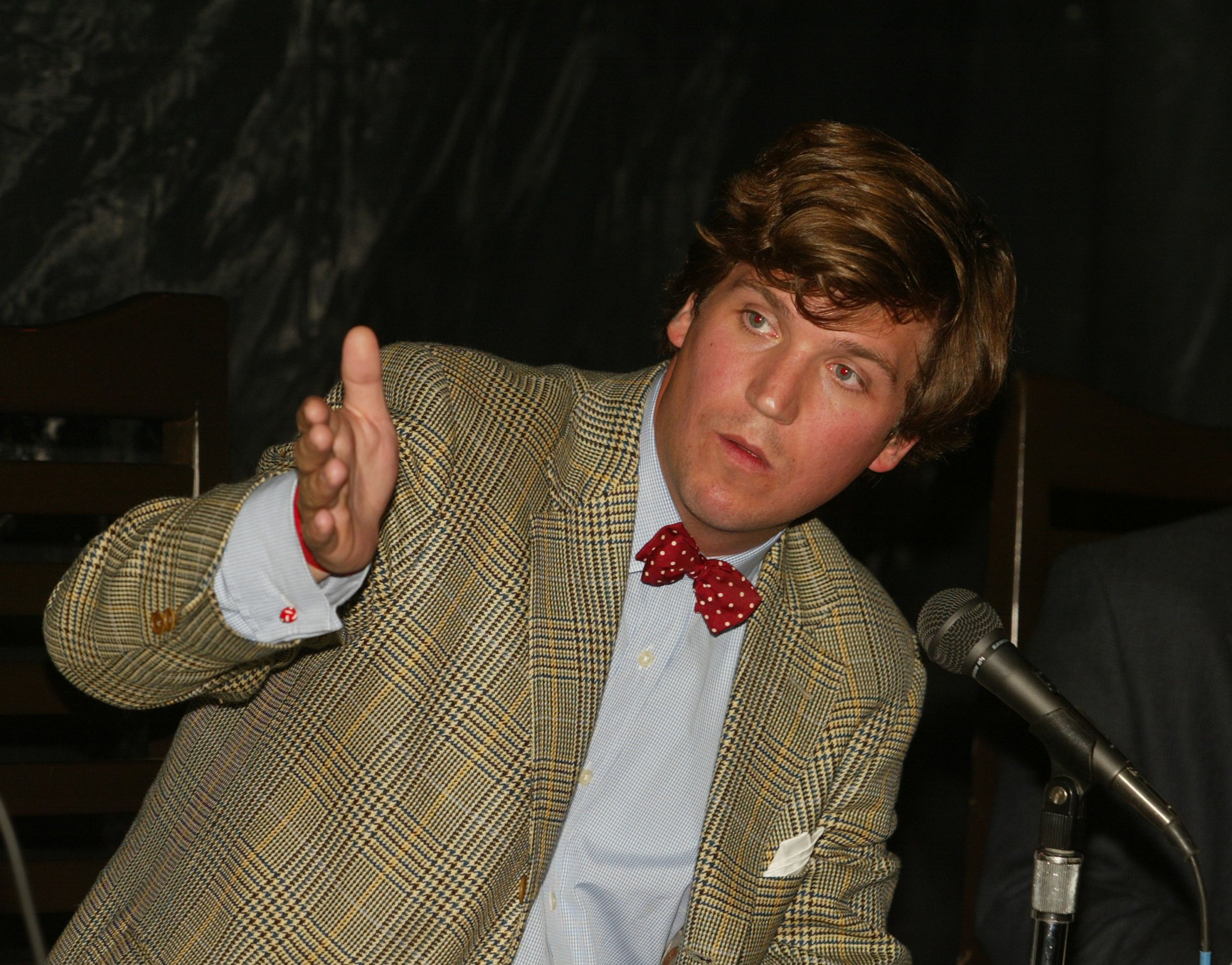 Fox News host Tucker Carlson, who is white, told a black guest on his television show Wednesday night that he truly understands racism and oppression for African-Americans. How? Because he's an American, Carlson claimed.
Carlson welcomed Wednesday to the show former NFL player Freddie Mitchell, best known for his miracle 4th and 26 catch and his colorful self-given nicknames, such as Fred-Ex (because he always delivers). Carlson and Mitchell discussed football players kneeling during the national anthem to protest the oppression of black people in the U.S. The Fox host raged against a team of 8-year-old football players who recently kneeled during the anthem, condoning the parents for apparently signaling to the kids that "America is illegitimate."
"And what does that mean for our future?" Carlson said in a clip surfaced by the liberal group Media Matters for America. "These kids are the future, just like those loopy college kids you see on the show once in a while. What's this country going to be like in 30 years, when they're in control and have been taught all this nonsense? It's terrifying."
Carlson then introduced the former wide receiver and said while he supports freedom of protest and would listen to arguments against police brutality, kneeling during the anthem was an attack on a symbol of America.
"The oppression that African-Americans and other races are getting in America, it's bad," Mitchell responded. "And I think America can be, it can be great again if you stop the racial profiling, if you stop a lot of things that's happening in America. We can both stand now."
Carlson responded: "It just seems like an overstatement. I understand people are upset about specific cases where people are killed by the police."
"But Tucker, you could never understand. You could never understand. You don't live it," Mitchell said.
"Well, actually I can understand cause I am an American, OK, whatever," Carlson claimed.
Mitchell attempted to interject, but Carlson spoke over him, bristling at the notion that he wasn't able to understand the oppression of black Americans.
"Hey, slow down," Carlson said. "I'm an American, and I have... Don't pull that crap on me."
Mitchell told him it wasn't crap, and the Fox host told him he understood "some things are upsetting."
"You can understand that, but I live it though," Mitchell said.
The Illinois pee-wee football team seemed to be copying the protest of Colin Kaepernick, a black NFL quarterback who kneeled during the anthem last year and has since not been able to find a new job in the league. The coach of the team, Orlando Gooden, told local station KTVI that some of the kids had asked about protests in St. Louis and Kaepernick's kneeling, then asked if they could do the same thing.
"I felt like it was a good teaching moment for me to circle the team and have a meeting," Gooden told the station.
Carlson has, in the recent past, waded into murky waters on the subject of race in America. He defended President Donald Trump's stance that both sides (Nazis and counterprotesters) were to blame for violence during the deadly white supremacist march to defend a Robert E. Lee statue in Virginia in August.
"The point, however, is that if we are going to judge the past by the standards of the present, if we're going to reduce a person's life to the single worst thing he ever participated in, we had better be prepared for the consequences of that," Carlson said.