Watch Fox News Anchor Tucker Carlson Defend Trump on Charlottesville in Bizarre Slavery Segment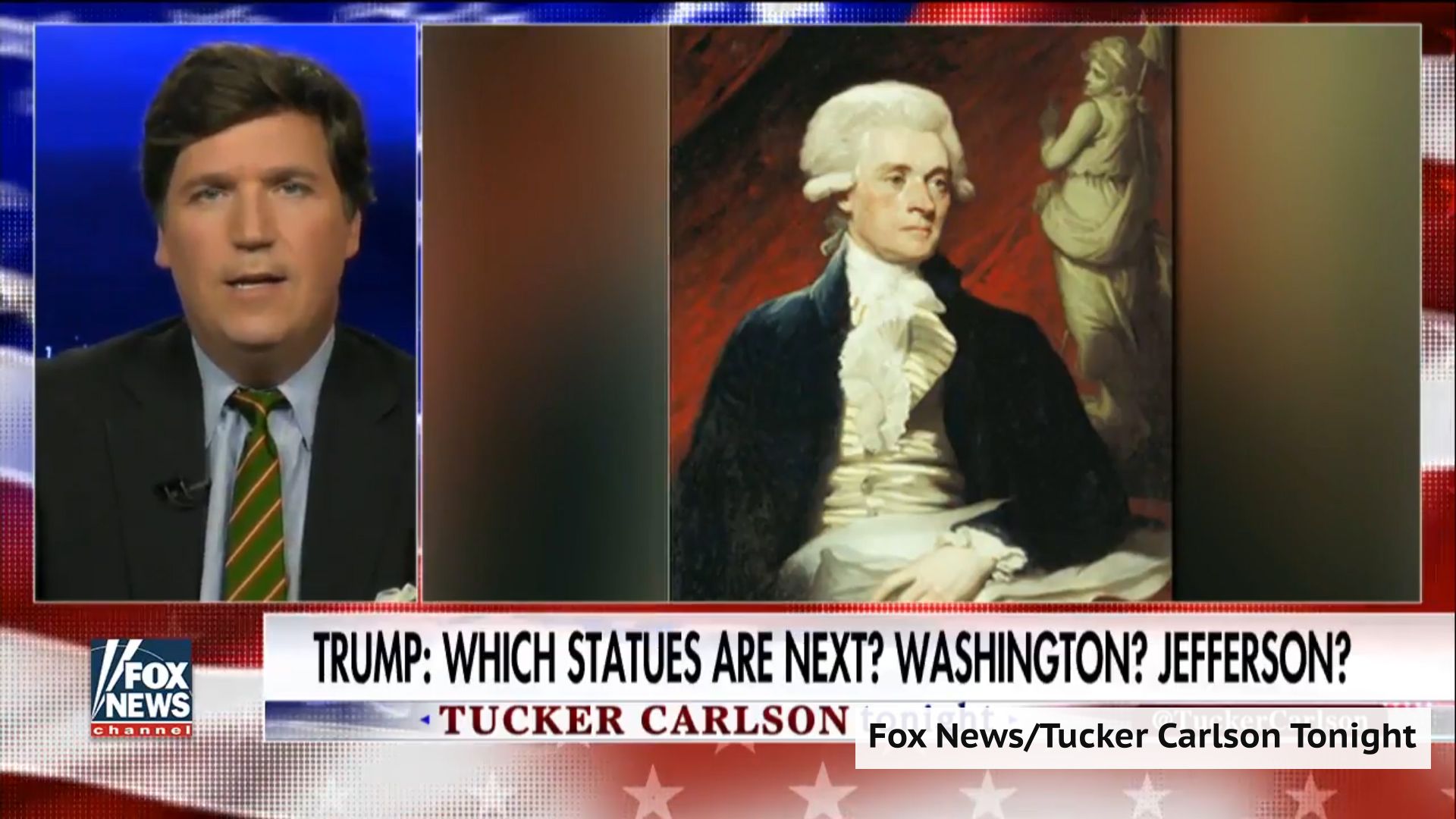 With a furore swirling around the White House and Donald Trump over the handling of the response to last weekend's white nationalist rally in Charlottesville, Fox News has come to the president's defense, backing his claims that "both sides" were to blame for the deadly violence in Virginia.
On his show, anchor Tucker Carlson attacked the left and the anti-fascist protestors at Charlottesville, failing to condemn the alt-right or neo-Nazi protesters involved in the rally. Then in a bizarre segment on slavery, Carlson listed good people who had owned slaves—Plato, the Aztecs and Thomas Jefferson—using their example as a reason to keep confederate, civil-war era statues standing.
Read more: Conservatives Say Rainbow Flags Are Just as Oppressive as Confederate Statues
The removal of the statue of Confederate General Robert E. Lee from Charlottesville was central to the newscaster's concerns. He seized on the president's statements yesterday that appeared to defend those protesting the dismantling.
"They were there to protest the taking down of the statue of Robert E. Lee," Trump said in a press conference yesterday. "This week it's Robert E. Lee. I noticed that Stonewall Jackson is coming down. I wonder is it George Washington next week and is it Thomas Jefferson the week after? You know, you really do have to ask yourself, where does it stop?"
Carlson agreed. "Watch out, Abraham Lincoln, you're next," he said, according to the Daily Beast, explaining that, as the president had said, George Washington and Thomas Jefferson could come down if unchecked liberals had their way.
"To be clear, as if it's necessary, slavery is evil," the Fox presenter said in one of a series of caveats as he explained he wasn't defending the "atrocity of human bondage" before adding slavery was the "the rule, rather than the exception around the world" 150 years ago.
Carlson warned that judging the past by the standards of the present could have unintended consequences. "The point, however, is that if we are going to judge the past by the standards of the present, if we're going to reduce a person's life to the single worst thing he ever participated in, we had better be prepared for the consequences of that," he said.
In the latter portion of the show Carlson once again equated the actions of white nationalists with anti-fascist protesters. "One of the things I don't like about some of these white supremacist groups is that race is at the center of their world view," Carlson said. "But I see the same on the left," he added. "I see people with signs attacking white supremacy—it's always about race for them as well," he added.