Tucker Carlson Tells Guest With Green Card: You're In The U.S. Illegally
Fox News host Tucker Carlson hit out at one of the guests on his show—telling him he is in the country illegally and suggesting he could have him deported.
For a debate on immigration, Carlson hosted guest Cesar Vargas, a DACA recipient who entered the country without documentation as a child and fought for four years to become a lawyer and eventually secure a green card.
The pair were discussing the Philadelphia mayor's recent decision to end an information-sharing agreement with Immigration and Customs Enforcement (ICE) when things got heated—and personal.
Vargas, who explained that ICE would still have access to information about violent criminals under the new rules in Philadelphia, found his own immigration status under discussion during the Monday night debate with Carlson.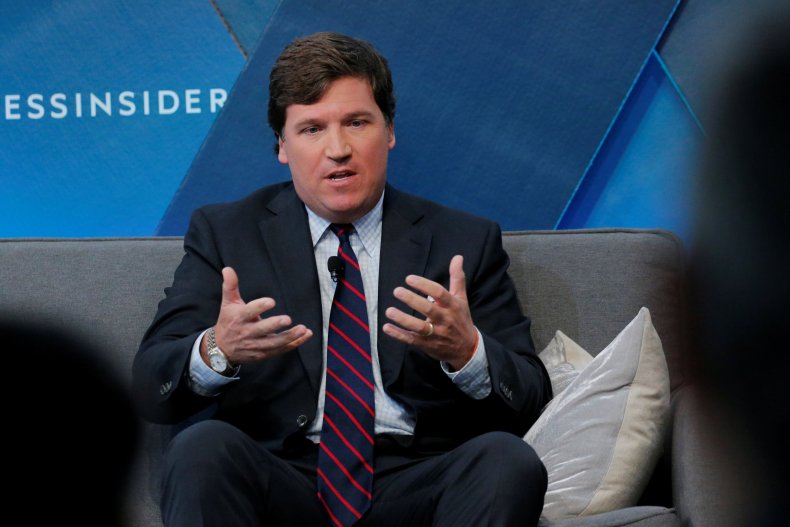 Vargas suggested (correctly) that President Donald Trump had not in fact won the popular vote, despite winning the Electoral College vote. "As an American, let me explain our system to you—I know that you're here illegally," Carlson said in response.
"Don't hit me with the race crap" said Carlson when Vargas pointed out that the land in the country had once been mainly owned by white people.
"You're here illegally!" Carlson repeated. "I must say, I don't know what 'chutzpah' is in Spanish but for you sitting here illegally, and we're not reporting you or having you like, taken out by force."
Vargas then interrupted Carlson to say: "You know what actually, I do have a green card now," to which Carlson appeared surprised and then responded: "Mazel tov."
After questioning why non-Americans should be able to benefit from the perks of the country, which Carlson said was built by Americans, the conversation between the pair continued to reference Vargas' immigration status.
They discussed whether or not universal healthcare should be available to people who are in the country illegally, with Carlson once again lashing out when his guest suggested: "We all are American."
"No, you're not actually, you're a Mexican citizen I believe," Carlson responded.
"A Mexican American, and that's the pride of this great nation," Vargas responded, to which Carlson hit back: "You know what you are—you're bold I will say that, I kind of admire it in a way."