Tucker Carlson's Testicle Tanning 'Very Misleading,' Health Experts Say
Claims made about "testicle tanning" in a clip promoting Tucker Carlson Originals: The End of Men have been branded as "misleading" by health experts.
In a viral clip about the Fox Nation episode, Carlson spoke to Andrew McGovern—billed as a "fitness professional"—about supposed ways men could increase their testosterone levels.
McGovern, who is listed on LinkedIn as a personal trainer at LifeTime Inc., in Columbus, Ohio, suggested men could improve their testosterone levels by exposing themselves to red light therapy.
The Cleveland Clinic describes red light therapy as "an emerging treatment showing promise" in improving wound healing and acne, as well as reducing stretch marks and other common skin conditions.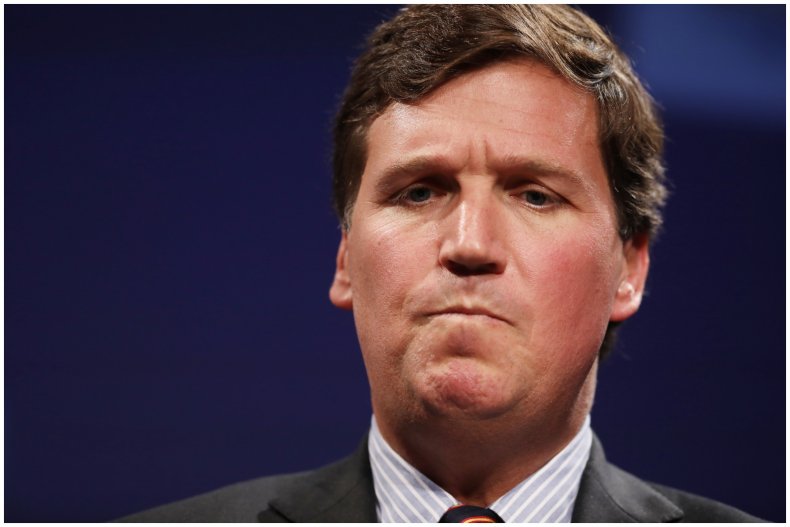 In a viral Twitter clip, seen by some 3.5 million people since being shared on April 17, Carlson described the treatment as "testicle tanning" and said while it sounds "crazy," so is ignoring the "crash" of testosterone levels.
Since being shared online, the segment and, special as a whole, have been ruthlessly mocked online by users as well as by celebrities, including singer Kid Rock.
But health experts told Newsweek the claims made in the viral clip would not help men learn more about testosterone.
When asked whether viewers would find benefit in watching the video, Dr. Shanna Swan of New York's Icahn School of Medicine at Mount Sinai and author of Count Down, a 2017 book about the declining sperm count among men, said: "Not at all. That clip is very misleading."
Urologist Petar Bajic, MD, at the Cleveland Clinic's Glickman Urological and Kidney Institute, in Ohio, went further and told Newsweek that men considering red light therapy to enhance their testosterone levels would be wasting their money.
Dr. Bajic said: "The bottom line about red light therapy for low testosterone is that there is no evidence to support its use and no psychological basis for how it might even work because light wouldn't penetrate the skin to enter the testicles.
"Some folks have suggested a mechanism involving victim D, but for men with normal vitamin D, there's no evidence that making that level higher with light therapy has any impact on testosterone levels. This technology is not FDA approved for low testosterone and this means it has not been proven to be safe or effective for improving testosterone."
"I'd say to any man considering this treatment, it's not only a waste of time, but also a waste of money. There are a number of safe and effective treatments for low testosterone which are all covered by insurance for men who have this condition."
He added: "There's a lot of misleading information out there. I encourage everyone to be critical, come and see a reliable source, like a doctor, do your research from a reliable source, stick to what's been proven by the test of time."
Newsweek has contacted Fox News and LifeTime Inc. for comment.
The alleged decline in testosterone levels over recent decades has become an obsessive topic among some men online, with hundreds of articles and YouTube videos being made about the subject.
Swan told Newsweek there are few studies on the trends in male hormone levels, but noted a March 2022 University of Southern Denmark study found "a secular decline in testosterone has been observed."
She added the supporting data was "mostly European" and that a 2009 Travison study found testosterone decline in older American men.
Swan said the fall appeared to parallel declines in sperm count and that there was "good agreement" that obesity, lack of exercise and "binge drinking" played a role in both trends as well as the presence of chemicals, called anti-androgens, that can lower the body's testosterone.
Anti-androgens are found in food, personal care products and household products, according to Swan.
People who have low testosterone levels can suffer low libido, erectile dysfunction, less muscle mass and poor semen quality.
Concerns about male hormone levels could lead men to examine their diet or consider testosterone replacement therapy, to improve these symptoms.
Swan said while "exercise and other healthy behaviors may increase" the rates of the male hormone, "testosterone replacement therapy is risky and surprisingly, may decrease sperm count and quality."
She also told Newsweek that "food packaging and preparation may interfere with hormone levels" and that some foods "like meats and fatty foods have exogenous hormones and nutrients that may have effects on hormone levels."
She instead recommended that anyone who is concerned about their testosterone levels see an endocrinologist.