Tucker Carlson Urges Anti-Vaxxer Alex Berenson to Sue Twitter Over Ban, Says He'll Fund It
Fox News host Tucker Carlson has offered to help pay legal fees for anti-vaccination activist Alex Berenson to sue Twitter over being banned from the platform.
Berenson, a former New York Times reporter who was dubbed "the pandemic's wrongest man" by The Atlantic earlier this year, was permanently banned from Twitter on Saturday for spreading misinformation about COVID-19. After Berenson detailed his grievances during a Monday appearance on Tucker Carlson Tonight, Carlson urged his guest to take legal action against the social media giant.
"I hope you sue the crap out of these totalitarians, I really do," Carlson said. "And if you do, I hope you come back and tell us how we can, you know, buy popcorn and watch."
Berenson responded to Carlson by insisting that "it's more than that, Tucker, people want to be part of this, they want to fund this lawsuit, it's been amazing to me."
"Yeah, I want to fund it," replied Carlson. "I do. I mean that."
Newsweek reached out to Fox News for comment.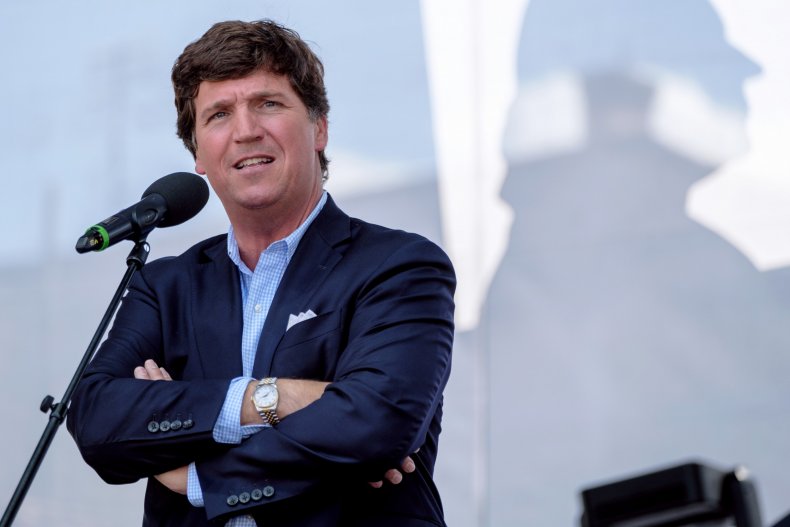 Berenson was banned from Twitter not long after tweeting that the COVID-19 vaccine "doesn't stop infection or transmission" and falsely claiming that the vaccine is better described as "a therapeutic with a limited window of efficacy and terrible side effect profile that must be dosed in advance of illness."
A Twitter spokesperson told Newsweek that Berenson's account was "permanently suspended for repeated violations of our COVID-19 misinformation rules." In several tweets now deleted as a result of the ban, Berenson claimed that the vaccines suppress immune systems, cause increases in serious illness and may be worse than contracting COVID-19 itself for those who are not elderly.
Berenson also claimed that surgical face masks do not work to reduce the spread of the virus and incorrectly predicted that COVID-19 deaths would not reach 500,000 in the U.S. by spring—actual deaths easily exceeded 500,000 by spring and the current American death toll is more than 637,000, according to Johns Hopkins University.
Berenson told Newsweek that his Twitter ban meant that he had been "censored" and that society had "reached a dangerous moment." He insisted that his reporting "has been proven accurate over and over" and urged followers to read his Substack newsletter.
"Social media companies that have audiences which dwarf any other are now actively censoring reporters at the behest of governments," Berenson said. "I will continue to fight to get out the truth and am considering all legal options."
In his Substack newsletter on Monday, Berenson wrote that he was considering a lawsuit that could include "First Amendment issues, contract law, and drug/vaccine law." He wrote that a number of unidentified "very wealthy people have offered to help" him pursue legal action.
Less than an hour after his Twitter account was banned, Berenson attempted to circumvent the ban by posting to a different account that had "definitely not Alex Berenson" as its bio, according to The Daily Beast. The second account was also suspended as of Monday.