Tucker Carlson Says Zelensky Should be Audited Before Ukraine Given Aid
Fox News' Tucker Carlson argued that Ukraine President Volodymyr Zelensky should be audited before the U.S. commits to aid.
On Carlson's Thursday night show the host highlighted a report from CNN that said the U.S. can not adequately track the weaponry it sends to Ukraine to fight against the Russians.
He also played a snippet from U.S. President Joe Biden's speech on Thursday where he committed to sending $800 million in military aid.
A clip of Carlson calling for the audit has also begun to go viral on Twitter with over 120,000 views.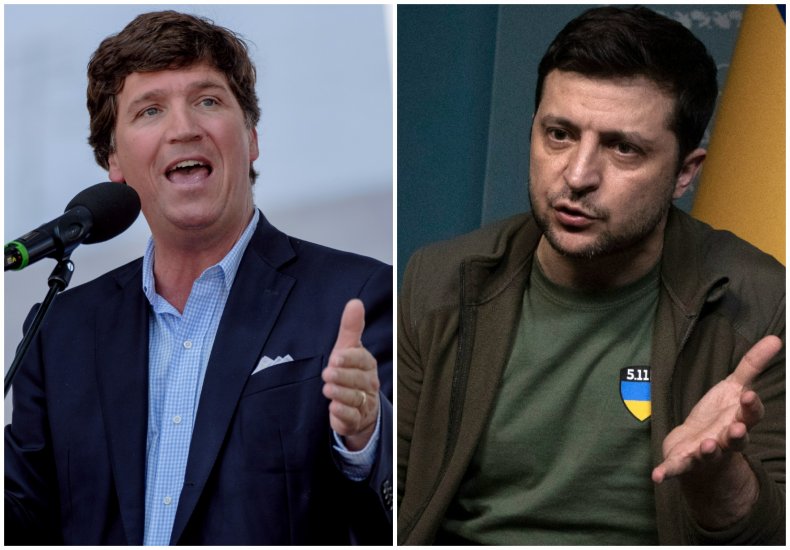 "Inflation is higher than it's been in generations, maybe than it has been ever, depending on how you measure it," Carlson said.
"So Joe Biden's response is that he is going to print a lot more money and send it to the Government of Ukraine."
He then played a clip of Biden outlining what military weaponry the U.S. would be sending Ukraine.
Tucker then played a clip of a CNN report which reflected on the amount of ammunition needed in Ukraine. The Fox News host also pointed to a report that the U.S. doesn't know where the military equipment ends up in Ukraine.
"We have fidelity for a short time, but when it enters the fog of war, we have almost zero," said one source briefed on US intelligence, according to the CNN report.
"It drops into a big black hole, and you have almost no sense of it at all after a short period of time."
Carlson continued to highlight the money that U.S. is sending to help Ukraine fight back against Russia's invasion.
"The White House has sent more than a billion dollars to Ukraine in just the past week and then today, as we told you, the Secretary of the Treasury announced that they sent half a billion to pay the salaries of Ukraine government workers," Carlson said.
"Shouldn't we have an audit of Zelensky's finances first?" Speaking mockingly, Tucker continued: "'Ooo shut up, that is Russian disinformation."
During his speech on Thursday, Biden reaffirmed that the U.S. would continue to support Ukraine as it fought Russia. He also said the U.S. is working with allies to provide assistance to Ukraine as soon as possible in order to further isolate Russia from the world stage.
"We don't know how long this war will last. But as we approach the two-month mark, here's what we do know: Putin has failed to achieve his grand ambitions on the battlefield," Biden said.
"Putin is banking on us losing interest. He's betting our Western unity will crack. He's still betting on that, and once again we're going to prove him wrong. We will not lessen our resolve."
Newsweek has contacted Fox News for comment.