Tulane Student GOP Leader Says Hunter Biden Speaking at Media Class Appeals to University's Liberal Core
While news of Hunter Biden entering the world of academia drew controversy Wednesday, student leaders of political groups at Tulane University in New Orleans where Biden will be guest speaking aren't that shocked.
President Joe Biden's son is set to make a guest speaking appearance this fall in the university's 10-week course entitled "Media Polarization and Public Policy Impacts" where he will speak about fake news and its polarizing effect on politics.
Biden will be one among other guest speakers during the virtual course, which is new for the fall semester and will be co-taught by Andrew Schwartz, the chief communications officer for the Center for Strategic and International Studies, a bipartisan think tank. The class will examine the current media landscape in the United States.
Other high-profile guest speakers scheduled include Dr. Deborah Birx, White House coronavirus response coordinator under former President Donald Trump; Susan Glasser, New Yorker columnist; Margaret Sullivan, Washington Post columnist; and Juan Williams, Fox News political analyst.
Hunter Biden had been the target of intense criticism by former President Donald Trump and his Republican supporters over the younger Biden's foreign business dealings including his work for the Ukrainian energy company Burisma—during the period when his father served as vice president under former President Barack Obama. The Bidens have denied allegations of wrongdoing.
Most recently, Hunter Biden published a memoir, Beautiful Things.
Carson Meeves, president of the school's College Republicans group, told Newsweek that Biden proves an interesting guest for the class about media polarization because he himself is such a polarizing figure.
"It's interesting because I know that Tulane often does a lot of these things for attention – this appeals to what I would argue is the liberal core of the university," said Meeves, a Tulane graduate in political science who is now pursuing a master's degree in history at the school. "Also it's a catch and draws eyes to Tulane."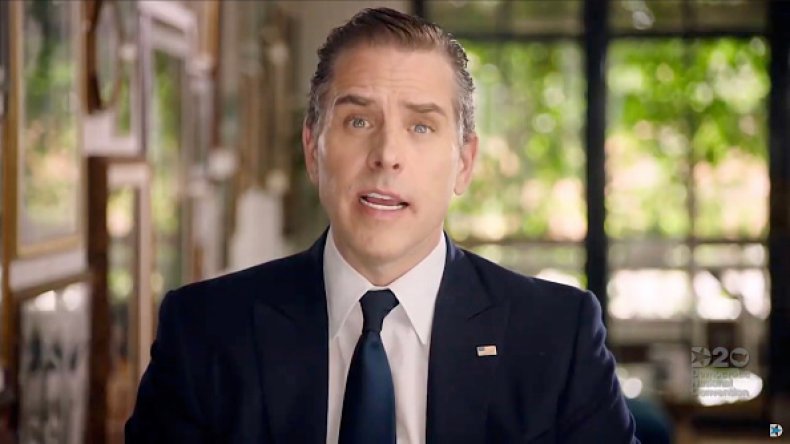 Meeves was sure to point out that Biden is a guest speaker and is not co-teaching, which he noted are two very different distinctions. He also mentioned that in the last year, students have received several newsletters referring to a lot of liberal ideas – more so than in the past.
"They have slightly drifted over the last year-and-a-half from a less neutral stance to a more liberal stance," he said.
Likewise, Brendan Cuti, the outgoing president of the school's College Democrats, said the choice of Biden as guest speaker makes total sense.
"If he's talking about fake news, that would make sense because he'd be a case study for that," said Cuti, a senior majoring in political science and history, adding the controversy surrounding Biden is just an effort to get to his father. "I know he's gone through some really tough times – he's not running for office or anything ... I know people talk about his laptop, but I don't think there's any truth to it."
Meeves said he is hesitantly fine about Biden's scheduled appearance. While he remarked that while attacking someone's family is the worst possible thing one can do in politics, Meeves noted other potential speakers who would have been better choices, such as Chelsea Clinton and Newt Gingrich. Both have a history with Tulane.
"I think that a large portion of American politics is interested in dynasty legacies, but he is only polarizing because sometimes he says the wrong things politically," said Meeves. "It seems he finds himself to be very important when really he's only important because of his father."
Newsweek reached out to Hunter Biden's book publicist for comment.