Tulsi Gabbard Labeled a 'Russian Asset' for Pushing U.S. Biolabs in Ukraine Claim
Former Democratic Representative Tulsi Gabbard has been condemned as a "traitor" and accused of being a "Russian asset" for comments her detractors said lent credibility to Kremlin propaganda that U.S.-funded laboratories are working on bio weapons in Ukraine. Gabbard had asserted, accurately, that the U.S. funds bio labs in Ukraine, not bio weapons labs.
In a tweet posted on Sunday, the 2020 presidential hopeful cited the risk posed by biological laboratories at a time Moscow has been pushing a consipiracy theory that they are working on bio weapons in an apparent attempt to justify Russia's invasion of Ukraine.
In a video, Gabbard said the "undeniable facts" are that 25 to 30 "U.S.-funded bio labs" in Ukraine are conducting research into dangerous pathogens. Gabbard went on to express concerns that these "deadly pathogens" could be released if the labs in Ukraine are targeted amid the conflict with Russia.
"Like COVID, these pathogens know no borders," Gabbard said. "If they are inadvertently or purposely breached or compromised, they will quickly spread all throughout Europe, the United States and the rest of the world, causing untold suffering and death."
Gabbard has also recently appeared on Tucker Carlson's Fox News show to discuss claims of Ukraine developing bio weapons, clips of which were played on Russian state television.
Gabbard did not repeat the claims of Ukraine developing bio weapons with U.S. military backing, yet a number of people criticized Gabbard's tweet for appearing to echo falsehoods being peddled by Russia.
GOP rep. Adam Kinzinger tweeted that Gabbard was spreading "actual Russian propaganda" and accused her of being "traitorous."
Others also accused Gabbard of appearing to be working on behalf of Russia by helping them spread conspiracy theories about U.S.-funded bio labs in Ukraine.
David Weissman, a U.S. Army veteran known for no longer supporting Donald Trump, tweeted: "Can it be any more clearer? Comrade Tulsi Gabbard's latest video proves Hillary Clinton's claim to Tulsi being a Russian asset."
Jon Cooper, a prominent Barack Obama fundraiser and former National Finance Chair of Draft Biden 2016, added: "Who's the bigger TRAITOR—Tucker Carlson or Tulsi Gabbard?"
Screenwriter and Forbes contributor Mark Hughes wrote: "Tulsi Gabbard is a traitor & a Russian agent who belongs in military prison."
In a reply to Gabbard's tweet, director Gerard Bush called the congresswoman a "treasonous liar; a Russian asset and a stain on American democracy."
Bush added: "Have you [no] moral compass? How low are you willing to go in support of Putin, while betraying your own country? Despicable."
Republican Senator Mitt Romney gave some of the harshest condemnation of the former Hawaii Democratic Congresswoman, tweeting that she is "parroting false Russian propaganda" and that her "treasonous lies may well cost lives."
While the World Health Organization recently advised Ukraine to destroy high-threat pathogens being housed in their labs to prevent an outbreak if they are attacked, there is no evidence that the U.S. is funding work on bio weapons.
The White House, Pentagon and State Department have all dismissed the reports that the U.S. and Ukraine are working together to create biological and chemical weapons, describing the conspiracy theories as "laughable" and an attempt from Moscow to justify its "own horrific actions" in Ukraine.
The U.S and Ukraine have been working together since 2005 to research deadly pathogens as part of the Pentagon's Biological Threat Reduction Program (BTRP).
The partnership between the U.S. Defense Department and the Ukraine Ministry of Health is part of the Cooperative Threat Reduction Program (CTR), which began in 1991 with the aim of reducing the threat of weapons of mass destruction following the fall of the Soviet Union.
According to a fact sheet released by the Defense Department, the U.S. works with Ukraine and other countries to research the threats of dangerous diseases affecting both animals and humans.
Through BTRP, the U.S. has invested $200 million in Ukraine since 2005 to support 46 Ukrainian laboratories and their research into disease threats. Such work in Ukraine helped the country in its response to the COVID-19 outbreak.
There is no evidence of U.S.-funded labs in Ukraine developing germ warfare capabilities. Similar conspiracy theories have been pushed by Russia for decades, including claims that HIV/AIDS was developed in a U.S. military lab.
In January, weeks before Russia invaded Ukraine, the Defense Department release a video to discuss the "false allegations" regarding its CTR program, including stating that each country's biological laboratories are "owned, operated and managed by host governments to meet local needs."
Gabbard has been contacted for comment.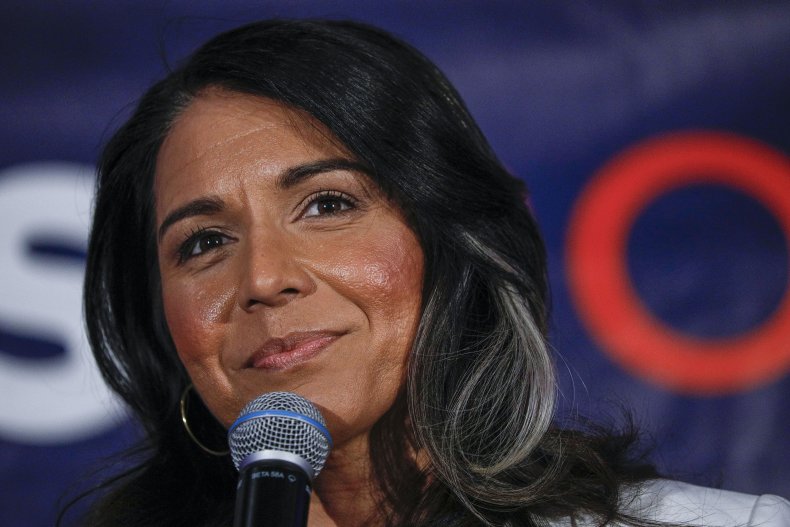 Correction 3/14/22, 12 p.m. ET: This article was updated to clarify that Gabbard did not say the U.S. funds biological weapons laboratories in Ukraine. Newsweek regrets the error.
Correction 3/15/22, 11:34 a.m. ET: This article was modified to indicate that Gabbard mentioned 25 to 30 "U.S.-funded bio labs," not 35 to 40.