Pentagon spokesman John Kirby on Wednesday denied accusations from Russia that the U.S. had bioweapons labs in Ukraine, but QAnon conspiracy theorists have already widely spread Russia's claims throughout its communications channels.
Evidence also shows many members of QAnon believe a "baseless" theory that the Russian war is actually a secret mission backed by former President Donald Trump to destroy clandestine bioweapon labs created by Dr. Anthony Fauci, the chief medical advisor to President Joe Biden. NBC reported on March 4 that the theory was being spread during the American offshoot of the "Freedom Convoy" of protesting truckers in Washington, D.C., by members of QAnon. Along with groundless claims that Fauci is trying to create a pathogen for a new pandemic, the conspiracists also falsely state he created the COVID-19 pandemic.
State Department spokesperson Ned Price on the same day accused the Kremlin of spreading misinformation regarding "outright lies that the United States and Ukraine are conducting chemical and biological weapons activities in Ukraine."
He took to Twitter to share the statement and call the claims "total nonsense."
"The Russian accusations are absurd, they are laughable and you know, in the words of my Irish Catholic grandfather, a bunch of malarkey. There's nothing to it. It's classic Russian propaganda," Kirby added.
Meanwhile, Russia state media has spread claims about the presence of labs, as have members of QAnon on unregulated platforms like Telegram and 8chan.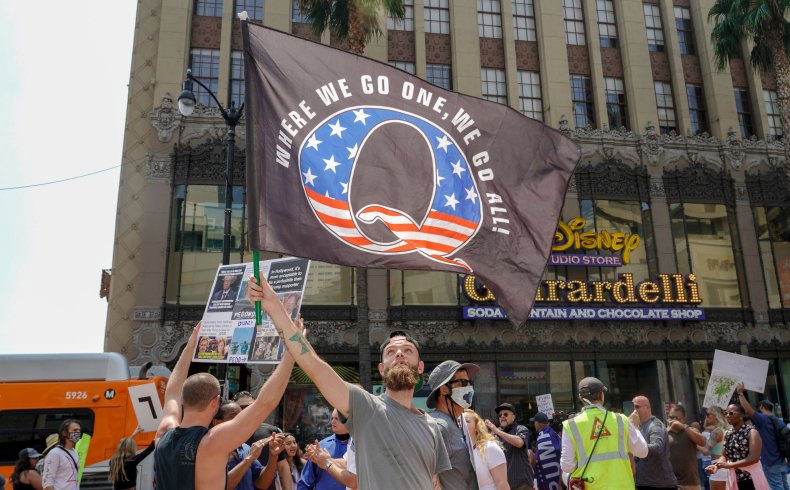 Foreign Policy reported on March 2 that believers of QAnon are widely spreading the conspiracy theory that Russia is targeting labs in Ukraine to stop Fauci from creating a new virus similar to COVID-19. According to the magazine, messages about the theory have hundreds of thousands of hits each day on the platforms.
Russian officials are feeding the false narrative. On Wednesday, Russia's foreign ministry spokesperson Maria Zakharova said Moscow possessed documents that proved the Ukrainian health ministry had ordered the destruction of pathogen samples before Russian military forces moved into Ukraine.
On Thursday, the Russian Defense Ministry released information to the public on social media. It claims the U.S. and Ukraine are conspiring to spread diseases through migratory birds.
U.S. officials have shot down the stories, including White House press secretary Jen Psaki.
"We took note of Russia's false claims about alleged U.S. biological weapons labs and chemical weapons development in Ukraine," Psaki said on Twitter.
In another tweet, Psaki added: "This is preposterous. It's the kind of disinformation operation we've seen repeatedly from the Russians over the years in Ukraine and in other countries, which have been debunked, and an example of the types of false pretexts we have been warning the Russians would invent."
Psaki went on to detail past allegations of Russia violating international law by using biological weapons.
"This is all an obvious ploy by Russia to try to try to justify its further premeditated, unprovoked, and unjustified attack on Ukraine," she concluded. "Now that Russia has made these false claims, and China has seemingly endorsed this propaganda, we should all be on the lookout for Russia to possibly use chemical or biological weapons in Ukraine, or to create a false flag operation using them. It's a clear pattern."
Newsweek reached out to the Russian Foreign Ministry but did not hear back in time for publication.
Follow our live blog for updates on the Russia-Ukraine conflict.