Tulsi Gabbard Campaign Signs Vandalized With Soviet Communist Symbol in New Hampshire
On Thursday, volunteers for Rep.Tulsi Gabbard's presidential campaign and other witnesses said they found dozens of campaign signs in New Hampshire vandalized with hammer and sickle symbols.
One twitter user, Peter Galamaga, shared a photo of the defaced sign on December 25: "Saw a couple of these just now in NH. I'm old enough to remember when the Ds made fun of Rs for crazy paranoid crap like this. Makes me think some folks are worried," he wrote, adding that he saw three tampered signs. Independent journalist Michael Tracey also reported dozens more found by volunteers.
No one has confirmed who added the logos, which at least one person reported were stickers, to the campaign signs.
In a statement given to Newsweek, Gabbard's campaign addressed the vandalized signs. "Yes, unfortunately this has been happening. This is a continuation of the campaign of smears and intimidation that has been waged against Tulsi since she announced her candidacy," Gabbard press assistant Cullen Tiernan told Newsweek in an email. "We are confident that the voters of NH will send a message to those who are carrying out this smear campaign by standing with Tulsi on February 11."
The hammer-and-sickle is a common communist symbol. The logo was used on the Soviet Union's flag from 1924 until the U.S.S.R.'s end in 1991, according to Encyclopedia Britannica. The symbol is still commonly associated with the Soviet Union and Russia.
Gabbard's critics have called the Hawaii congresswoman's relationship with Russia into question. In an October 17 podcast interview, 2016 Democratic presidential candidate Hillary Clinton alluded to Gabbard being a "Russian asset." "She is a favorite of the Russians," the former First Lady said. "They have a bunch of sites and bots and other ways of supporting her so far."
Gabbard fired back at Clinton's remarks, calling her "the queen of warmongers." "From the day I announced my candidacy, there has been a concerted campaign to destroy my reputation," the candidate wrote in a Twitter thread. "We wondered who was behind it and why. Now we know-it was always you, through your proxies and powerful allies in the corporate media and war machine, afraid of the threat I pose."
Gabbard faced criticism in December after she broke ranks with Democrats and voted "present" for two articles of impeachment against President Donald Trump. In an interview with ABC News Saturday, Gabbard stood by her decision. "I think impeachment, unfortunately, will only further embolden Donald Trump, increase his support and the likelihood that he'll have a better shot at getting elected while also seeing the likelihood that the House will lose a lot of seats to Republicans," she told ABC.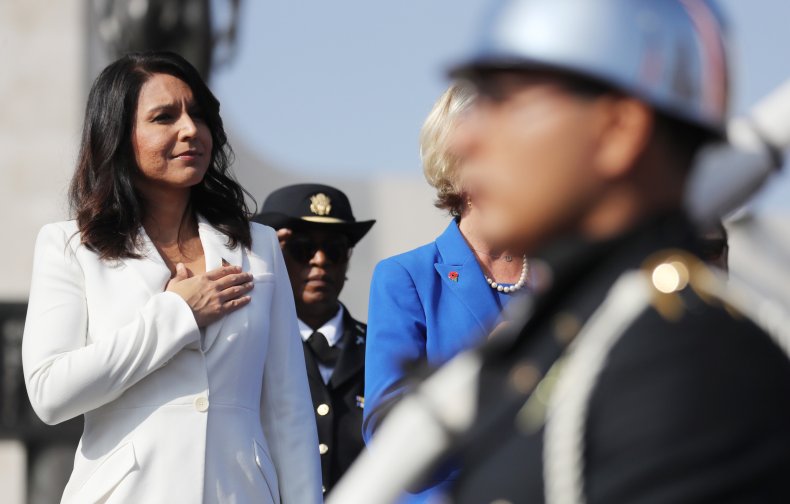 Update, 1/3, 10:50 a.m. EST: This story has been updated to include comment from Gabbard's campaign, which was received after the story was published.