Timeline of Tulsi Gabbard, Hillary Clinton 'Russian Asset' Spat, Why The Two Democrats Fought
Hawaii congresswoman Tulsi Gabbard and 2016 Democratic presidential candidate Hillary Clinton called each other names ranging from "Russian asset" to members of a corrupt "war machine" during a weeklong October fight.
The spat between the 2020 Democratic hopeful and the former Secretary of State began during an October 17 podcast hosted by strategist David Plouffe. During the talk, Clinton appeared to accuse Gabbard and former Green Party candidate Jill Stein of being "Russian assets" and made statements about the Russians "grooming" a third-party candidate to disrupt the Democratic Party. News outlets widely misquoted Clinton's comments, but Gabbard quickly internalized the insult and shot back at Clinton on Twitter the next day, October 18, calling her the "queen of warmongers" and "embodiment of corruption."
Gabbard went on to release several videos on social media urging Clinton to "step down from your throne" and allow a new Democratic voice to be heard.
Responding to Gabbard's assumption of being slighted, Clinton spokesman Nick Merrill appeared to confirm that suspicion in an October 21 CNN interview in which he replied, "If the nesting doll fits...Divisive language filled with vitriol and conspiracy theories? Can't imagine a better proof point than this," he said sarcastically.
Clinton's initial podcast comments to Plouffe, who was Barack Obama's 2008 campaign manager, predicted that the Republican Party's strategy to win in 2020 would have two parts. The first would be to "demonize" the Democratic candidate so that on-the-fence moderates would be more willing to write off President Donald Trump's poor behavior. The second would be to promote a third-party candidate option similar to Stein or Libertarian Gary Johnson in 2016.
"[The Republicans] are also going to do third-party again, and I'm not making any predictions but I think they've got their eye on somebody who is currently in the Democratic primary and are grooming her to be the third-party candidate," Clinton said, without naming Gabbard directly.
Clinton continued, still not saying Gabbard's name: "She is a favorite of the Russians. They have a bunch of sites and bots and other ways of supporting her so far. And, that's assuming Jill Stein will give it up, which she might not because she's also a Russian asset. Yeah, she's a Russian asset. Totally."
Clinton's comments set off a fiery series of tweets and videos from Gabbard over the next several days between October 18 and October 23. Stein appeared on CNN that Saturday morning, October 19, to rebuke Clinton's comments and declare, "I am not a Russian spy."
Even Trump came to Gabbard's defense, bashing his former rival on Twitter, writing, "Hillary's Gone Crazy!"
Gabbard lashed out on Twitter on October 18: "From the day I announced my candidacy, there has been a concerted campaign to destroy my reputation. We wondered who was behind it and why. Now we know — it was always you, through your proxies and powerful allies in the corporate media and war machine, afraid of the threat I pose."
She continued, "Thank you@HillaryClinton You, the queen of warmongers, embodiment of corruption, and personification of the rot that has sickened the Democratic Party for so long, have finally come out from behind the curtain."
Gabbard repeatedly accused Clinton of targeting her over bad blood stemming from her February 2016 primary decision to step down from her role in the DNC to officially endorse Clinton's challenger, Vermont Senator Bernie Sanders.
The Hawaii congresswoman and military veteran continued the onslaught against Clinton, releasing an October 20 video entitled, "Take Back Democratic Party From Corrupt Elite." In the video, she accused Clinton of controlling a "gang of rich, powerful elite" demanding her to "shut up, toe the line, or be destroyed.
More than a week after the spat began, Gabbard penned an October 29 op-ed in The Wall Street Journal, entitled, "I Can Defeat Trump and the Clinton Doctrine." Gabbard touted her continued National Guard military service and tours of duty in Iraq versus the "disastrous regime change" foreign policy pushes by Clinton, particularly in Libya.
A poll released this week appeared to corroborate Clinton's implicit "Russian grooming" comments about Gabbard. A survey of Russian government-controlled propaganda outlets found largely positive coverage of Gabbard's policies versus highly negative coverage of opponents such as former Vice President Joe Biden.
Gabbard does not appear to have let up on the anti-Clinton rhetoric. On Wednesday, just hours before the November 20 Democratic debate, the congresswoman posted a video saying she refuses to "back down" in the face of such "smears."
She remarked on Twitter, "I'm a soldier; 1st female combat vet to run for President. My 1st responsibility is to serve our country & people. My commitment will not falter no matter how much the warmongering foreign policy estab. & media continue their smears, which began the day I announced."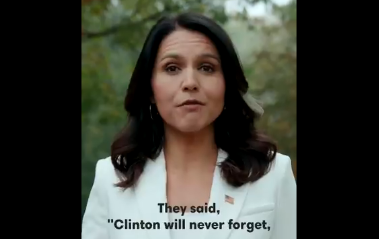 2020 presidential candidate Tulsi Gabbard responded to Hillary Clinton's "Russian asset" accusation Sunday in a video demanding an end to Democratic Party corruption.
Screenshot: Tulsi Gabbard | Twitter