Tulsi Gabbard Compares Biden Admin to Dictatorship Over 'Ministry of Truth'
Tulsi Gabbard, a former Democratic representative for Hawaii and one-time presidential candidate, compared the Biden administration to a dictatorship over its recently created Disinformation Governance Board. She also likened the new bureau to the Ministry of Truth, a fictional government agency in George Orwell's dystopian novel 1984.
Gabbard first condemned the new Department of Homeland Security board during a Thursday appearance on Fox News' Hannity, calling it the "department of propaganda." She reiterated her stance on Twitter Friday, writing that the Biden administration had created a department not unlike those used by dictatorships.
Homeland Security Secretary Alejandro Mayorkas testified during a Wednesday budget hearing of the House Appropriations Subcommittee on Homeland Security that the disinformation board was recently started as an effort to curb online disinformation. During a Thursday press briefing, White House press secretary Jen Psaki acknowledged the board's existence and noted that President Joe Biden supported it.
"Every dictatorship has a propaganda arm—a 'Ministry of Truth.' The Biden Administration has now formally joined the ranks of such dictatorships with their creation of the so-called 'Disinformation Governance Board,'" Gabbard tweeted.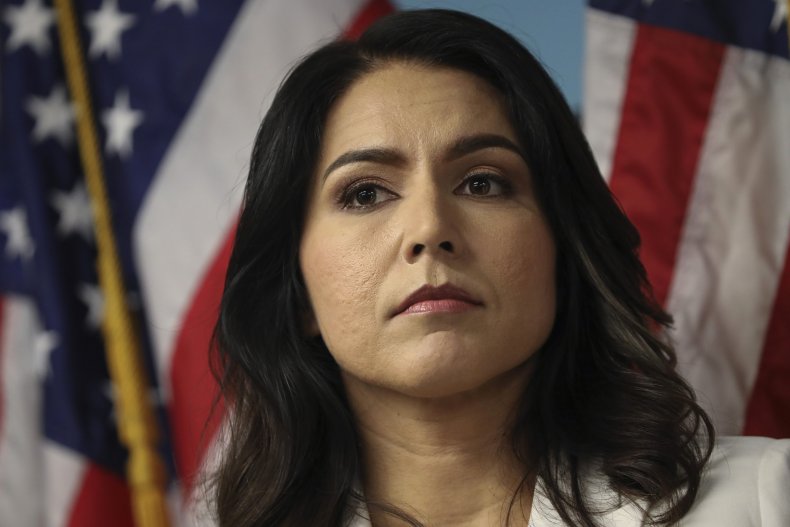 Since her failed bid as a 2020 Democratic presidential candidate, Gabbard has increasingly distanced herself from the Democratic Party with divisive stances. Along with introducing a bill in Congress in 2020 that would ban transgender female athletes from competing with cisgender girls, she has publicly supported Florida's Parental Rights in Education bill, which is popularly known as the "Don't Say Gay" bill.
More recently, Gabbard was denounced by many for releasing a controversial video soon after Russia began its attacks on Ukraine. In the video, the former congresswoman seemingly endorsed the debunked Russia claim that the U.S. is sponsoring biolabs in Ukraine. The video led Republican Senator Mitt Romney of Utah to accuse Gabbard of spreading "treasonous lies."
Numerous conservative politicians and commentators have slammed the Disinformation Governance Board, claiming it will allow the federal government to police free speech on the internet. Many compared the bureau to 1984's Ministry of Truth. In the popular novel, the central character works in the ministry, a governmental department that controls information coming from news, entertainment, arts and education.
Gabbard is not the first person to draw a parallel between the disinformation board and dictators. Errol Webber, a Republican congressional candidate in California, included Biden's name in a list of famous dictators in an early afternoon tweet Thursday.
"Adolf Hitler had a Ministry of Truth. Joseph Goebbels had a Ministry of Truth. Joseph Stalin had a Ministry of Truth. Joseph Biden has a Ministry of Truth," Webber wrote.
When asked about the bureau on Sean Hannity's program, Gabbard offered a sharp critique.
"This is the kind of thing that you see in dictatorship, this Ministry of Truth, this department of propaganda that the Biden administration has just stood up, and the reason why you see this in dictatorships is because they're afraid of us. They're afraid of the people," she said.
Gabbard continued, "Now they've created this body that will do two things. Number one, it will use taxpayer dollars to work through the mainstream media and flood the airwaves with whatever their propaganda narrative is that they're pushing at at any given time, and try to drown out anyone with alternate views. And number two, they will silence dissenting voices through intimidation."
Newsweek reached out to Gabbard and the White House for comment.