Tulsi Gabbard Favored Over Mike Pence To Win 2024 GOP Nomination—Bookmakers
Tulsi Gabbard has overtaken former Vice President Mike Pence as third favorite to win the Republican nomination for the 2024 election after leaving the Democratic Party, bookmakers have said.
Gabbard, a former congressman for Hawaii who unsuccessfully ran for the Democratic presidential nomination in 2020, announced she was leaving the party on Tuesday, branding it an "an elitist cabal of warmongers."
Her comments prompted speculation that she would soon declare her intention to run for president as a Republican candidate, or even join Donald Trump as his running mate for his expected attempt to return to the White House.
According to bookmaker Betfair, Gabbard is now 10-1 to win the GOP nomination for 2024, pushing Pence into fourth place. Trump is still the overwhelming favorite at 11-8, with Florida Governor Ron DeSantis second at 12-5.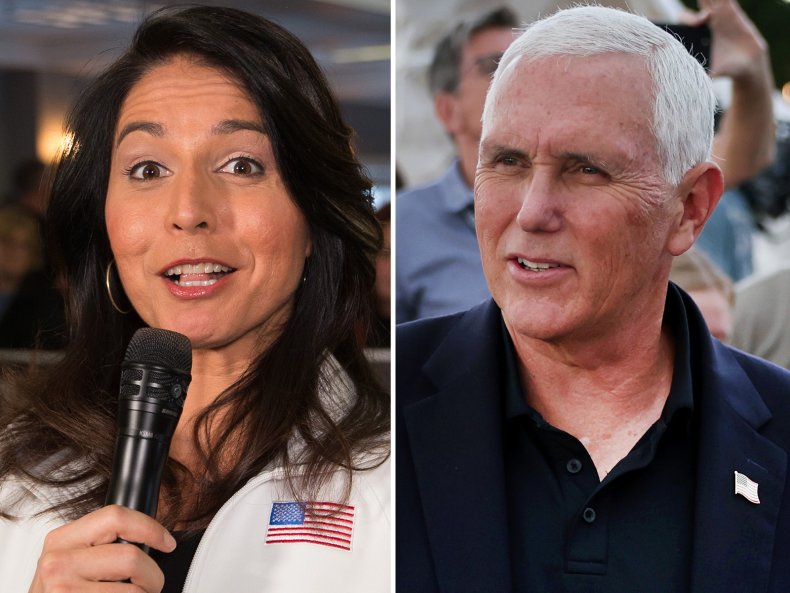 Betfair's odds on who could be Trump's 2024 running mate suggest DeSantis is the most likely candidate, at 16-5, with Gabbard second at 4-1.
Nikki Haley, a former South Carolina governor and ambassador to the UN, is next on the list with odds of 5-1. Mike Pompeo, who was Trump's secretary of state, is fourth at 13-1.
Trump has repeatedly ruled out any hope that he would ask Pence to be his running mate again. The pair's relationship fell apart in the wake of the January 6 attack on the Capitol.
Betfair spokesperson Sam Rosbottom told Newsweek that Gabbard had "shorter odds than former Vice President Mike Pence, who is 16-1" for the GOP nomination.
He added that the odds of Trump winning the 2024 election with Gabbard as his running mate stood at 50-1.
Despite the speculation that Gabbard plans to switch sides, the former congresswoman has not confirmed that she intends to join the GOP or indeed wants to become the party's next presidential or VP candidate.
Gabbard did speak at the Conservative Political Action Conference in February and has been heavily critical of President Joe Biden's domestic and foreign polices. She also appeared as a guest host on the Fox News show Tucker Carlson Tonight in August.
In her statement on Tuesday, Gabbard said: "I can no longer remain in today's Democratic Party that is now under the complete control of an elitist cabal of warmongers driven by cowardly wokeness, who divide us by racializing every issue & stoke anti-white racism, actively work to undermine our God-given freedoms, hostile to people of faith & spirituality, demonize the police & protect criminals at the expense of law-abiding Americans, believe in open borders, weaponize the national security state to go after political opponents, and above all, dragging us ever closer to nuclear war."
Gabbard has been contacted for further comment.