Former Representative Tulsi Gabbard's commitment to speaking at the Conservative Political Action Conference this week surprised some, but she's not the first of her party to address event attendees.
Gabbard, who unsuccessfully ran for the Democratic nomination for president in 2020, has become increasingly critical of her party. While it's uncommon for a Democrat to speak at CPAC, Gabbard's appearance isn't a complete shock given her criticism of President Joe Biden, and at least three other Democrats have spoken at the conference.
Former Bill Clinton adviser Paul Begala spoke at CPAC in 2013. During a debate with Fox News host Tucker Carlson, Begala expressed the hope that former Secretary of State Hillary Clinton would run for president and said she would be a "great" choice.
"I think she's a global force for good, and I hope and pray that she runs for president," Begala said.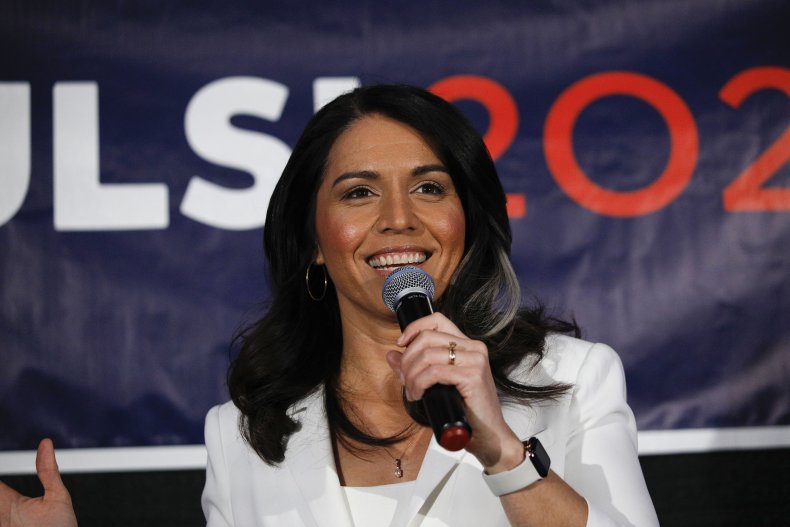 At the convention in 2015, former Representative Dennis Kucinich, a Democrat from Ohio, defended his effort to impeach former President George W. Bush. He acknowledged that CPAC was an event for conservatives, but said he feels "comfortable" at the convention and noted that he worked with people in both political parties during his tenure in Congress.
One of possibly the most surprising Democrats to appear at CPAC was CNN commentator Van Jones, who took the stage in 2019. A vocal critic of former President Donald Trump and Republicans, Jones praised conservatives for their work on criminal justice reform.
"Unfortunately," Republicans were the "leader on this issue," Jones said and joked that Republicans were "stealing my issue."
Jones rejected persuasions to switch parties at the event, saying that he was going to "stay in my party" but encouraged Republicans to take credit for "being smart" and "getting it right" with regard to criminal justice reform.
Gabbard's criticism of her own party has started to alienate her from Democrats, and some called into question if she still fits the definition. However, she hasn't moved far enough right for some in the conservative movement. Sam Mangold-Lenett, an editor at TheBlaze, acknowledged that Gabbard is an "interesting and endearing figure" but questioned what she has to add to the conservative movement given that she endorsed Biden and ran for president as a Democrat.
Gabbard has a lifetime rating of just 8 from the American Conservative Union Foundation, indicating she opposed their agenda on a regular basis while in office.
While Gabbard endorsed Biden in 2020 after dropping out of the presidential race, she has also been a vocal critic of the president. She targeted Biden for the chaotic withdrawal from Afghanistan, his handling of the tension between Russia and Ukraine and was a vocal critic of his commitment to nominate a Black woman to the Supreme Court.