Tulsi Gabbard Says 'Partisan Impeachment' Further Divides An 'Already Divided Country,' Says Decisions Must Be Made in 'Unemotional Way'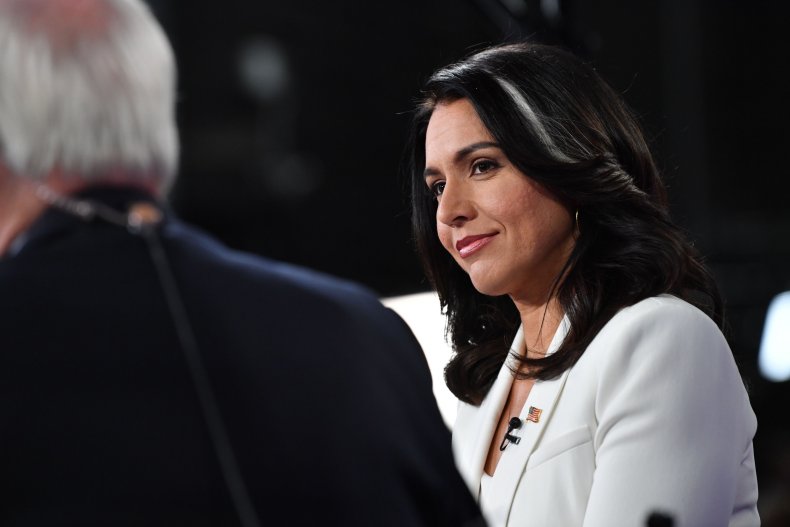 Representative Tulsi Gabbard of Hawaii, who is running for the Democratic presidential nomination in 2020, said Monday that she decided to vote "present" on articles of impeachment against President Donald Trump because the decision needed to be made in an "unemotional way" because "impeachment would not remove him from office."
"I think these decisions have to be made in an unemotional way, really being clear-eyed about what the consequences are, about how partisan impeachment only further divides an already divided country," Gabbard said in an interview with CBS News. "And for those of us who care a lot about beating Donald Trump, just understanding the reality that this impeachment would not remove him from office. That's a fact."
In fact, Gabbard argued, the impeachment would only serve to endear Trump's supporters more to him.
"Unfortunately, it would further embolden him, strengthen his support, make it more likely that he will gain in that support, making it more likely that the House will lose more Democratic seats—potentially allowing the Republicans to gain the majority," she said.
On December 18, the U.S. House of Representatives voted to impeach the president with overwhelming Democrat support, but Gabbard voted "present," meaning that her vote did not count for or against passing the articles.
Speaking to journalist Nicole Sganga, who covers the 2020 election in New Hampshire for CBS News, Gabbard said that her decision to vote "present" on Trump's impeachment was not the result of any sympathetic feelings for the president. Rather, she saw the impeachment as a strategically faulty move that, in the long run, will harm the Democrats' goal of removing Trump from office more than aid it.
Gabbard's office has not yet responded to a request for comment sent by Newsweek.
Since the vote, Gabbard has made similar public remarks about how impeachment would help Trump more than aid efforts to remove him from office. Some of her language on the impact of impeachment has been similar to comments made by some Republicans.
Gabbard was not the only House Democrat to not vote in favor of impeaching the president. Three others did not vote "yes" on both articles and they all represent congressional district that Trump won in the 2016 election. Representative Collin C. Peterson of Minnesota and Representative Jeff Van Drew of New Jersey both voted against both articles of impeachment. Representative Jared Golden of Maine voted in favor of the article accusing Trump of abuse of power, but voted against the article that said he had obstructed Congress by not fully cooperating with the impeachment process.
On December 24, polls showed Gabbard was becoming the "most disliked" candidate in the Democratic primary race after her "present" vote on impeachment, according to a poll from the Morning Consult.