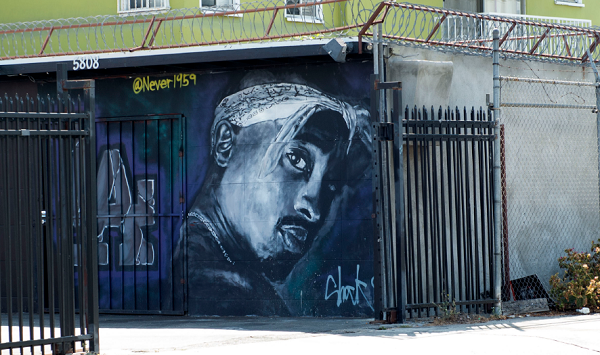 Police may be a lot closer to discovering the culprit behind Tupac Shakur's murder if a former gang member's recent statements are to be believed.
In USA's new documentary Unsolved: The Murders of Tupac and The Notorious B.I.G., Duane Keith Davis, otherwise known as Keffe D, elaborated on the night of September 7, 1996—when Shakur was shot in a drive-by shooting in Las Vegas—and admitting to knowing the person who fired rounds at the rapper.
"I was a Compton kingpin, drug dealer, I'm the only one alive who can really tell you [the] story about the Tupac killing," Davis said. "People have been pursuing me for 20 years. I'm coming out now because I have cancer, and I have nothing else to lose. All I care about now is the truth."
Davis said the shots that claimed Shakur's life came from the backseat of his car where his nephew Orlando "Baby Lane" Anderson and another unidentified person were sitting.
Shakur and Anderson were involved in a physical altercation in the lobby of MGM Grand Hotel and Casino on the night of the shooting. Hours later at a stop light on Las Vegas Boulevard, a white Cadillac pulled alongside the vehicle Shakur was in and began firing bullets. Shakur suffered from multiple gunshot wounds and later died on September 13.
In the documentary, Davis said he knows the identity of Shakur's killer. However, "street code" prevented him from revealing the name of the person. Davis made the same allegations in BET's recent documentary Death Row Chronicles.
Las Vegas Metropolitan Police Department said it is aware of Davis' comments. "We are aware of the statements made in a BET interview regarding the Tupac case. As a result of those statements we have spent the last several months reviewing the case in its entirety," the LVMPD said in a statement to Esquire on Thursday, noting that rapper's death was still an open homicide case.