Turkey Isn't Putin's Only Hope for Blocking NATO Expansion
Croatia's president has joined his Turkish counterpart in not supporting the admittance of Sweden and Finland into NATO, a position that could be a boon to Russian President Vladimir Putin's opposition to the alliance expanding.
Croatian President Zoran Milanovic on Wednesday said he joins Turkish President Recep Tayyip Erdoğan in being against the Nordic countries' bid to become part of NATO. Erdoğan this week said he would oppose Sweden and Finland joining the alliance because of the countries' alleged support of Kurdish militants and other groups that he claimed are a threat to Turkey.
In order for a country to join the alliance, a consensus is needed by NATO's 30 members, any one of which can veto new candidates. Turkey and Croatia are both NATO members. Milanovic announced he would instruct Croatia's Permanent Representative to NATO, Ambassador Mario Nobilo, to vote against the admission of Finland and Sweden, according to the Croatian News Agency.
However, Croatia's parliament is reportedly in favor of voting for Sweden and Finland to join NATO. The Croatian News Agency reported that the country's Ministry of Foreign and European Affairs said Nobilo would follow the instructions of the ministry rather than the president's and derail the plans for Sweden and Finland to join the organization.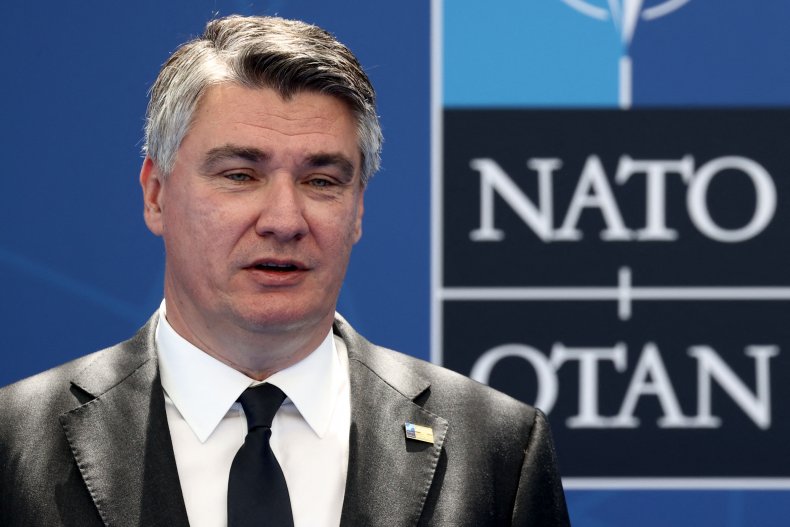 When discussing his stance, Milanovic indicated he would not support the countries' bid until an election law in Bosnia and Herzegovina is amended.
"That is not an act against Finland and Sweden, but it is for Croatia," Milanovic said, according to the Croatian News Agency. "Turkey certainly will not move away from the table before it gets what it wants. How are we fighting for our interests?"
Milanovic supports reform to election laws in Bosnia and Herzegovina that the Bosnian Croat party says will make it easier for them to elect their representatives to government positions. He has also publicly disputed with Croatian Prime Minister Andrej Plenković over the issue of Sweden and Finland joining NATO.
According to the Euractiv media network, Plenković called on Milanovic to be a "tough guy" and block the countries from being admitted into NATO while in the presence of U.S. President Joe Biden.
On Thursday, Erdoğan tweeted a video of an interview from earlier in the week, in which he said: "We will continue our policy in a determined way. We have told allies that we will say no to Finland and Sweden's NATO membership," the Turkish leader said, according to a translation by Reuters.
Though Putin has spoken out against the expansion of NATO in the past, he said on Monday that Russia would not be threatened if Finland and Sweden joined NATO.
"As to enlargement [of NATO], Russia has no problem with these states—none. And so in a sense, there is no immediate threat to Russia from an expansion [of NATO[ to include these countries," Putin said during a meeting of the Collective Security Treaty Organization in Moscow.
However, the Russian president also added a warning.
"But the expansion of military infrastructure into this territory would certainly provoke our response," Putin said. "What that (response) will be, we will see what threats are created for us."
Newsweek reached out to Milanovic's office for comment.