Turkey Currency Crisis 2018: How Long Can Erdogan Maintain Grip on Power Amid Economic Meltdown?
Turkey's economic woes didn't begin with a tweet from President Donald Trump, but they certainly didn't improve after the Republican leader lashed out against his erstwhile ally via social media earlier this month.
The Turkish lira has been steadily losing value over the past year, and it crashed precipitously after Trump sanctioned the country's justice and interior ministers and announced plans to impose tariffs on Turkish steel and aluminum. As previously solid geopolitical alliances began to wobble, investors grew frightened. Today, inflation is hovering at around 16 percent, and consumers are seeing the value of their money decrease and the cost of food rise.
Meanwhile, Turkey's President Recep Tayyip Erdogan maintains an unyielding opposition to raising interest rates. In May, as investors began worrying about high inflation and a crashing lira, Erdogan called low-interest rates the "mother and father of all evil." Even as the value of the lira reached an all-time low this week, Erdogan continued to pressure the Turkish Central Bank not to raise rates, banking on the idea that cheap credit would continue to fuel the economy.
In many countries, a similar economic scenario could lead to social unrest and perhaps the downfall of the government. But Erdogan and his Justice and Development Party (AKP) recently won a resounding victory in both presidential and parliamentary elections, making it nearly impossible to oust him. And despite the hardship, the strongman leader has effectively manipulated nationalist sentiment to maintain a solid base of support. Still, experts say that something will have to change or Turkey could end up asking the international community to dig it out of an economic hole.
"There is concern among investors because short-term rollover is two and half times the federal reserves. The underlying case for Turkey's economic growth model—borrow cheaply and invest in high growth at home—is getting more and more expensive," Jacob Kirkegaard, a senior fellow at the Peterson Institute for International Economics, told Newsweek. "If the current situation doesn't stabilize, if there isn't some economic reform and interest rate hikes, we will see rising defaults and a potentially negative spiral. I don't think it'll be enough for them to go to the Qataris and ask for more money. At that point, all roads lead to the IMF [International Monetary Fund]."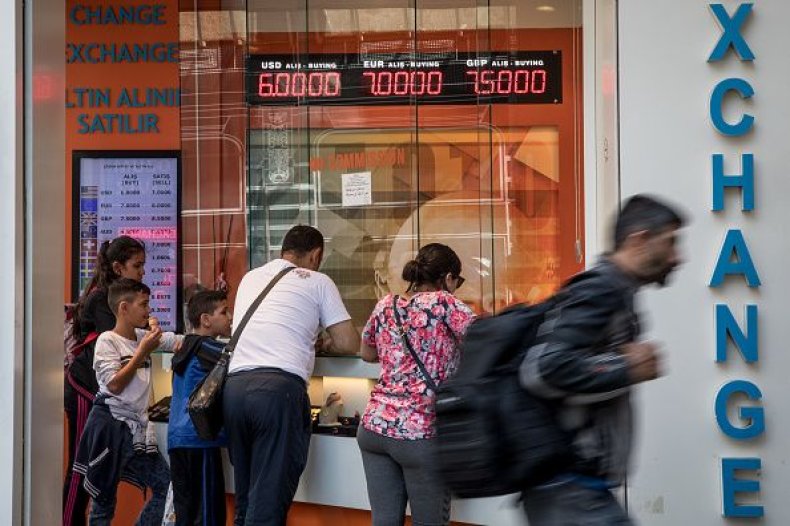 Analysts say Turkey's economy has been overheating since last year, as demand outpaced productivity and spurred inflation. The country spends more on imported goods than it sells abroad, and it has one of the largest current account trade deficits of the world's emerging markets today. Much of the country's imports are financed with foreign debt.
A large current account deficit isn't automatically catastrophic if foreign funds continue to finance investment at home. But it makes the economy more vulnerable to global shifts and could be a recipe for disaster at a time when interest rates are rising worldwide, economists say.
"A sudden stop to capital flows that has haunted Turkey's economic outlook for months is finally upon us. The mind-boggling 18% fall in the TRY on 10 August has exposed Turkey to a full-blown currency crisis whose trigger has been as much political as economic," read an Oxford Economic report published in August.
The Turkish government itself has one of the world's lowest levels of sovereign debt, but the situation is dire for the country's corporations. Much of the country's private sector, including growing construction and real estate businesses that have boosted employment, has borrowed in foreign currency, accepting loans in euros and dollars despite earning in lira. With the value of the lira crashing, their debts are harder to repay.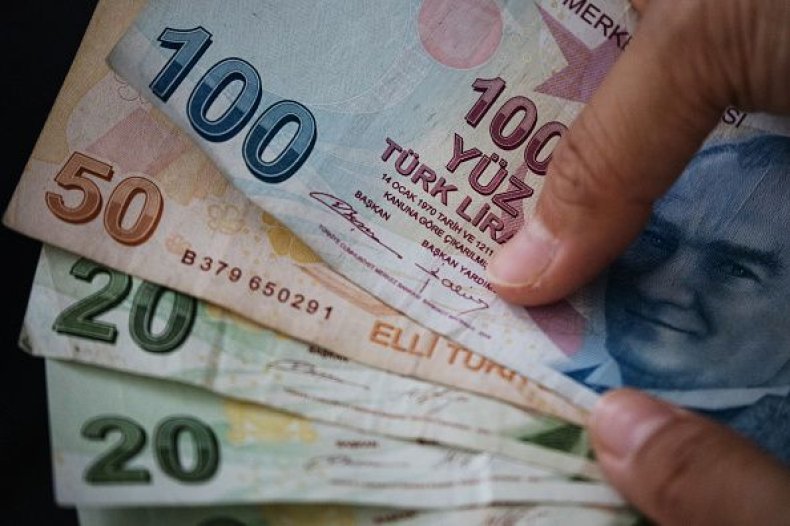 Experts say Turkey will need to act quickly in order to prevent the companies from defaulting on their loans. The country needs around $200 billion in financing for the year, amounting to a full 25 percent of gross domestic product, according to estimates.
"They have been able to attract more than $50 billion of capital inflows this year, but this isn't sufficient to offset their needs. They have $80 billion in reserves, which is quite low compared to what they need. Weaker lira means higher debt," Hung Tran, executive managing director of the Institute of International Finance, told Newsweek. "Time is of the essence. Both inflation and current account deficits will need to be adjusted."
Turkey's now tense relationship with some NATO allies is only exacerbating the problems by damaging investor confidence. Ankara and Washington have a relatively insignificant economic relationship, and Trump's sanctions and tariffs will do little damage in real economic terms. But the deteriorating relationship has an outsized impact on investor confidence. Erdogan has turned to other allies for support, and Qatar pledged $15 billion in foreign direct investment this week. Notwithstanding, even if this boosts investor confidence in the short term, that amount alone will be unable to fix Turkey's myriad problems.
What's more, the government has some liability thanks to a credit guarantee fund it used to boost growth. Erdogan raised the guarantee in the lead-up to elections in June.
"There is a bit of overlap between corporate and government debt. A lot of the corporate debt is subject to a government guarantee, so the government has to pay if a corporation defaults," Kirkegaard told Newsweek. "The Central Bank says there's $130 billion in corporate debt, short-term rollover in the next 12 months. The number of corporations taking advantage of the government guarantee has been rising."
Some warned that a recession might be imminent. "Turks have learnt from previous crises and made sure the Turkish banks have a lot of equity, but this equity can melt away pretty quickly if Turkey goes into deep recession and the corporates cannot pay back their foreign exchange loans," Carsten Hesse, a European economist at the investment company Berenberg, told Newsweek. "I think the population is more angry about the consequences of inflation, which means it's going to get a lot more expensive to get credit and will lead to a recession."
Despite all this, many expect that Erdogan will hold out until the last possible minute to implement reforms. Currently, a U.S. dollar is equivalent to between 6 and 7 Turkish lire, and experts say corporate defaults could be avoided if the currency corrects to around 4.5 lire per dollar. In the meantime, Erdogan can always blame foreign influence for the country's economic woes, experts noted.
"Are we close to a social breaking point? I would say we should be, but Erdogan is still winning elections. If we're suddenly talking 20 to 25 percent of inflation, though, that's a different world, at least politically," Kirkegaard said.
"But his nationalist rhetoric is seemingly working. And President Trump gave him a huge political gift with his tweet, because he can blame it on Trump," he added. "He'll spin it and say they're victims of Western financial imperialism, so it won't hurt him that much."
Pronita Naidu contributed to this article.