Rescued Russian Pilot Denies Plane Entered Turkish Airspace Before Being Shot Down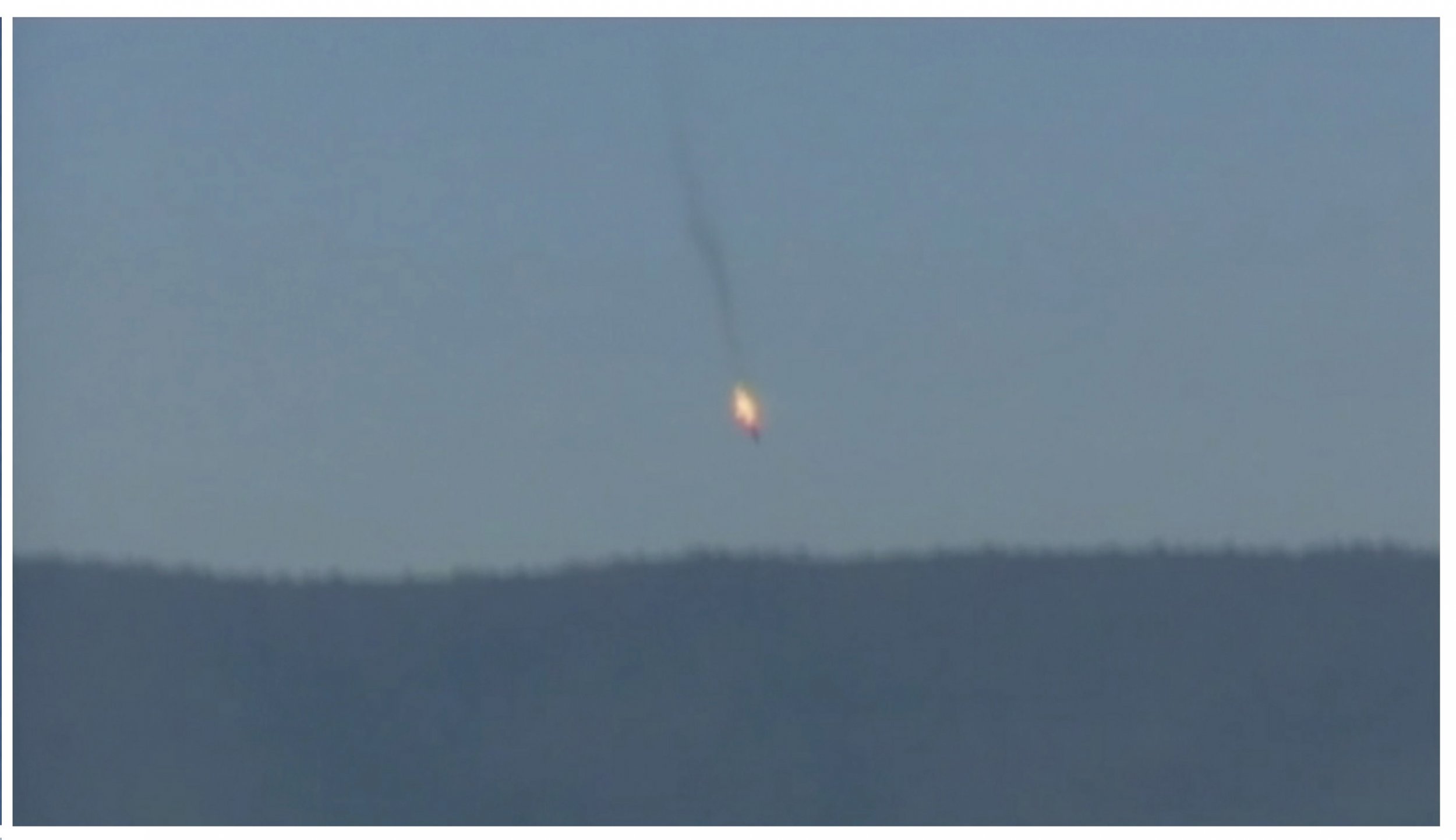 Updated | The second of two Russian pilots who ejected after Turkey shot down their plane near the Syrian border on Tuesday has been found alive and well after a Syrian military rescue operation—and has immediately denied that the plane strayed into Turkish airspace.
Russian Defense Minister Sergei Shoigu said that the pilot, identified as Captain Konstantin Murakhtin, was rescued in a 12-hour operation and is now "safe and sound" at a Russian base in Syria.
The rescued pilot denied Turkish claims that its military had warned the Russian jet 10 times in five minutes to leave Turkish airspace, according to TASS. He said that the jet never strayed outside Syrian airspace and that no warning was given.
"No, this is out of the question even for a one-second possibility, as we were at the altitude of 6,000 meters and the weather was clear," Murakhtin said in an interview Russia's Rossiya-1 television channel.
"All our mission flight was in my personal full control until the explosion of the missile," he said. "There were no warnings either via radio communication or optically. There were no contacts at all. That's why we flew heading combat course as per normal."
The other pilot in the plane was reported dead on Tuesday and Russian Lieutenant-General Sergey Rudskoy said he had been killed by a rebel group in Syria. Rudskoy said a Russian marine on an apparent mission to rescue the two downed pilots met the same fate.
One of two Mi-8 helicopters used in a rescue attempt came under small-arms fire in northern Syria as it tried to locate the two missing pilots of the downed Russian jet, he added.
Syrian rebels claimed to have blown up the rescue helicopter using an anti-tank missile, according to the BBC, and U.K.-based monitor the Syrian Observatory for Human Rights said Syrian rebel factions had destroyed a Russian helicopter forced to land in northern Latakia. The rest of the rescue team were evacuated to Russia's Humaymim air base near Latakia, northwestern Syria.
Turkmen rebels in the area where the plane went down claimed to have killed both pilots and released a video that purported to show a dead Russian pilot. The Turkmen militia in northern Syria are backed by Ankara and have been the target of Moscow's air campaign against the Islamic State militant group (ISIS) and rebel groups battling Syrian President Bashar Al-Assad.
In reaction to the shooting down of the aircraft, Putin confirmed that a S-300 air defense system would be deployed to Russia's Humaymim air base in Syria, TASS reported.
"I do hope that this and other measures that we will take will be enough to make flights safe," Russian President Vladimir Putin said. "I would like to say that we will take the most serious attitude to what has happened and all of our means will be employed for maintaining security."
The incident, the first conflict situation between a NATO member state and Russia since the peak of the Cold War half a century ago, is disputed by Moscow and Ankara. Putin said the aircraft was shot down 1 kilometer (0.62 miles) into Syrian territory while his Turkish counterpart Tayyip Recep Erdogan said the Russian Su-24 fighter jet was shot down while flying over Turkish territory.
Turkey says the Russian crew was warned 10 times in the space of five minutes before action was taken and maintains that it has consistently warned Russia against violations of its airspace since October.
In other comments made on Wednesday, Putin criticized the Turkish leadership for its "Islamization" of the country. Erdogan, speaking at a business event in Istanbul on Wednesday, said Ankara had "no intention of escalating this incident."
On Tuesday, a war of words ensued between the two countries, with Russia reacting furiously to Turkey's shooting down of its jet. Putin called the incident " a stab in our backs from accomplices of terrorism." Erdogan said other nations "must respect the right of Turkey to protect its borders."
While Moscow has not signalled an intention to respond with force, Russian Prime Minister Dmitry Medvedev said on Wednesday that joint economic projects may be canceled.
The U.S. and NATO have both backed Turkey in the ongoing standoff. U.S. President Barack Obama called his Turkish counterpart Recep Tayyip Erdogan on Tuesday to express his support for Turkey's right to defend its territorial integrity.
Both men "agreed on the importance of de-escalating the situation and pursuing arrangements to ensure that such incidents do not happen again," the White House said in a statement reported by Radio Free Europe.
NATO's Secretary General, Jens Stoltenberg, said that "we stand in solidarity with Turkey and support the territorial integrity of our NATO ally, Turkey" following an emergency meeting of the organization on Tuesday.
This story has been updated to reflect recent developments in an ongoing situation.