Charlie Kirk, Candace Owens Claim Antifa Protesters 'Attacked' Them at Breakfast, Blame Maxine Waters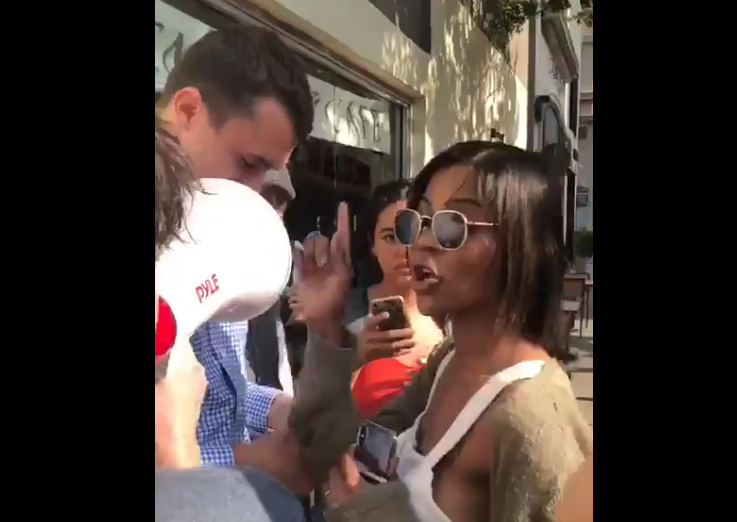 Turning Point USA founder Charlie Kirk and communications director Candace Owens were mired in millennial mayhem as they claimed an "Antifa" protest broke up their otherwise "peaceful" breakfast in Philadelphia on Monday morning.
The two executive members of the right-wing nonprofit Turning Point USA organization posted a pair of videos to Twitter purporting to show a group of protesters labeling them "fascists" outside the Green Eggs Cafe on South 13 Street in Philadelphia. Kirk, the 24-year old conservative activist and "personal friend" of Donald Trump Jr., immediately blamed all Democrats, particularly California Representative Maxine Waters. The video shows one irate member of the protest pouring a drink over Kirk's head as several others record and yell profanities at the Turning Point USA pair.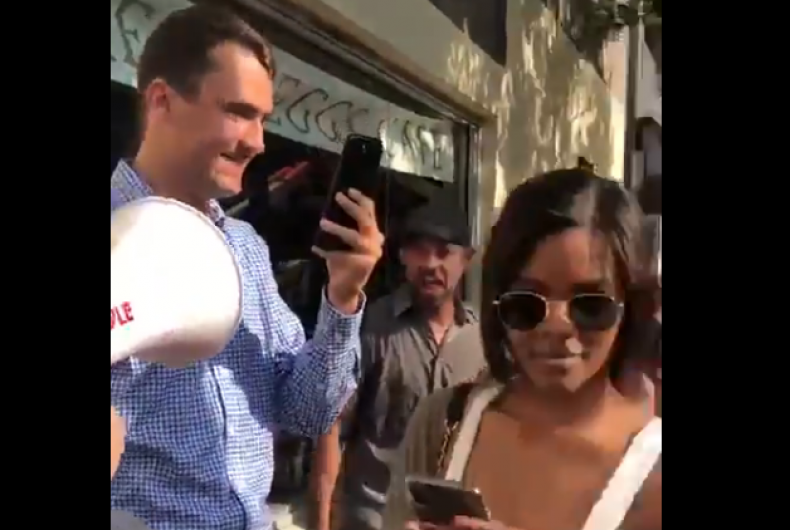 A second video posted to Twitter on Monday by Owens shows the pair leaving the restaurant as Kirk waves to several baffled patrons, "Have a wonderful day, enjoy your capitalist breakfast." Owens tweeted that the group of protesters waiting outside were members of the rogue anti-fascist group, Antifa, though that designation could not be confirmed. Owens, who gained national attention in April after Kanye West tweeted his support for her way of thinking, claimed the protesters had racist intentions in targeting her breakfast.
"Charlie Kirk and I just got ATTACKED and protested by ANTIFA for eating breakfast," Owens tweeted Monday. "They are currently following us through Philly. ALL BLACK AND HISPANIC police force protecting us as they scream "f*ck the racist police."
"To be clear: ANTIFA, an all-white fascist organization, just grew violent and attacked an all-black and Hispanic police force," Owens continued in a later tweet. "Because I, a BLACK woman, was eating breakfast. Is this the civil rights era all over again?"
The video shows several uniformed police officers as well as security guards attempting to separate the protesters from Owens and Kirk. Several young men and women with bullhorns and smartphones can be seen badgering the two as they appear to laugh off the criticism. Chants of "1, 2, 3, f*** the bourgeoisie" are repeatedly yelled in unison at the two. Owens is seen shouting back, "We love the police, we love America, we love USA." But a man recording just next to her screams, "F*** America" in her ear as he smiles and keeps his phone focused on Owens.
Kirk took to Twitter to directly blame California Democrat Maxine Waters for the event after she led a Los Angeles rally in June calling for "no peace, no sleep" until President Donald Trump pulled back on his policy separating migrant children from their parents at the border. Dozens of right-wing figures, including the president himself, have chastised Waters for a lack of "civility" in politics that they claim only targets conservatives.
"So @RealCandaceO & I were peacefully eating breakfast this morning. Within 20 mins ANTIFA mobilized a protest, started screaming at us, attacked us, & threatened death against us. This is the face of the Democrats Conservatives aren't safe- @RepMaxineWaters called for this," Kirk tweeted Monday after the incident.