Maxine Waters: 'No Peace, No Sleep' for Trump Cabinet Members, Applauds Public Shaming
U.S. Representative Maxine Waters said members of the Trump administration should expect continued harassment at restaurants and in public if they keep defending his "zero tolerance" immigration policy that led to thousands of migrant children being detained away from their parents.
The California Democrat spoke Saturday at a rally in Los Angeles and later on MSNBC about how the American people will continue to personally target President Trump's immigration policy defenders in public spaces. In the past two weeks, White House press secretary Sarah Huckabee Sanders was asked to leave a Virginia restaurant, and senior adviser Stephen Miller and Homeland Security Secretary Kirstjen Nielsen were both separately confronted at restaurants and even at Nielsen's home.
Waters told MSNBC Saturday that members of Trump's Cabinet should not be able to cry foul or play the victim, given their targeting of migrant families.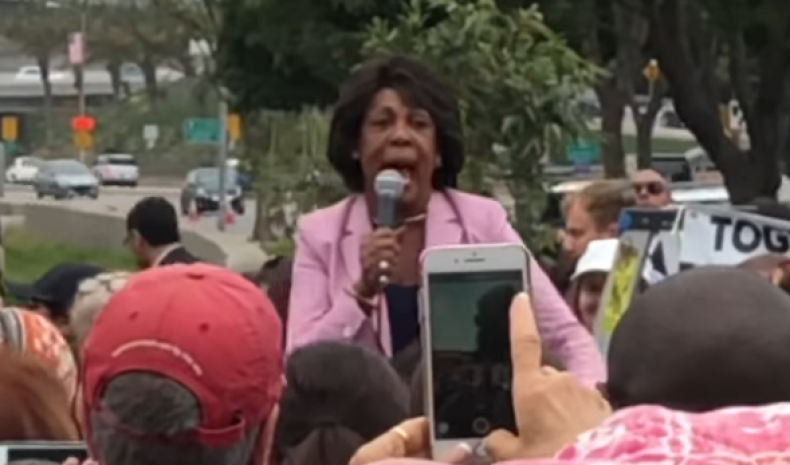 "I have no sympathy for these people that are in this administration who know it is wrong what they're doing on so many fronts, but they tend to not want to confront this president," Waters said.
"For these members of his Cabinet who remain and try to defend him, they're not going to be able to go to a restaurant, they're not going to be able to stop at a gas station, they're not going to be able to shop at a department store. The people are going to turn on them, they're going to protest, they're going to absolutely harass them until they decide that they're going to tell the president, 'No I can't hang with you, this is wrong, this is unconscionable, and we can't keep doing this to children,'" Waters said.
Waters gave an impassioned speech to a Los Angeles rally on Saturday and sent a message to Trump's supporters. "You think we're rallying now, you ain't seen nothing yet," she exclaimed. "Already you have members of your Cabinet being booed out of restaurants. Who have protesters taking up at your house chanting, 'No peace, no sleep.'"
She continued, "Let's make sure we show up wherever we have to show up, and if you see anybody from that Cabinet in a restaurant, in a department store, at a gasoline station, you get out and you create a crowd and you push back on them and you tell them they're not welcome anymore, anywhere.... Mr. President, we will see you every day, every hour of the day, everywhere that we are, to let you know you can't get away with this," Waters concluded to raucous applause.
"History is not going to be kind to this administration. We want history to record that we stood up, that we pushed back, that we fought and that we didn't consider ourselves victims of this president," she added.
Waters also laid into Trump's proposed border wall, telling the Los Angeles crowd that it will never be built.
"You sacrificed our children just for your aims and your goals just because you want to build a wall? Mr. President there will be no wall built on the backs of these children," Waters said. "You lied and you said you're going to make Mexico pay for it. They're not going to pay for it, we're not going to pay for it. You're gonna find these children, you're going to reconnect them with their families, and we're going to get you out of office."