Kirstjen Nielsen Confronted by Sounds of Crying Migrant Children As Protesters Gather Outside Her Home
Protesters reportedly gathered outside the Alexandria, Virginia, home of Department of Homeland Security (DHS) Secretary Kirstjen Nielsen Friday morning while playing the sounds of crying migrant children who were separated from their families at the U.S.-Mexico border.
Holding signs that read "Child snatcher" and "2,300 children ripped from their families, no plan to reunite them," protesters chanted "No justice, no sleep!" and "Free the kids!"
It is not yet clear who organized the protest.
The audio of crying children that protesters played came from inside a U.S. Customs and Border Patrol facility and was obtained by ProPublica. At one point in the recording, a border patrol agent can be heard saying, "Well, we have an orchestra here. What's missing is a conductor."
This was the second time in recent days that Nielsen was confronted over the department's practice of separating young children from their families.
Related: Shame: DHS Chief Nielsen Hounded From Mexican Restaurant Over Border Policy
She was forced to leave a Mexican restaurant in Washington, D.C. on June 19 after protesters heckled her inside the restaurant. They shouted "abolish ICE" and chanted "shame" as she attempted to have dinner. The group that orchestrated the protest, the Democratic Socialists of America, said it was ironic that Nielsen was in a Mexican restaurant.
"We will not stand by and let Secretary Nielsen dine in peace, while she is directing her employees to tear little girls away from their mothers and crying boys away from their fathers at our border," the DSA said in a statement shared on its Facebook page following the incident.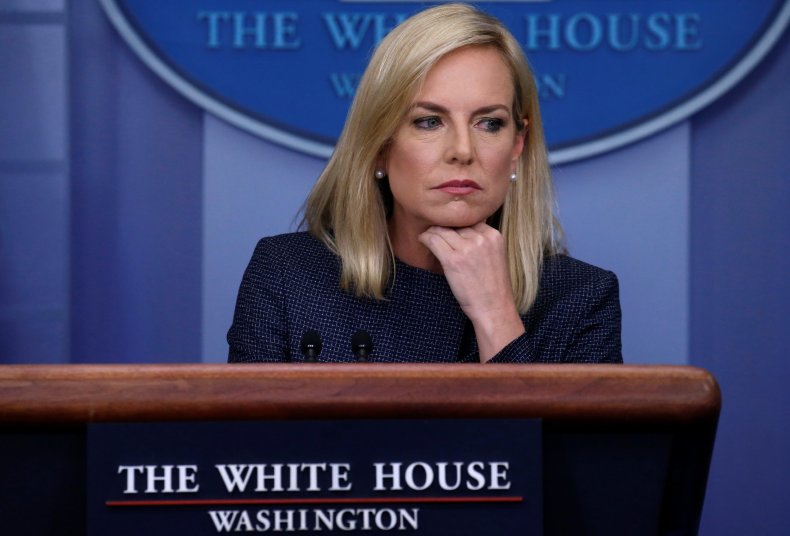 Trump signed an executive order on Wednesday that halted his administration's separation of immigrant families. The zero tolerance practice announced in April resulted in more than 2,300 children being taken from their parents. The order stated that while the White House would continue to prosecute those who did not comply with federal rules on entering the country through a designated port of entry, it also believed in maintaining "family unity."
It is still unclear when and how the children currently in immigration detention centers will be reunited with their families. Senior Trump administration officials said Thursday that about 500 of the 2,300 separated children had been reunited with their families since May.