Turpin Family Father Charged With Perjury for Lying about 'Home School' for 12 Children
California prosecutors added perjury charges to the criminal complaint filed Friday against David Allen Turpin, who along with his wife, Louise Ann, stand accused of abusing, imprisoning and starving 12 of their children for several years.
The Riverside County District Attorney's Office said Friday that David Allen Turpin falsely claimed to the California Department of Education that his children were "receiving a full-time education in a private day school" eight times between 2010 and 2017, The Desert Sun reported. In reality, the children were receiving no structured homeschool curriculum under the care—or lack thereof —from their parents. The defendant Turpin, 56, signed and filed the claims with the state's education department in regards to his children whose ages range from 2 to 29 years old.
The siblings in the "house of horrors," as prosecutors have described the Turpins' Riverside home, were allegedly allowed to shower only once a year and chokings and beatings were commonplace. Children accused of attempting to bathe were "chained up," Riverside County District Attorney Mike Hestrin said in January. The children were rescued from the home after the 17-year-old daughter managed to sneak out of the Muir Woods Roade home in January.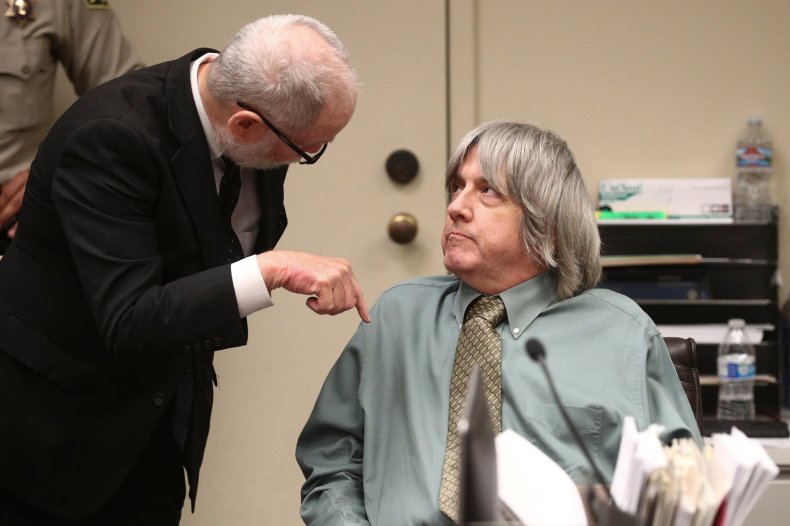 Superior Court Judge Emma Smith certified the prosecutors' amended complaint at the case status conference in the Riverside Hall of Justice Friday. Judge Smith also canceled a preliminary hearing that was scheduled later this month because the defense attorney of Louise Turpin, 49, is involved in a separate high-profile triple murder case near Palm Springs, California.
Thirty-eight charges were filed by California prosecutors in January against the Turpin parents, including 12 counts of torture, 12 counts of false imprisonment, seven counts of abuse of a dependent adult and six counts of child abuse. Riverside County District Attorney Mike Hestrin said in January the children were subjected to "severe emotional and physical abuse," with all but the 2-year-old child having suffered atrocious malnutrition under their parents' care. Louise is additionally charged with assault resulting in great bodily injury and David stands accused of one count of lewd acts on a child under age 14.
Louise's defense attorney Jeff Moore, David's public defender, David Macher and Deputy District Attorney Kevin Beecham agreed to reschedule the next court date for June 20. That hearing will determine if there's sufficient evidence to warrant a jury trial. Both Turpin parents are being held at Robert Presley Jail in Riverside in lieu of $12 million bail. If convicted, they face 94 years to life in state prison.
The adult Turpin children were released from the Corona Regional Medical Center in March to live in a rural home in an undisclosed part of California.
The Riverside County Prosecutor's Office did not immediately respond for comment to Newsweek Monday.