In Tussle for Senate Control, Manchin and Sinema Win This Round Over Sanders and Warren
President Joe Biden and a group of senators have reached a bipartisan infrastructure deal, highlighting the outsized role of Democratic moderates Joe Manchin and Kyrsten Sinema in the Senate.
After weeks of negotiation, Biden announced Thursday that a deal was made on a $953 billion infrastructure package. "We've struck a deal. A group of senators – five Democrats and five Republicans – has come together and forged an infrastructure agreement that will create millions of American jobs," Biden tweeted.
The progress comes just days after Manchin and Sinema reportedly met with Biden in two separate meetings to talk about pushing his agenda forward. Sinema and Manchin were two key negotiators among the bipartisan group.
"Senator Manchin and Senator Sinema have certainly made themselves kind of the big players in the Senate. Any legislation that's going to move through basically has to have their sign-off on it," Michael Starr Hopkins, a Democratic strategist, told Newsweek.
The infrastructure deal is somewhat of a short-term blow to progressives, who have protested that the compromise will leave out key parts of Biden's agenda—including child care and clean energy.
The president said Thursday that both sides made "major compromises" and that other White House priorities would be included in a separate bill.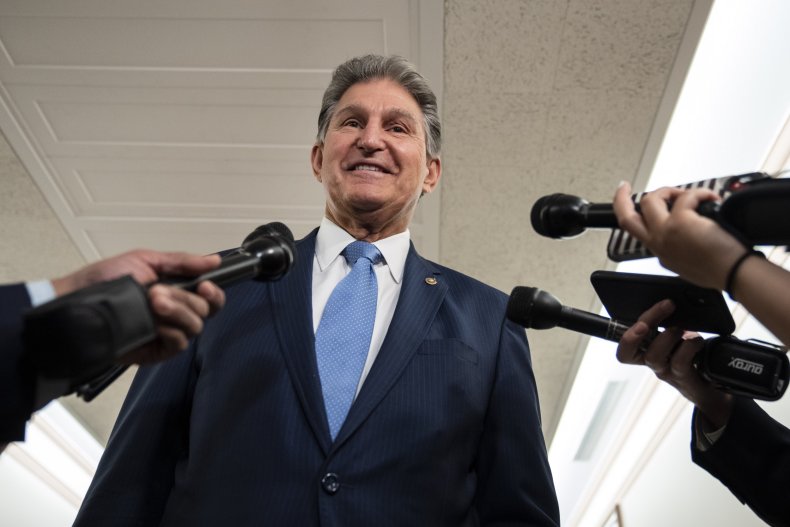 Democratic Senator Elizabeth Warren previously said she "couldn't support any infrastructure package" that didn't include those two priorities. Senator Bernie Sanders publicly opposed the first bipartisan proposal released earlier this month, saying he "wouldn't vote for it."
Sanders said Wednesday he was "tired of talking about" Manchin and Sinema.
"We have got to do what we can to bring people together. The American people, I think, all over this country understand now is the time to act," the Vermont independent told MSNBC's Andrea Mitchell.
Now, left-leaning Democrats are demanding a commitment that the Senate will also act on a reconciliation bill that will meet their infrastructure priorities. The reconciliation process would allow Democrats to bypass Republicans to pass legislation with just 51 votes.
"It's going to be either both or nothing. There will not be a bipartisan bill unless there's a major reconciliation bill," Sanders told Axios.
Hopkins said the reconciliation bill is where he expects progressives to use more of their political power to achieve more of their wish list on infrastructure, health care and climate change.
"I think progressives have been really smart about where they're spending their capital, when they're making headlines and where they're drawing their red lines," he said.
Democratic Party leaders Nancy Pelosi and Chuck Schumer said Wednesday they were supportive of the concepts included in the bipartisan framework. They also provided a rough timeline for the legislation, saying they hoped to hold votes on the bipartisan bill and the second, Democrats-only reconciliation bill in July.
"One can't be done without the other," Schumer said Wednesday. "All of us agree to that. We can't get the bipartisan bill done unless we're sure of getting the budget reconciliation bill done. We can't get the budget reconciliation bill done unless we're sure of the bipartisan, and I think our members, you know, across the spectrum, realize that. Our Democratic members."
Pelosi said she and Schumer were "very excited about the prospect of a bipartisan agreement, and then it takes us to whatever else we want to do."