Twice As Many Republicans Vote to Impeach Trump than Democrats Voted to Remove Clinton
More Republicans in the House voted for the second impeachment of President Donald Trump on Wednesday than Democrats voted in favor of impeaching President Bill Clinton in 1998.
The House voted to impeach Trump in the aftermath of riots at the U.S. Capitol in January, an event many have said Trump incited, by a vote of 232-197. Four Republican members of the House declined to vote. While a majority of Republicans chose to stand behind Trump and his baseless claims of widespread voter fraud, 10 GOP members decided to break ranks with Trump and call for his impeachment.
Trump's second impeachment was seen as the most bipartisan impeachment in U.S. history. Only 5 Democrats broke ranks to vote for impeaching Clinton. During the impeachment of President Andrew Johnson in 1868, only 7 Republicans joined with Democrats to vote in favor of Johnson's impeachment.
A majority of the 10 Republicans who voted for Trump's impeachment represent districts that voted for Trump in the 2020 election.
Ohio Republican Representative Anthony Gonzalez announced his support for impeaching Trump on Wednesday.
"When I consider the full scope of events leading up to January 6th including the President's lack of response as the United States Capitol was under attack," Gonzalez wrote, "I am compelled to support impeachment."
Gonzalez represents a district that leaned heavily in Trump's favor during the 2020 election. While Trump garnered 57 percent of the vote, President-elect Joe Biden obtained 42 percent of the vote.
Michigan Representative Peter Meijer, who supported a resolution to censure Trump on Tuesday, voted for impeachment on Wednesday.
"This vote is not a victory," Meijer said in a Wednesday statement. "It isn't a victory for my party, and it isn't the victory the Democrats might think it is. I'm not sure it is a victory for our country. But it is a call to action for us to reflect on these events and seek ways to correct them."
Trump carried Meijer's district with 51 percent of the vote while Biden received 47 percent.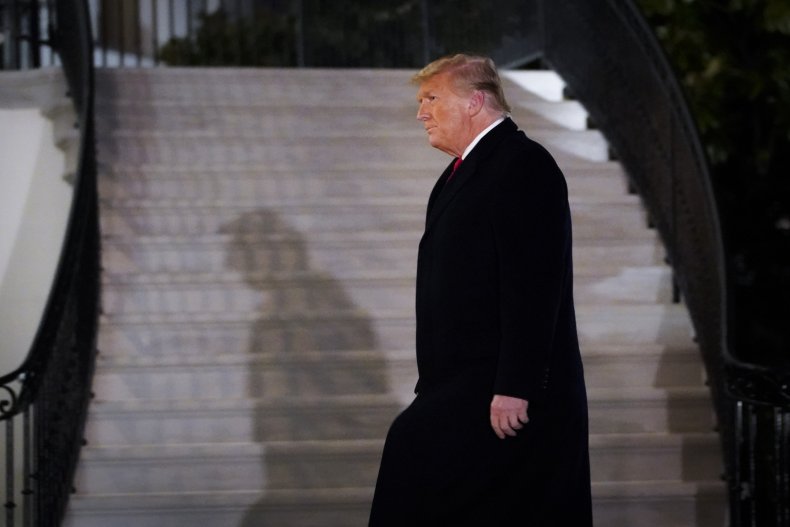 Wyoming Representative Liz Cheney, the third-highest ranking GOP member in the House, represents a district that Trump carried by 69 percent to Biden's 26 percent. On Tuesday, Cheney decried Trump's actions connected to the riot.
"There has never been a greater betrayal by a President of the United States of his office and his oath to the Constitution," Cheney said.
Illinois Representative Adam Kinzinger, who voted for Trump's impeachment, represents a district that has often voted Republican, except in 2008 when the district was carried by former President Barack Obama. In a Tuesday statement, Kinzinger said there was "no doubt in my mind" that Trump incited his supporters to attack the Capitol building which Kinzinger considered an "impeachable offense."
With the exception of one county, Washington Representative Jamie Herrera Butler's district voted for Trump in the 2020 election with Trump winning 51 percent of the vote to Biden's 47 percent. Michigan Representative Fred Upton's district was carried by Trump by 51 percent of the vote while Biden received 47 percent of the vote.
Washington Representative Daniel Newhouse's district gave Trump 58 percent of the vote while Biden only obtained 39 percent. In a Wednesday statement, Newhouse criticized Trump for failing to "call in reinforcements when our officers were overwhelmed" during the Capitol riot.
"Our country needed a leader and President Trump failed to fulfill his oath of office," Newhouse added.
South Carolina Representative Tom Rice, who voted for impeachment after saying on Monday that he was not in favor of the measure, represents a district where Trump defeated Biden with 59 percent of the vote. Biden garnered 40.6 percent.
Only two representatives that voted for Trump's impeachment hailed from largely Democratic districts. New York Representative John Katko, who on Tuesday became the first Republican House member to state he would vote in favor of impeaching Trump, comes from a district that has traditionally skewed Democrat. California Representative David Valadao's district voted for Biden by 54.4 percent. Trump obtained 43.5 percent of the vote in Valadao's district.
With Trump's impeachment a done deal in the House, the resolution is expected to move on to the Senate. With the Senate currently on recess, a date for the Senate hearings has not been officially announced.
Newsweek reached out to the White House for comment.
Clinton was impeached on four counts including two counts of perjury, obstruction of justice and abuse of power. While five Democrats agreed that three of the four counts were impeachable offenses, only one out of those five—Representative Gene Taylor of Mississippi—voted in favor of all four counts.