Twin toddlers drowned together in their family's swimming pool on Thursday morning.
The 18-month-old children were pulled from the water by a parent who tried to administer CPR, police said. But despite their efforts—which were later continued by emergency responders—the siblings could not be saved.
The little boy and girl had been found in the backyard pool at their home in the Cobblestone neighborhood of northwest Oklahoma City at about 10:45 a.m. and were officially confirmed dead at 1:00 p.m. Aerial footage of the home aired by Oklahoma's News 4 showed a pool filled with dark green water, apparently as the result of thick algae.
Neighbors reportedly gathered at the scene to pray as Oklahoma City firefighters tried to revive the toddlers in EMS vehicles outside the property before taking them to Baptist Hospital, according to local broadcaster News 4.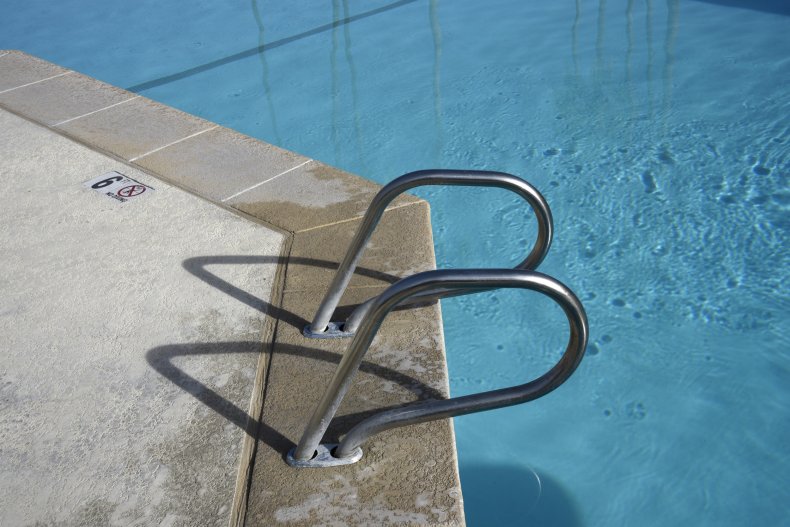 Neighbor Mike Bernard could not keep the emotion from his voice as he told the channel: "It's certainly disturbing. And, you know, my prayers go out to that family because little children are precious…They brought out two little children and put them in separate ambulances. And they were doing CPR on both little children… I saw the mother who was distraught, who got in an EMS vehicle."
The family had moved in about a year ago, he said. Other neighbors told KFOR the family consisted of six children, two parents, and a grandmother, who all lived together in the home.
It is unclear how the children ended up the pool, and the Oklahoma City Fire Department told News 4 that it is not yet known how long they were in the water for before they were discovered. Battalion chief Greg Merrell confirmed the children were "male and female…siblings." The identities of the children and the family involved have not yet been made public.
Oklahoma City Police are investigating as a matter of course, but believe the incident to have been the result of a tragic accident, News 4 reported.
Newsweek has reached out to Oklahoma City Police via email for further information and comment.
Drowning is the number one cause of unintentional death for children aged 1-4, and it's the second-most common cause of unintentional death for children aged 5-14 after car accidents, according to the Centers for Disease Control and Prevention.
A child safety expert told local channel Fox 25 that the death of the toddlers in Oklahoma was heart-breaking, and warned parents to remind themselves about what measures they can take to keep their own families safe in the wake of the tragedy.
Injury Prevention Coordinator for Trauma at OU Health Laura Gamino said: "I just want to send the family my sincere condolences. From Safe Kids Oklahoma City Metro and Oklahoma Children's Hospital, [we're] very, very sorry to hear this. It's just tragic."
She added: "Anything can happen in an instant…Children are attracted to water and toddlers won't have the skills to be able to help themselves get out of water…Drowning is very sudden, and it's very silent. Sometimes people have an idea that a child will have trouble in the water and be screaming, but they can't because their mouth is full of water. So it's very silent, and that's one of the scariest things about it."
She recommended that anyone who owns a pool should install a 4 foot-high fence around it with a gate that young children will not be able to open.
The case comes just months after a 9-year-old boy drowned while taking a shower in Texas. He was found unresponsive by his grandfather in September.
In November, the body of a 15-year-old girl who drowned after she was swept away from a South African beach was found floating in the water with a pod of dolphins accompanying her.
And in January, a Hawaiian firefighter had a lucky escape on Maui when he was swept into a storm drain by powerful floodwaters, dragged for thousands of feet and pumped out into the sea at the drain's exit. He was given CPR by his coworkers who managed to revive him.