Twitter Bots Are Working to Suppress Voter Turnout to Stop Macedonia's NATO Membership: Report
As Macedonia prepares to vote on Sunday in a referendum that will change the country's future, an army of Twitter bots is working to convince people not to go out and vote.
The number of online bots now discussing Macedonia in the lead-up to this historic vote is larger than those that discussed recent elections in Mexico or Italy, countries with between 30 to 70 million more inhabitants than Macedonia, according to an analysis by the Transatlantic Commission on Election Integrity, an initiative co-launched by former NATO Secretary General Anders Fogh Rasmussen and former Secretary of Homeland Security Michael Chertoff.
"The Transatlantic Commission's social media monitoring tool has detected an increase in new automated bots over the past 50 days, and an increase in activity of new and existing automated accounts over the past week. As a percentage of national Twitter activity, this surpasses what was observed in other recent elections such as the Mexican and Italian elections," the report reads.
"New accounts (created less than 60 days ago) make up 10 percent of the conversation – a figure higher than in the recent Mexican and almost three times higher than in the Italian elections. The narratives shared by these 'bots' are seeking to support the boycott movement and politicians or officials who have backed it," the report continues.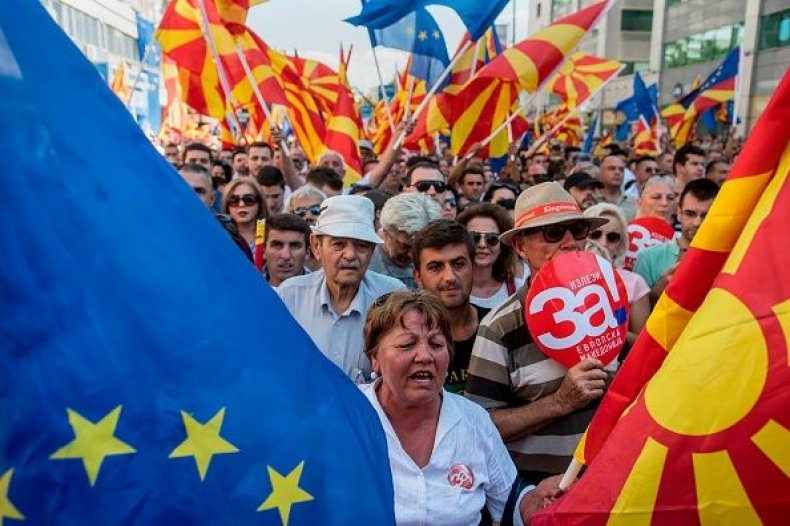 If people in Macedonia listen to the bots and boycott the referendum, it could theoretically derail the country's future membership in the North Atlantic Treaty Organization (NATO). On Sunday, citizens will vote on whether to change the country's name from the Former Yugoslav Republic of Macedonia (FYROM)—as it has been called since it gained independence from Yugoslavia in 1991—to the Republic of Northern Macedonia.
The country has been barred from joining NATO and the EU since independence because its neighbor Greece, a NATO and EU member, didn't want it to use the name Macedonia. After decades of negotiations, the two countries have come to an agreement to add Northern to the name of the Balkan country of just 2 million inhabitants. If voters choose yes in Sunday's referendum, it will pave the way for an official name change, and Greece should stop blocking the country from joining the international community. Still, at least 50 percent of voters must turn out for the vote to be considered valid.
At this important juncture, many Western leaders have called on voters in Macedonia to vote "yes" on Sunday. Many believe that the campaign of bots and fake news pushing a "no" vote are backed by Russia, which opposes Macedonia's NATO membership. Macedonia's President Gorge Ivanov is also opposed to the name change. He will speak at the United Nations General Assembly on Thursday.
The Transatlantic Commission on Election Integrity has a wide array of members, from former Vice President Joe Biden to the former Mexican President Felipe Calderon. Estonia's former President Toomas Hendrik Ilves, who is no stranger to cyber intrusions and interference in his own country, is also a member, as is the Ukrainian oligarch Victor Pinchuk.