2020 Has Made Twitter Sadder Than Ever, Data Shows
The series of tumultuous global events in 2020 have led to an unprecedented period of "sadness" among Twitter users, research suggests.
Tracking data analyzing keywords used on the social network shows a sharp decline in U.S. mood last month—sparked by the global novel coronavirus outbreak then reinforced by the killing of George Floyd and subsequent civil unrest in the U.S.
The findings come from the hedonometer—a long-running research tool made to indicate average happiness on the widely-used social network, which is now populated by one in five Americans according to a Pew Research Center survey from last year.
Two University of Vermont experts in the project, applied mathematicians Chris Danforth and Peter Dodds, were quoted by Nature Research this week as saying the period starting May 26 was the "saddest two weeks" ever recorded on Twitter.
Since 2008, the hedonometer tool has judged sentiment based on a random 10 percent sample of the roughly 500 million messages posted to the platform every day, gauging average public happiness by rating keywords based on positivity or negativity.
Three months ago, the first significant drop in happiness occurred, with notable words on March 12 including virus, corona, pandemic, canceled and quarantine.
At the time, analysts noted the change had correlated with an escalation of COVID-19, the suspension of the National Basketball Association (NBA) season, the positive coronavirus diagnosis of actor Tom Hanks and stock market concerns.
But the most severe crash appeared to follow the death of George Floyd, who was killed by police in Minneapolis on May 25, sparking global anti-racism demonstrations against police brutality, some of which initially resulted in violence and looting.
Danforth, professor in the department of mathematics and statistics, told Newsweek there were "several factors" at play in the increased levels of sadness.
"Hedonometer is reflecting Twitter's live blog of societal disruption: the pandemic, pervasive structural racism, embarrassingly inadequate leadership, not to mention climate change or economic inequality," the professor explained.
"Sports, music, and live entertainment typically comprise a good portion of Twitter activity. Since the pandemic took hold in March, very few of these leisure activities have been available for discussion on social media," he added via email today.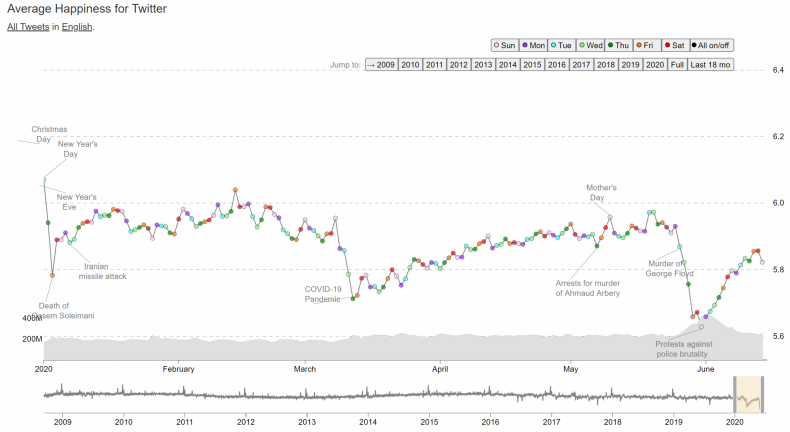 Around its lowest point, at the end of May, the hedonometer listed negative keywords including violence, murder, protest, racist, shooting, thugs and death.
"A new all-time low for the hedonometer, as happiness levels continue to drop in the days after George Floyd's murder," the tool's associated Twitter account wrote on May 30, noting levels were lower than a mass shooting in Las Vegas in 2017.
"The drop is dominated by enormous jumps in relatively negative words," the account elaborated. "Drops continuing over many days, which we have now seen for coronavirus and George Floyd's death, are also unprecedented for hedonometer."
Speaking to Seven Days, a weekly newspaper in Vermont, Danforth said last month that there had never been a "sustained sadness like we've been seeing."
Desmond Patton, a social scientist at Columbia University, told Nature Research reality is more complicated than happy vs sad, referencing increased levels of peaceful activism that have been occurring across the world in recent weeks.
"It's one thing to tell the world 'this is the saddest week.' But also in the saddest week, you have thousands and thousands of people who are now activated and moving towards equality and social justice," the New York City scientist added.
According to the academics on the Twitter hedonometer project, the volume of tweets over the past two weeks has been double the average from 2019. Currently, happiness appears to have increased, but Danforth was unsure if that would last.
"Last week we were getting roughly 20 million English tweets each day, which is about double the typical amount," the professor told Newsweek.
"We're seeing that the majority of this increase in volume is due to average people doing more retweeting than usual," he added. "This week, we're seeing roughly 100 million English words in original tweets, and nearly 300 million in retweets.
"There is usually so much going on in the world at one time, collective attention is difficult to sustain. With continued protests and increasing COVID infections, it isn't clear to me that the instrument will continue rising. Back in 2013, the Boston Marathon bombing produced the saddest day we had measured. Every day in the month from mid-March to mid-April 2020 was sadder than the bombing, as were the last three weeks."
Peaceful demonstrations have continued to take place across America following Floyd's death, renewing the focus on the Black Lives Matter movement and calls for a shake-up of U.S. policing. The full impact on Twitter's collective mood remains to be seen.