Twitter Rips Marco Rubio's Latest Post-Shooting Bible Verse Tweet: 'Hypocrisy 24:7'
Critics on Twitter called out Republican Senator Marco Rubio on Monday, condemning what they called his "hypocrisy" in the wake of two mass shootings over the weekend after he tweeted a Bible verse.
"Hatred can be concealed by pretense, but malice will be revealed in the assembly. Proverbs 26:26," Rubio, who represents Florida, wrote on Twitter. Prior to that on Sunday, the congressman tweeted: "The two horrible attacks in Texas & Ohio should sadden & concern all Americans. May God bless those impacted by these heartbreaking tragedies & the police, paramedics, doctors & nurses who saved lives."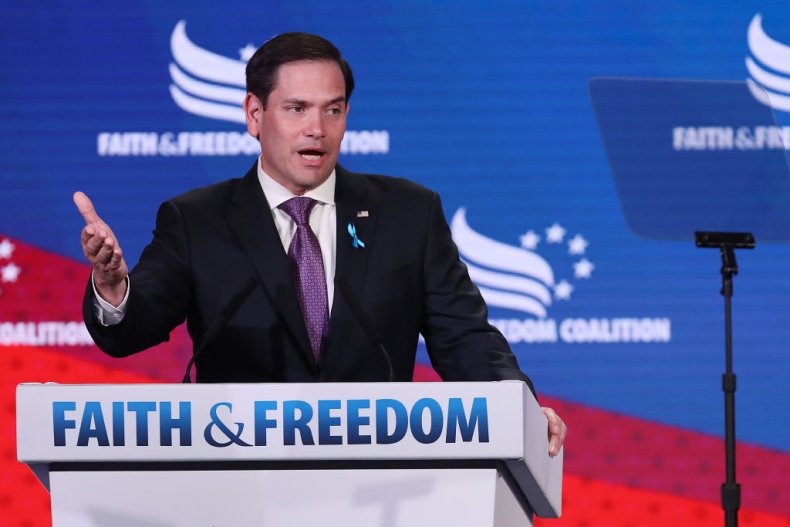 Many social media users were quick to slam Rubio's decision to quote the Bible, as he does regularly on Twitter. As a politician who has received at least $3.3 million in donations from the National Rifle Association (NRA) in the past, some on Twitter clearly viewed the senator as part of the reason why popular gun reform legislation has not moved forward in Congress.
"Hatred can be concealed by our acceptance of #WhiteNationalism and malice will be revealed in our cashing of NRA checks and failure to act. Hypocrisy 24:7," Twitter user liberté wrote in response to Rubio's Monday morning Bible verse.
Broadcast journalist Soledad O'Brien joined the chorus of critics, writing: "'...and the ignorance and cowardice of our elected officials will be revealed—and dealt with—in elections'. Soledad 20:19." She added an additional note, pointing out that the NRA has given Rubio millions in campaign donations.
John Klekamp, an Emmy award-winning reporter, quipped: "Whosoever shall quote biblical verse when action is required shall be remembered at the polls. Karma 20:20."
Others on Twitter used real Bible verses to criticize Rubio. "'They claim to know God, but by their actions they deny him. They are detestable, disobedient and unfit for doing anything good.' Titus 1:16," Joe Albanese wrote in response to the senator.
"The LORD detests lying lips, but he delights in people who are trustworthy. Proverbs 12:22," Twitter user Bob Joblin tweeted.
Rubio, a devout Christian, often tweets out Biblical verses to his 3.9 million followers. He has previously done so in the wake of mass shootings as well. In March of last year, the Florida lawmaker tweeted Isaiah 3:4–5 in an attempt to rebuke the young leaders who have risen up to address congressional inaction on gun control, despite the increasing number and deadliness of mass shootings.
"I will place boys as their princes; the fickle will govern them & the people will oppress one another, yes, each one the neighbor. The child will be insolent toward the elder & the base toward the honorable. Isaiah 3:4-5," he wrote at the time.
Over the weekend, two mass shootings occurred, the first in El Paso, Texas and the second in Dayton, Ohio. In the El Paso attack, the shooter killed 20 people and wounded 26 others at a Walmart in the border town. That incident is being investigated as domestic terrorism, and prosecutors said they are considering charging the detained suspect, 21-year-old Patrick Crusius, with federal hate crimes. A manifesto believed to be connected to Crusius railed against immigrants, and suggested that Latino immigrants should be killed.
The second attack in Dayton was allegedly carried out by 24-year-old Connor Betts, killing nine people and wounding 27 others. That mass shooting, which took place in a popular nightlife area of the Ohio city, happened just 13 hours after the attack in Texas.
Rubio has previously defended his record of accepting contributions from the NRA, despite substantial criticism.
"The influence of these groups comes not from money," the senator said at a CNN town hall in February of 2018. "The influence comes from the millions of people that agree with the agenda, the millions of Americans that support the NRA," he argued.
Gun rights advocates, like Rubio and the NRA, argue that imposing restrictions on gun purchases goes against the Second Amendment of the U.S. Constitution, which guarantees the right to "bear arms." However, critics have pointed out in response that the Constitution has been adjusted or changed numerous times in the past, arguing there is no reason not to do so once again in response to growing outbreak of mass shootings nationwide.