Twitter Users Trying to Ban 'Dangerous Conspiracy Theorist' Mike Cernovich, Who They Accuse of 'Weaponizing' Social Media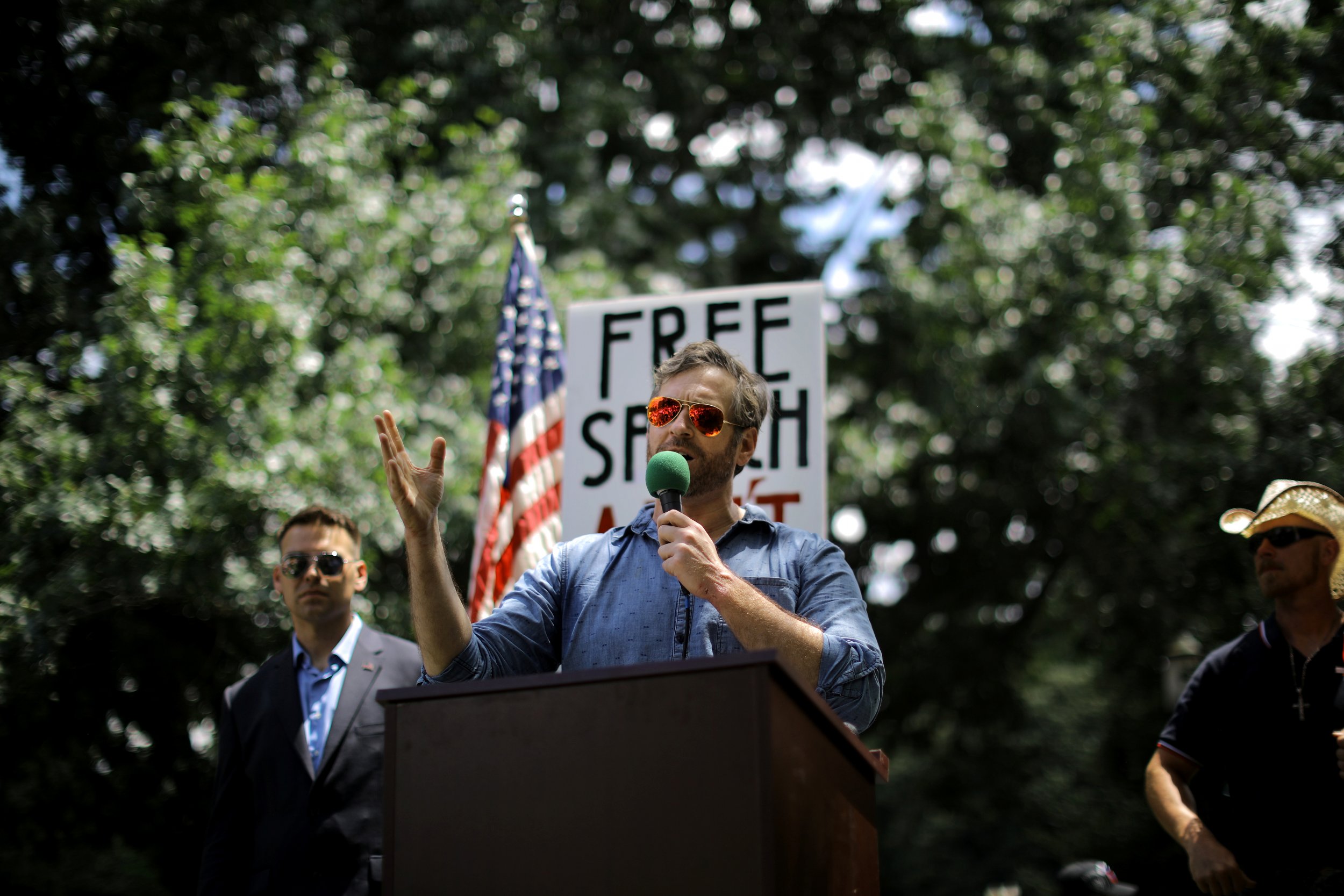 It was about a month after Donald Trump won the bruising presidential election over Hillary Clinton, and Vic Berger, a political satirist known for sculpting surreal, dreamlike video edits out of the public appearances of prominent conservatives, remembers seeing death threats percolating on his computer screen: Strangers saying they wanted to stab out his eyes and stab him in the back. The messages had started appearing in droves, he told Newsweek—often from anonymous accounts—accusing him of being a pedophile. Someone dug up his phone number and posted it. Someone else created a sexed-up Craigslist ad using his name.
Berger claims that flood of targeted harassment was instigated by Mike Cernovich, a conservative media personality who was behind a series of posts and videos insinuating that Berger was a pedophile. Cernovich at the time was one of the people pushing the so-called #pizzagate conspiracy theory, based around the lie that a Democratic Party pedophilia ring had been established in the basement of a Washington, D.C.-area pizzeria. That lie, which had spread slightly before Berger felt the brunt of that troll storm, was believed to be the impetus for a North Carolina man traveling to that pizzeria in late 2016 and firing off an AR-15 rifle. Berger, a father with two young children at home, said a wash of fear broke over him as he considered the possibility that the deluge of threatening messages might lead his life to a similarly violent place.
"I remember jumping when the mailman rang the doorbell to deliver a package," Berger told Newsweek of that time. "Even though much of it is likely just horrible people on the internet just trying to scare you, it works. And it's hard to explain to someone what it's like if you've never been on the receiving end of something like this."
Today, a petition is circulating around Twitter that urges Jack Dorsey, the company's co-founder and CEO, to ban Cernovich from the social media platform. The petition, which was posted by an anonymous person on the website ipetitions.com and has reached 4,000 signatures (the goal is 6,500), represents just the latest attempt by Twitter users to get Dorsey to change a platform that has been "weaponized"—to borrow Berger's word—into a tool for harassing people. Twitter has taken steps in 2017 to remove high-profile accounts that have enacted targeted abuse, but many users have complained that the site hasn't gone far enough.Some people have taken to adding the words "Ban the Nazis" to their Twitter display names, in an effort to draw greater attention to the issue of harassment.
Talia Lavin, an essayist who runs an active Twitter account, described the process of trying to fend off anti-Semitic and sexist trolls from her posts as being like "fencing with a squid."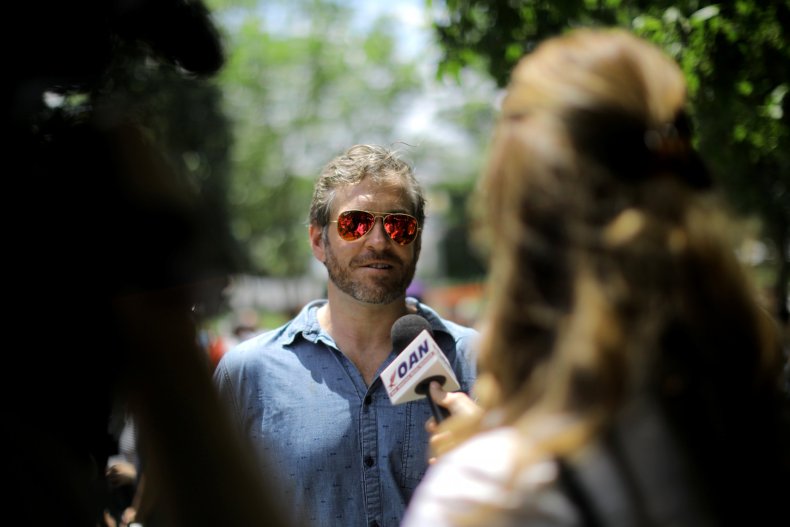 "For Cernovich and all these other horrible people in the alt-right, it's mainly about building up their profile, getting more attention and followers, conning those followers into giving them money" and taking down enemies, Berger said.
The petition argues that Cernovich should be banned from the site over the real-life crime that took place during #pizzagate, and because of the harassment campaigns Berger and others have alleged he waged against them. The petition also highlights past statements he has made about women. "Have you guys ever tried 'raping' a girl without using force?" Cernovich tweeted in 2012. "Try it. It's basically impossible. Date rape does not exist."
Cernovich, who no longer embraces the term "alt-right" but instead calls himself a "nationalist," argued to Newsweek that the petition was written "because I led to John Conyers being resigned," referring to his delivering a tip to Buzzfeed about the former Democratic representative having a history of facing sexual abuse allegations.
"I have broken more stories in a year than my haters in the media have in a lifetime," Cernovich added. Rather than directly taking on the allegations put forward in the petition, he wrote to Newsweek that Berger in fact had initiated harassment against him and his family, which he described as a "campaign of terror." As evidence, he provided a screenshot of a message from a random account appearing to threaten his child with violence. (It's not uncommon for journalists covering politics to receive threatening messages on Twitter.) He also accused Berger of initiating a campaign to shut down one of his book events.
Cernovich, who has close to 400,000 followers on Twitter, has struggled to answer for the controversial statements he has made, many of which he has since deleted. He was interviewed by an NPR reporter this week and asked about the infamous date rape quote. Cernovich hung up on the reporter, and posted a link to the audio of the interaction on his Facebook account.
Berger called the Cernovich accusations an attempt to muddy the waters. He pointed to numerous other people he alleges Cernovich has smeared with insinuations of pedophilia, like reporters, other conservative pundits and politicians—details of which were catalogued in a New York magazine story following the abuse Berger received. Since that time, Cernovich has used Twitter to push other fake news stories—like in early November, when he and others questioned whether the Sutherland Springs church shooter, who had hours earlier murdered more than two dozen people, was an "antifa" member. (He was not.) Cernovich also popped up in the news this week after he dug up a 2009 tweet by television personality Sam Seder about Roman Polanski, and successfully used it to get him fired. MSNBC rehired Seder later in the week in response to pressure from critics of Cernovich's actions.
Keegan Hankes, an intelligence analyst from the Southern Poverty Law Center (SPLC), one of the nation's leading rights groups, told Newsweek that Cernovich "walks a very fine line" on Twitter, which can be dangerous because of how many followers he has.
"He's an attention seeker," Hankes said. "He comes from a brand of personality that is mostly interested in rustling liberals."
Hankes noted that Cernovich is not connected to the white nationalist and neo-Nazi users who became synonymous with harassment in 2016, but said he "shares some of the same audience." He said that the harder edge of the so-called alt-right movement actually thinks of Cernovich as "a huckster."
"The pace of Twitter is frenetic and fast," Hankes told Newsweek of why the site is so unique when it comes to instances of harassment. "The medium works like a giant megaphone."
Berger, whose video- and photo-based satire has made him a kind of folk hero in left-leaning Twitter circles, has written to Dorsey scores of times about Cernovich but said he has never received a response. Dorsey knows who Cernovich is, presumably: He follows him on Twitter, along with more than 3,000 other people, including prominent Democrats like Kamala Harris and Maxine Waters. Newsweek reached out to Dorsey for a comment about the petition to remove Cernovich, but did not get a response.
Other public supporters of the petition are also angry at Twitter for not taking action. Tim Heidecker, a comedian who is a co-creator of a beloved sketch comedy show, has racked up more than 500,000 followers on the site, but has sworn to leave it for good on January 1 if Cernovich is not removed. To draw attention to his promise, he recently changed his display name to Tim Heidecker (leaving 1/1/18). "They won't do anything because nothing matters," Heidecker told Newsweek, adding: "[President Trump] uses the platform to lie, defame and denigrate individuals as well as whole classes and creeds of people."
Nathan Bernard, a software developer who is a co-creator of the site Cernovichleaks.com, which catalogues Cernovich's controversial statements about conspiracies and women, told Newsweek he believes that everyone deserves a platform—but this is an exception. "He has a clear historical trend of weaponizing his followers into campaigns that have real world consequences," he said.
Cernovich argued to Newsweek that his past writing was "nothing more than satirical meta-commentary on what the mainstream media does." Asked three times whether he regretted any of his previous comments on Twitter—which include insinuating that innocent people were pedophiles, pushing conspiracy theories and apologizing for rape—he declined to give a response.