Two in 10 Americans Know Someone Hospitalized or Who Died From the Coronavirus, Poll Shows
Two in 10 Americans say they know someone hospitalized or who has died as a result of the new coronavirus, new survey data shows.
An even 20 percent of respondents to a poll, conducted by Pew Research Center and published on Tuesday, have said they personally know someone hospitalized or deceased due to the ongoing COVID-19 pandemic. Nearly three in 10 (28 percent) said they know someone who has been infected with the virus.
Black Americans are significantly more likely to know someone with a severe case of COVID-19, according to the survey data. Among black Americans, more than one-third (34 percent) know someone hospitalized or who has died. Comparatively, 18 percent of white Americans and 19 percent of hispanic Americans say the same.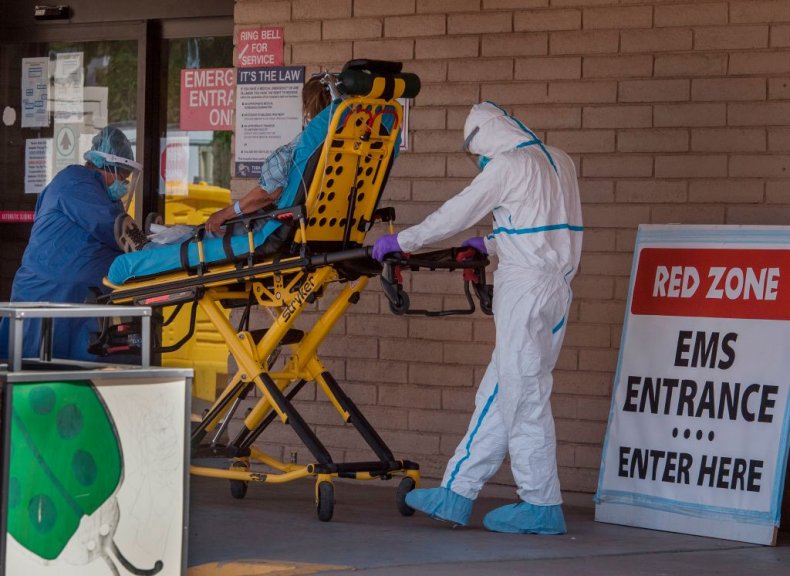 Newsweek has reached out to Pew Research Center and the Centers for Disease Control and Prevention (CDC) for further comment on the survey findings, but they had not responded as of the time of publication.
"The effects of COVID-19 on the health of racial and ethnic minority groups is still emerging; however, current data suggest a disproportionate burden of illness and death among racial and ethnic minority groups," the CDC has warned on its website.
"Health differences between racial and ethnic groups are often due to economic and social conditions that are more common among some racial and ethnic minorities than whites. In public health emergencies, these conditions can also isolate people from the resources they need to prepare for and respond to outbreaks," the agency said.
The survey data also showed that just 2 percent of respondents said they have been diagnosed as having been infected with the coronavirus. However, 14 percent of respondents said they were fairly certain they have contracted COVID-19, even though they have not been officially diagnosed.
As of early Tuesday afternoon, the U.S. had recorded nearly 1.67 million confirmed cases of the new coronavirus, according to a tracker updated by Johns Hopkins University. Of those infected, more than 98,000 have died while nearly 380,000 have already recovered. Over the past week, the U.S. has reported between 18,000 and 25,000 new cases nationwide each day.
Meanwhile, states and municipalities continue to emerge from stringent lockdowns, as public health experts urge Americans to continue following social distancing guidance in public.
"We've learned a lot about this virus, but we now need to translate that learning into real change behavior that stays with us so we can continue to drive down the number of cases," Dr. Deborah Birx, the coordinator of the White House coronavirus task force, said during a Sunday morning interview with ABC's This Week. "This only works if we all follow the guidelines and protect one another."