Exclusive: Two Afghanistan Veterans, Would-Be Gun Runners, Take Plea on Federal Charge
Two U.S. Army soldiers turned amateur "merchants of death" were indicted on federal charges of attempting to sell guns and explosives to a smuggler bound for Mexico ten months ago. But most of the charges they faced were dismissed—raising the question of why?
The most probable explanation, both lawyers and military analysts believe, is that the Iraq and Afghanistan veterans flipped on unknown co-conspirators potentially involved in the plot to sell firearms and explosives.
U.S. Army Explosive Ordnance Disposal (EOD) specialists Tyler J. Sumlin, 30, a veteran, and Sergeant First Class Jason W. Jarvis, 43, an active duty service member assigned to Fort Bragg in North Carolina, were arrested back in November 2018 and indicted on eight federal charges including conspiracy and gun-running after they tried to sell multiple firearms with silencers, military hardware and explosives devices such as C-4 and a hand grenade to a smuggler bound for Mexico.
Asked by Newsweek on Wednesday in his first interview since the ordeal began if there were other people involved in the plot, Sumlin said: "I'm not willing to answer that question."
The planned exchange of bombs and guns for cash was a setup. Undercover agents with Homeland Security Investigations, an investigative arm of the Department of Homeland Security, in El Paso, Texas, arrested the veteran and soldier in November 2018.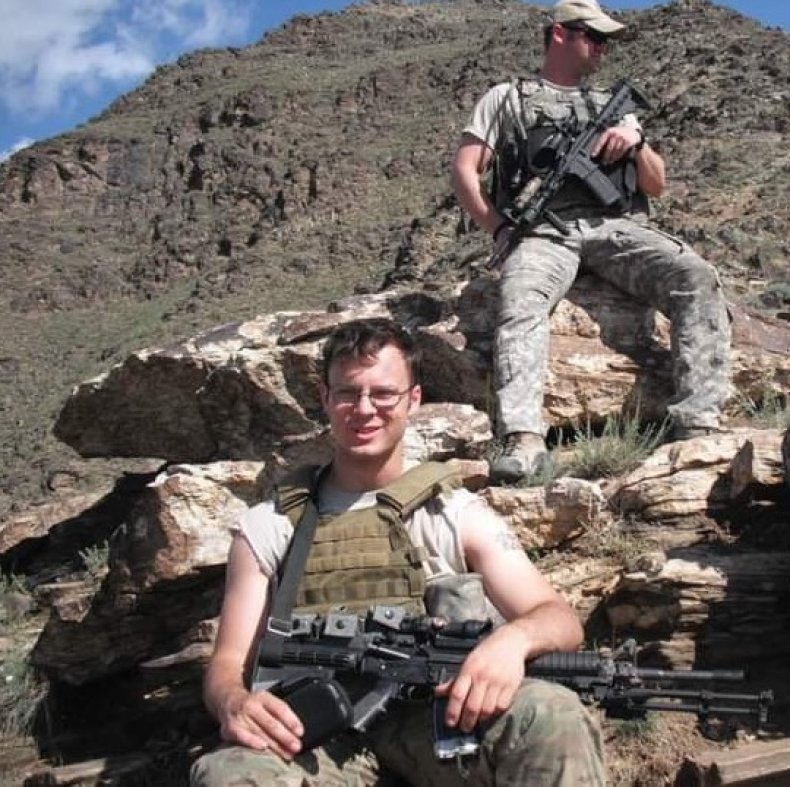 Assistant District Attorney Stanley M. Serwatka of the Western District of Texas, an office led by U.S. Attorney John F. Bash, a former special assistant to President Donald Trump and previous law clerk of both Antonin Scalia and Brett M. Kavanaugh, dismissed seven of the eight charges facing Sumlin and Jarvis.
Docket entries for both show the men entered sealed plea agreements with the U.S. government. Both have pled guilty to count two of the original indictment: an attempt to smuggle goods from the United States.
In audio obtained by Newsweek from Sumlin's June 20 hearing, U.S. District Judge Kathleen Cardone said his guilty plea carried a maximum sentence of 10 years in prison and a $250,000 fine.
"[Of the] eight counts, six of them were a maximum of ten years, two of them were a maximum of five years," Sumlin told Newsweek by phone. "So something like 70 years if they stacked it."
But on September 11, Sumlin was sentenced to five years of probation, according to court documents. Jarvis's sentencing hearing is scheduled for October 3.
Contacted by Newsweek about Jarvis's status in the U.S. Army before his upcoming hearing, no reply was returned by Fort Bragg public affairs or his lawyer before publication.
"For the record and what it's worth: There isn't anyone in this world more upset about what I did more than I am at myself," Sumlin told Newsweek. "It was a huge lack of judgment. I didn't take how my actions might have affected others."
The plea deals have fueled speculation in the EOD community over unknown co-conspirators—a theory which came to light back in February when Newsweek obtained a 15-page document showing Sumlin talking about his case in a secret Facebook chat room created for current and former members of the U.S. military's EOD community. At the time, the room boasted a membership of 3,000.
Within the chatroom pages, Sumlin indicated that six other people are involved in the conspiracy to sell weapons and explosives. It is not known if the six individuals include Jarvis and Sumlin, according to the Facebook thread obtained by Newsweek from the secret chat room.
"As far as I know they are in the clear as long as they don't say anything," Sumlin wrote in the private chat room. "And even if there was a docket, I wouldn't ever think of telling anyone the [case] number so it could be posted. I don't care about mine. I f***ed up huge. No changing that. I'm gonna do some time and hopefully move on with my life. I figured this shit had been posted months ago."
When another EOD specialist asked Sumlin why he was protecting the other individuals involved in the scheme, he said, "I'd like to hope they learned from what's going to happen to me. By all means, if this would have happened to one of them, it would have changed my life that's for sure."
Brad Moss, a Washington, D.C. attorney specializing in matters of national security, told Newsweek the dismissal of the other charges is consistent with a plea deal arrangement, especially if there is a cooperation component built into it.
"In order to spare the parties the time and expense of prosecuting the full range of charges, the defendant pleads guilty to a narrower set of the charges. That is what appears to have been done here," explained Moss.
When asked if there was a scenario where the charges against Sumlin may have been dropped without him assisting the U.S. government in further investigations, Moss said, "Sure, if as a part of the plea deal he stipulated to a rather hefty sentence." But given that Sumlin received only five years of probation, Moss said, "He almost certainly flipped."
How 'Mr. T' Came To Be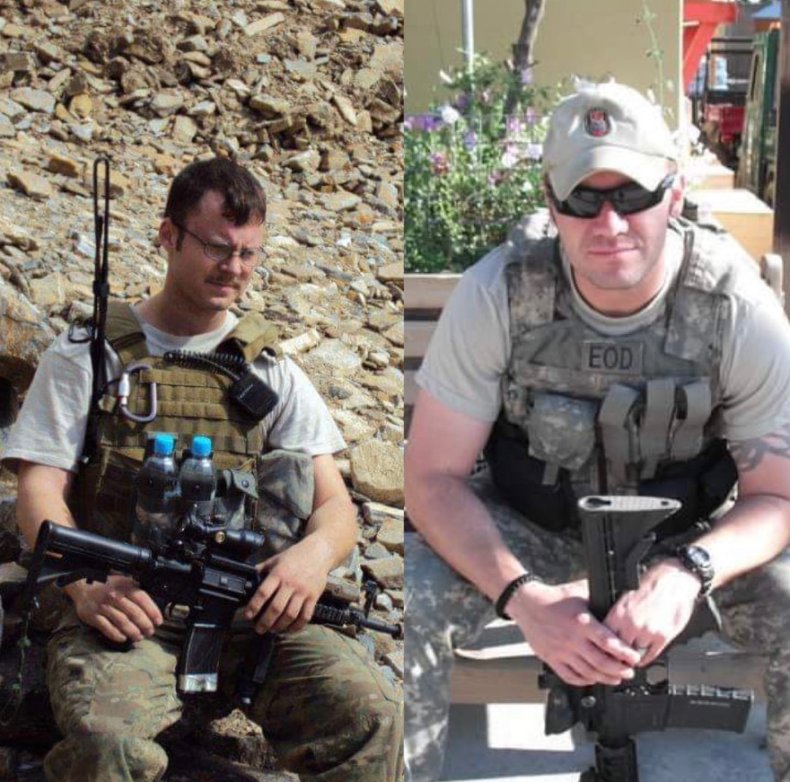 Sumlin and Jarvis served together on the same EOD team in the northeastern province of Kunar, Afghanistan, in 2009 and into 2010. "I did two deployments to Afghanistan...and I also spent six months in Egypt," said Sumlin.
In January 2018, Sumlin said he deployed to Iraq as an EOD contractor with Janus Global, a private contracting company. It was there and somewhere between May and June when Sumlin said he received a call from Jarvis.
"Basically I was asked if I could find buyers for some stuff and I said I'll try my best," Sumlin told Newsweek. "And then I was given a phone number from a buddy of mine that I knew and asked him if he knew of anybody that would be interested in some stuff and he said, 'I'm not but this guy might be,' and that turned out to be undercover agents." In the audio recording from Sumlin's hearing, he used the alias, "Mr. T." (It was not, Sumlin told Newsweek, a reference to Mr. T, the American actor from The A-Team and Rocky III. )
The indictment filed against the men said that because Jarvis was serving in the U.S. Army, he had "access or through others to military firearms, firearm parts, and other equipment." Sumlin told Newsweek he does not know how Jarvis acquired the items they later attempted to sell and he does not know if Jarvis had done this before.
Newsweek reached out to Jarvis's attorney for comment, but no reply was returned.
In November, Sumlin rotated back to the United States from Iraq—by then he had been out of the military for less than a year. Jarvis, stationed at Fort Bragg in North Carolina, rented a Chevrolet Tahoe to drive to Inverness, Florida to pick up Sumlin. The vehicle was packed with firearms, explosives and other military equipment swiped from the Army base, according to the indictment.
The two men met at an Airbnb residence in Florida and combined their respective stolen weapons and explosives together, placing them in storage containers in preparation for the trip to El Paso.
According to the indictment, it states that Sumlin and Jarvis wiped the weapons clean. When asked by Newsweek what that referred to, Sumlin declined to comment.
Sumlin told Newsweek he contributed around nine rifles and two pistols that were not a part of the deal that was set to go down in El Paso, Texas.
While hauling guns and explosives across from Florida to Texas, Sumlin said, "There was definitely a moment of, is it too late to turn around? Obviously we didn't, but that thought did cross my mind at one point."
On November 14, 2018, the two met up with the buyers—who would turn out to be undercover agents—at a local truck stop in far east El Paso, according to the criminal complaint.
Sumlin and Jarvis followed the undercover agents to a nearby warehouse to exchange the money for the goods, but upon their arrival, they were taken into custody. The men were accused of agreeing to sell the stolen firearms, explosives and hardware for $75,000, Newsweek reported in February.
In the secret EOD Facebook chat room, Sumlin told one user that he asked for $250,000 but was talked down to $75,000.
Sumlin told Newsweek the original price was not $250,000 but just a little more than what eventually settled on: $75,000.
"I was going to be making, I think, $32 [thousand] and the rest [$43,000] was going back to Jarvis," Sumlin said. But in the criminal complaint filed against the men, Sumlin said he was slated to make $12,000 from the transaction, while Jarvis's take on the deal was to be $2,000."
A former Army source briefed on the details of the case said Sumlin was going to make only $12,000 in profit because he had spent $20,000 on expenses.
Sumlin declined to elaborate to Newsweek about where the $20,000 went. Asked if anyone else was slated to be paid from the overall transaction, Sumlin said: "Nobody else on my end."
The criminal complaint says that agents seized 32 rifles of various makes and models and three handguns of different varieties. Silencers, 5 pounds of C-4 explosive and a hand grenade were also among the items seized.
A Defense Department source with knowledge of the serious incident report (SIR) told Newsweek back in February that the weapons included M4 carbines; M107 Barrett .50 caliber sniper rifles; a Browning .50 caliber machine gun; night vision goggles; and igniters and blasting caps for the C-4 explosives.
Sumlin, however, said the rifles were AR-types, not M4 carbines from the U.S. Army and said they did not have M107 Barrett .50 caliber sniper rifles or a Browning .50 caliber machine gun.
Sumlin did confirm the guns and explosives noted in the criminal complaint and confirmed that night vision goggles were among the military hardware; he said he did not know if they came from the U.S. Army.
Newsweek has been unable to determine if the Defense Department source from February was mistaken or if there is a discrepancy between the firearms listed in the indictment and what is listed in the Army's report.
For months after Sumlin and Jarvis were arrested, rumors of the scheme circulated the Pentagon's EOD community, with some believing the soldiers attempted to sell to Mexican drug cartels, just over the border in neighboring Juárez. But there was no official press release from the Army or news reports, and the incident was widely dismissed as one of those fabricated stories traded among service members—until the indictments were found some three months after their arrest.
In the interview with Newsweek, Sumlin said at no time was the Mexican cartel discussed when negotiating the deal with undercover agents.
Three current and former EOD technicians, who were granted anonymity in order to speak openly about the investigation, told Newsweek in February that U.S. Army brass at Fort Bragg wanted to keep the story out of the news cycle if they could.
Sumlin, himself also asked whether the Army tried to keep the story out of the public eye, he said, "As for factual information, I have no idea. But you know the saying, 'keep it at the lowest level.'"
Multiple Freedom of Information Act requests Newsweek has filed related to this story have been denied by both the Department of Homeland Security and the U.S. Army, citing ongoing enforcement proceedings—Newsweek is appealing.
For Sumlin, the road ahead is completing his probation without incident: he said he doesn't even speed when driving anymore. He now plans to pursue a psychology degree.
"I want to try and help veterans that have lost their way and try to help veterans transition out of the military and back into civilian life...people that have gone through the issues of losing that rush...that spark in life," said Sumlin. "I realize how big of a second chance I have been gifted. And I'm grateful. I will not let it go to waste. It [has] really put things into a different perspective for me."