Donald Trump Cutout Set on Fire, Two Arrested During Dueling Boston Protests
An effigy of President Donald Trump was set on fire as demonstrators clashed during dueling protests in Boston.
Super Happy Fun America (SHFA) organized a rally in Copley Square on Sunday, billed as a "Peaceful Protest Against Democrat Violence." The group, which reportedly has far-right ties, is best-known for organizing a controversial "Straight Pride Parade" in the city last year.
On a Facebook page for the event, the group claimed the Black Lives Matter movement and antifa were "the extremist wing of the Democrat Party" and called for Democrats "to fully renounce the violent actions of their supporters."
The event's organizers added that their rally's featured speaker would be Rayla Campbell, the chair of Black Voices for Trump in Massachusetts and a Republican who is running as a write-in candidate against Democratic Rep. Ayanna Pressley.
At least three groups made efforts to galvanize counter-protesters in response to the SHFA rally.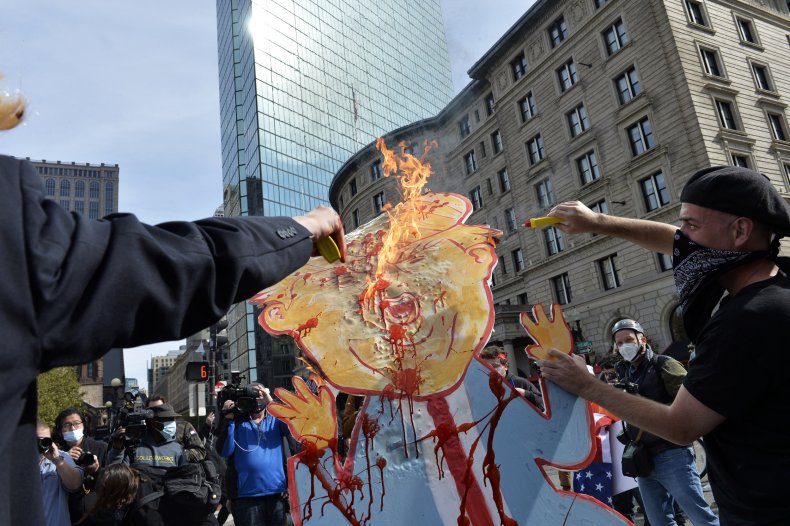 Solidarity Against Hate-Boston arranged a counter-protest called "Kick Fascists out of Boston!"
The group wrote on Facebook: "Fascism is no match for a united people. The people of Boston have proven time and again they see through SHFA's lies, and that they will come out against fascism, racism, and the Trump agenda regardless of threats from the right."
"Boston is the people's city and no place for fascists," the group added, calling for supporters to turn up on Sunday and "make the message clear once again."
Meanwhile, the Freedom Fighter Coalition on Instagram urged people to "wake up, take a shower, eat breakfast, grab anything that makes noise, call a friend and come to Copley Square."
The post added: "We must not allow racists to come to our city to spew negativity and hatred."
On Facebook, another group, Refuse Fascism New England, said it had joined with Solidarity Against Hate and other groups in a counter-protest.
The counter-protesters visibly outnumbered protesters affiliated with SHFA, who were seen waving flags in support of Trump.
Steel barricades were used to separate SHFA rally-goers from the counter-protesters, who were seen brandishing signs saying "F**k off Nazis" and "end white supremacy."
At one point, some counter-protesters set a cardboard cutout of Trump on fire. Pictures showed a Trump flag was also ignited.
Some people were placed face down on the ground and handcuffed by officers in riot gear. Other officers were seen using batons to hold back people in the crowd.
Two men who were arrested at the protests will face multiple charges, including assault and battery of a police officer and disorderly conduct.
On Facebook, Refuse Fascism said the arrested men were affiliated with their group and have since been bailed out.
"Police provoked, assaulted and arrested two counter protestors active with RF (since bailed out), maced and assaulted several others, while MAGA - goons spewed their bile," the group wrote. "But counter - protest, dwarfing the MAGA rally was loud, energized and non-violent.. It was very powerful and drowned out SHFA for most of the day."
The Boston Police Department has been contacted for additional comment.