'Several' Capitol Police Officers Suspended, Another Official Arrested for Roles in Trump Riot
The U.S. Capitol Police revealed Monday night that "several" of its officers have been suspended for their actions during the deadly insurrection by supporters of President Donald Trump last week.
Acting Capitol Police Chief Yogananda Pittman announced that the department has been "actively reviewing video and other open source materials" from the riot of "some USCP officers and officials that appear to be in violation of Department regulations and policies."
Rep. Tim Ryan (D-Ohio), who oversees USCP's congressional funding, further told reporters on a video call earlier in the day that the suspensions included an officer who was seen posing for a selfie with a rioter after they stormed the building and another officer who donned a red Trump hat who "started directing people around" in the sprawling, multi-level complex.
The revelations came as lawmakers have struggled to grasp the magnitude at which USCP was unable to prevent the building from coming under siege. Several congressional panels and federal agencies have launched probes into whether those who were sworn to defend the Capitol and the hundreds of lawmakers, staff and reporters inside were complicit with the insurrection that resulted in five deaths.
A third individual was arrested, Ryan said. His office later clarified that it was not a USCP officer but would not specify what agency they were from. Ryan suggested earlier in the day that it may be a member of the D.C. National Guard.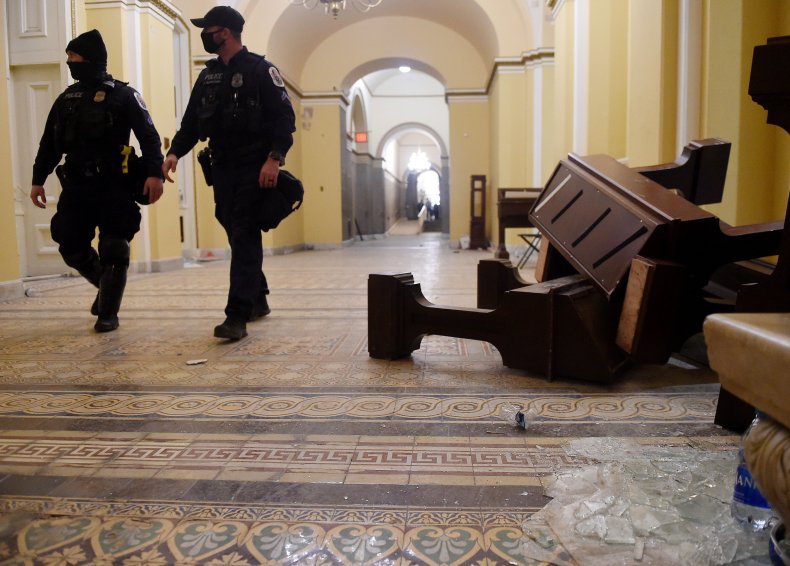 The D.C. National Guard did not respond to Newsweek's request for comment.
Another 10-15 officers are also under investigation, according to Ryan. He did not have specific details about their alleged behavior.
"Capitol Police are looking at everybody involved that could have potentially facilitated at a big level or small level in any way. Those are being investigated now," Ryan said. "We need all hands on deck moving forward, and we can't have somebody protecting on the inauguration that was not doing the job during the January 6 event."
One USCP officer, Brian Sicknick, died from his injuries. Federal authorities have ruled his death a murder and are investigating.
Footage from that day showed that while the vast majority put their own lives on the line as they battled the violent mob, some USCP officers appeared complicit, prompting searing and bipartisan outrage. Members of Congress, especially Democrats, have questioned how rioters were able to breach parts of the building so rapidly and were able to quickly find some of their offices once inside.
In addition to the actions taken by the officers on suspension, videos showed officers moving outside barricades and physically stepping aside within the halls of Congress to allow throngs of rioters to rush past.
Ryan declined to characterize the insurrection as an "inside job," but said there was evidence to suggest "some level of coordination" on the behalf of rioters. He cited the pipe bombs that were placed outside the Democratic National Committee and the Republican National Committee, mere steps from the Capitol grounds, shortly before police were overrun that caused resources to be stretched thin at a critical time.
The inability to prevent the breach led to the swift ouster of three out of the top four security positions for the Capitol: the House and Senate Sergeant at Arms, and the Capitol Police chief.
Ryan said his information about the USCP suspensions was based on conversations with interim Chief Pittman, who has taken the place of Steven Sund.
The FBI has reportedly distributed a warning to local law enforcement agencies that armed protests are being planned at the U.S. Capitol and all 50 state capitals in the days leading up to and on the day of President-elect Joe Biden's inauguration January 20.
As many as 15,000 National Guard troops from the District and surrounding states could be brought into the city to help with security, as well as forces from other federal agencies.
This story was updated to include additional information from Rep. Ryan's office. It was further updated to include a statement from Acting USCP Chief Pittman.