Investigators with the Washington Department of Fish and Wildlife are searching for the perpetrator or perpetrators of a poaching incident that took place in Fairfield, Washington.
Officials said two bull elk were illegally killed and their heads were removed, while a third bull elk was shot, injured and paralyzed. The injured elk was left in freezing conditions until a local resident found the animals.
"A passerby who lives in the area came across them," Washington Department of Fish and Wildlife Sergeant Tony Leonetti told Newsweek. "They caught a glimpse of the antlers. Snow blows pretty hard down there and it isn't typical to find an elk laying down."
Leonetti said that hunting season is currently closed for the area in which the elk were found. The three were likely in close proximity to one another in a privately-owned field, and Leonetti believes it was an isolated incident.
"This is an appalling act of poaching large, branch-antlered elk—a blatant disrespect of natural resource rules, ethics and conservation," Leonetti said in a release published by the department.
For one to hunt ethically, they are required to hunt within legal hunting seasons, use the appropriate equipment, respect property rights, get permission to hunt on private land and follow the rules and regulations set by the state.
The elk left injured and paralyzed was estimated to have laid in the field for at least one full day. When officials found him, the elk was humanely lethally dispatched.
None of the meat from the animals was usable.
Leonetti said the individual or individuals involved in this likely were not licensed hunters.
"This was an act of thrill killing," Leonetti said.
Per the department, elk are found throughout Washington state. Two different subspecies live on opposite sides of the cascade range. The Olympic National Park is home to about 5,000 elk, which is the largest number of elk living anywhere.
Rocky Mountain elk are found in more mountainous areas in eastern Washington.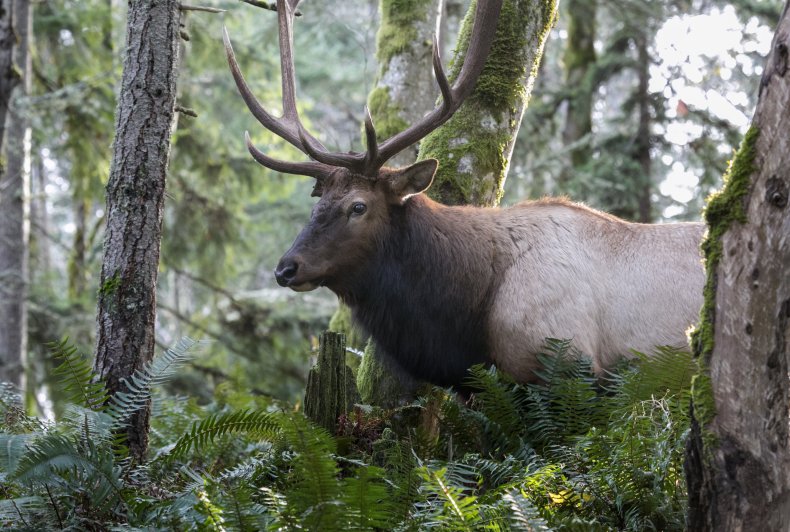 Leonetti told Newsweek the deaths will have a huge impact on the already-small local herd. Eliminating these elk, he said, can deliver a significant blow to the reproduction of the herd.
"This was an opportunistic event that an individual or individuals took advantage of, and it will cause major harm to elk in the future," he said. "It took three mature producing bulls out of the herd. We'll have to see what the herd looks like next year."
The department welcomes tips and information regarding the incident.
In a separate poaching case, Newsweek reported that rhino poachers killed dozens of animals over the course of a week. One attack occurred on a private game reserve where four rhinos were slaughtered. A fifth rhino, though shot in the face, was receiving care by a veterinarian on the reserve.