Two F-16 Fighter Jets Scrambled to Escort Plane After American Man 'Started Screaming and Hitting Wildly'
Two Dutch F-16 Fighter jets were scrambled to escort a flight from Abu Dhabi to Amsterdam after an American passenger onboard "became aggressive" toward cabin crew and other passengers, authorities have said.
A fight broke out on the KLM Airbus A330-200 jet around 30 minutes before the plane was scheduled to land at Schiphol airport near the Dutch capital in the early hours of Saturday (October 6).
"A 29-year-old American man became aggressive after being asked by a purser to return to his seat," Joanna Helmonds, spokeswoman for the gendarmerie, which also serves as the country's border police, told AFP.
"A scuffle broke out and the cabin crew, together with other passengers, managed to restrain the man," Helmonds added.
A flight attendant told Dutch newspaper De Telegraaf that the American "started screaming and hitting wildly" after the crew managed to get him back in his seat.
"His behavior was very threatening from one moment to the next," she added.
The flight attendant said that the unruly passenger did not appear to be under the influence of drugs or alcohol.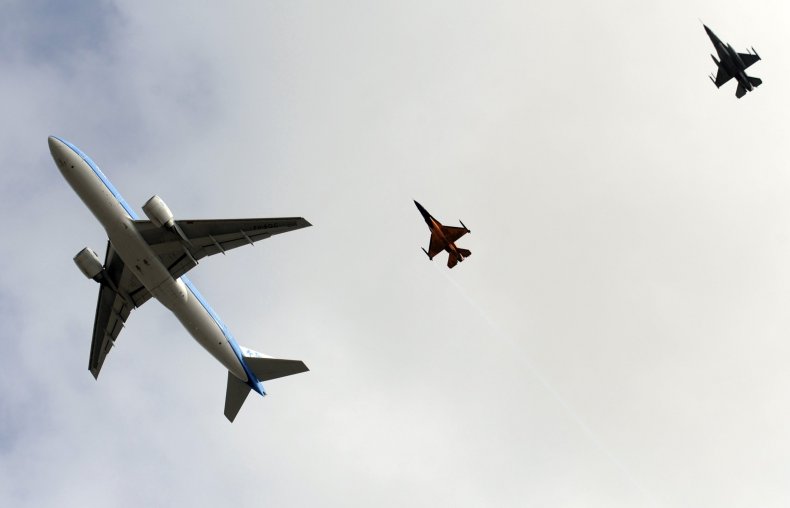 According to reports, several fellow passengers were slightly injured during the scuffle, including two who were given black eyes, Helmonds said.
Once the Dutch air force scrambled the fighter jets, special clearance was given for the plane to land immediately at Schiphol airport.
The man, who has not been identified, was arrested shortly afterward. He was later admitted to a psychiatric institution for observation.
Heleen Makkinga, spokeswoman for KLM, said the airline "regretted the unpleasant incident" but the cabin crew followed standard procedure for dealing with a disruptive passenger.
"Passengers and crew have laid a complaint against the man," Makkinga added to AFP.
Earlier this month, an American Airlines flight from Phoenix to Boston was forced to divert and land in Kansas City, Missouri, due to a passenger who refused to stop doing pull-ups on the luggage cabins.
"He would not sit down," David Markoski, a fellow passenger onboard the flight at the time, told WBZ-TV. "The flight attendant probably asked him about three or four times to sit down and he refused to sit down and then he really got verbally abusive with her, started calling her names."
Officials said that after the plane was diverted to Missouri, the passenger was questioned by authorities but was not taken into custody or charged in relation to the incident.