Two Louisville Police Officers Shot Identified as Aubrey Gregory, Robinson Desroches Expected to Recover
Louisville Metro Police Department (LMPD) Chief of Police Robert Schroeder publicly identified the two officers who were shot Wednesday evening.
Major Aubrey Gregory and Officer Robinson Desroches were shot at about 8:30 p.m., and are expected to survive their injuries, Schroeder said during a Thursday morning press conference.
Gregory was commanding the department's special operations division Wednesday night at the time that he was shot in the leg, Schroeder said. Gregory was taken to a hospital to treat his injuries and has been released, according to the police chief.
Desroches was also responding to protests in Louisville Wednesday night at the time of the shooting and was struck in the abdomen, Schroeder said.
Mayor Greg Fischer said Desroches underwent "significant" surgeries to treat his injuries but was in stable condition Thursday morning, and is expected to recover.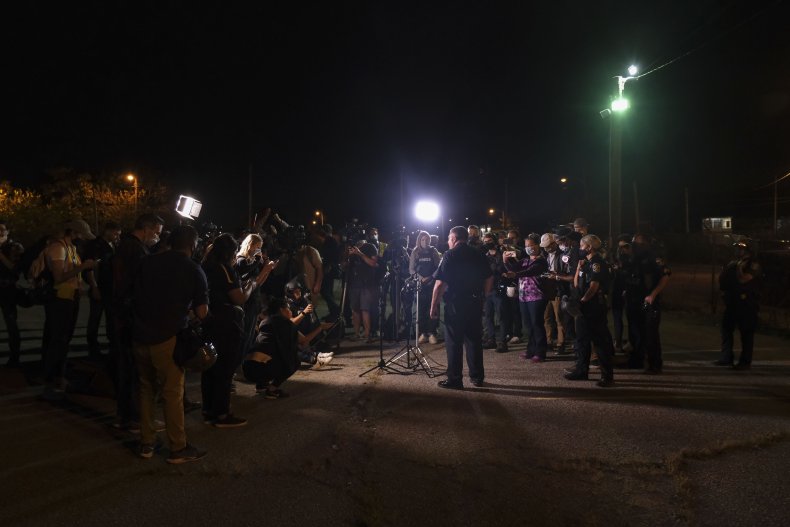 Police took one suspect into custody Wednesday night in connection with the shooting, a 26-year-old man Schroeder identified Thursday morning as Larynzo Johnson. Officers with Federal Bureau of Investigation (FBI) Louisville are assisting in the investigation and have asked witnesses to contact them with any information they may have about the shooting.
Johnson has been charged with two counts of assault in the first degree and 14 counts of wanton endangerment, Schroeder said. He added that it was too early in the investigation to say if Johnson was a protest participant or what the shooter's motive may have been. The type of weapon used in the shooting was a handgun, the police chief said, but details regarding how it was obtained were also part of the ongoing investigation.
Gregory joined the LMPD in 1999 and has been one of the leaders of the department's response to protesters over the last few months, Schroeder said. Desroches has been with the department since March 2019 and works in the Second Division, according to the police chief.
In addition to the shooting, at least two sergeants were also injured in connection with the protests Wednesday evening. One sergeant was injured after a protester struck him with a baton, Schroeder said, and another suffered a knee injury while taking a resisting individual into custody. A third officer was spit upon by an individual during the protests, Schroeder said.
A total of 127 people were arrested in connection with the protests that started Wednesday afternoon following a grand jury's announcement in the Breonna Taylor investigation. Taylor, a 26-year-old Black woman, was fatally shot inside her apartment as officers attempted to serve a no-knock warrant. One officer involved in the incident, Brett Hankison, was fired in June and charged on Wednesday with three felony counts of wanton endangerment. The other officers involved were not charged, though a federal investigation into the incident is ongoing, Kentucky Attorney General Daniel Cameron said Wednesday.
In anticipation of the grand jury's decision, the LMPD canceled all vacation days and time-off requests for its personnel until further notice and Fischer introduced a 72-hour countywide curfew that began Wednesday night. Schroeder said the LMPD expects protests to continue for days to come and called for peaceful demonstrations.
During the Thursday press conference, Fischer said the violence that occurred during the protests Wednesday night was "completely unacceptable."
"Violence will only be a source of pain, not a cure for pain," Fischer said. "And we know that violence is never the answer."
Newsweek reached out to LMPD for further comment, but did not receive a response in time for publication.
This story has been updated with additional information and background.