Two Mosques Attacked in New Zealand, Multiple Fatalities Reported as City Goes on Lockdown
Follow Newsweek's live coverage of the New Zealand mosque shootings here: New Zealand Mosque Shootings Live Updates: Everything to Know About Christchurch Attack
Original report:
A shooting at two New Zealand mosques left many people dead and forced authorities to lockdown Christchurch, the country's third biggest city, police and local media said.
According to media reports, gunshots were heard near the Al Noor mosque around 1:40 p.m. local time. A second attack, at the Linwood Masjid mosque, was reported later, with a TVNZ report saying an estimated 150 people were inside the mosque at the time of the shooting.
New Zealand police have confirmed fatalities occurred at both locations but did not give a specific number, nor confirm how many were injured.
Local police activated a lockdown in the Christchurch city center and encouraged individuals to remain indoors as they responded to an "active shooter" situation. All schools in Christchurch were also placed on lockdown with students and staff held beyond operating hours to ensure their safety. The school lockdown ended around 6 p.m. local time, though residents are being instructed to remain off the streets.
In a press conference, New Zealand Police Commissioner Mike Bush confirmed that four people have been arrested, three men and one woman, though their names were not released. It is unknown if any of the suspects were present at the mosques, but witnesses described a light-skinned male entering the Al Noor mosque while wearing a helmet with some type of device attached.
All four suspects were apprehended by local police, Bush said.
One of the alleged gunmen is believed to have live-streamed the attack on Facebook, though reports of the video being connected to the two Christchurch attacks are unconfirmed at this time. Bush did confirm knowledge of the video and that New Zealand police were working to have it removed from the internet.
"It's very disturbing, it shouldn't be in the public domain," he said.
Bush also said responding officers located several explosive devices attached to cars, though he declined to categorize the incidents as a terrorist attack at this time, adding, "it does not get more serious than this."
Several Australian and New Zealand politics have spoken out on social media to condemn the attacks, and New Zealand's Prime Minister Jacinda Arderm called the incidents one of the country's "darkest days."
"It is clear that this is one of New Zealand's darkest days. Clearly, what has happened here is an extraordinary and unprecedented act of violence," Ardern said during a brief press conference. "Many of those who will have been directly affected by this shooting may be migrants to New Zealand, they may even be refugees here. They have chosen to make New Zealand their home, and it is their home. They are us. The person who has perpetuated this violence against us is not. They have no place in New Zealand. There is no place in New Zealand for such acts of extreme and unprecedented violence, which it is clear this act was."
Earlier in the afternoon, Bush issued a statement which urged other mosques in the country to close for the day, saying, "We ask all mosques nationally to shut their doors, and advise that people refrain from visiting these premises until further notice."
Bush added that New Zealanders should remain vigilant and report any suspicious behavior by dialing 111.
"We understand that there will be many anxious people but I can assure New Zealanders that police is doing all it can to resolve this incident," Bush said.
According to a report from Radio NZ, Adam Ali was praying at the Linwood Masjid when a gunman entered the mosque and opened fire. Ali said he saw multiple people injured by gunshots as he escaped the mosque.
"I've lived in Christchurch for twenty-five years plus, I haven't seen anything like this. This is not right, this is not Christchurch. Day by day there's so much racism [and] the conflict we are getting, it's not right," Ali said.
Scott Brown, the U.S. Ambassador to New Zealand & Samoa, tweeted his condolences to New Zealand, "We're heartbroken over the events in Christchurch today. We stand with our Kiwi friends and neighbors and our prayers are with you. Kia kaha."
In light of the attack, the Los Angeles Police Department said it plans to increase patrols in areas around mosques "out an abundance of caution."
"The LAPD is monitoring the horrific events unfolding in Christchurch, New Zealand. While this attack appears to be an isolated incident with no nexus to LA, out of an abundance of caution we're providing extra patrols around mosques. Our thoughts & prayers are with all affected," the department tweeted.
During the press conference, Bush said that police were not assuming that violence would be confined to Christchurch but that there was no information to indicate that similar attacks could be carried out in other countries. However, the Australian and New Zealand counter-terrorism committee announced that all counter-terrorism measures have been activated.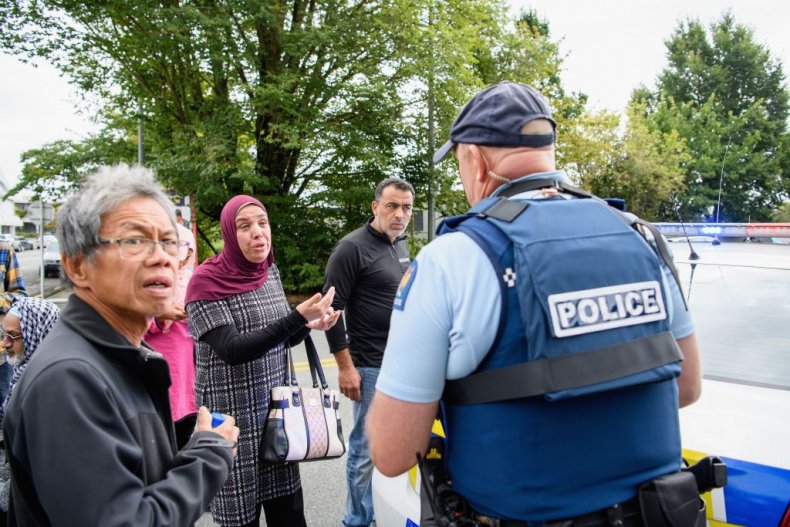 This article was updated with a link to live coverage of the events around the shooting.