Two-Tiered Societies Are No Answer to Vaccine Hesitancy | Opinion
A few days ago, British Prime Minister Boris Johnson told news cameras that the COVID vaccine "doesn't protect you against catching the disease, and it doesn't protect you against passing it on." In one fell swoop (and probably unaware of it), Johnson eviscerated the premise behind vaccine passports.
Nonetheless, leaders across the Western world have been clamoring toward segregationist policies that would pit the vaccinated against the unvaccinated, effectively creating "two-tier" societies.
The latest missive from Jacinda Ardern—the prime minister of New Zealand once lauded as the world's second "top thinker" on COVID—should serve as the most heinous example of policymaking we've heard so far.
Asked if she was cultivating a two-tier class system of the vaccinated and unvaccinated, Ardern stunningly admitted: "That is what it is, so, yep."
She even smirked when making the admission, as if to signal that she does not even intend to seem reluctant or reticent to restrict the rights of her fellow countrymen anymore.
Ardern went on to discuss precisely why "rights" need to be stripped away for those who are not keen on taking the vaccines or their boosters.
New Zealand isn't the only country toying with such authoritarian measures.
Austria's chancellor recently mooted fresh lockdowns targeted at those without the vaccine. These ideas would create nations with extremely fractious divisions. Countries of the "jabbed" and the "jab-nots."
Repeating the broken record mantra of the Biden administration in America, Chancellor Alexander Schallenberg said: "The pandemic is not yet in the rearview mirror. ...We are about to stumble into a pandemic of the unvaccinated."
Except much of the data available to the public does not necessarily suggest the unvaccinated are the problem. And civil discourse on the matter is not allowed, in any event.
If Prime Minister Johnson's utterances on the subject are to be believed, the vaccinated are not protected from catching or spreading the virus. And it is the vaccinated who are mostly likely to fraternize with abandon.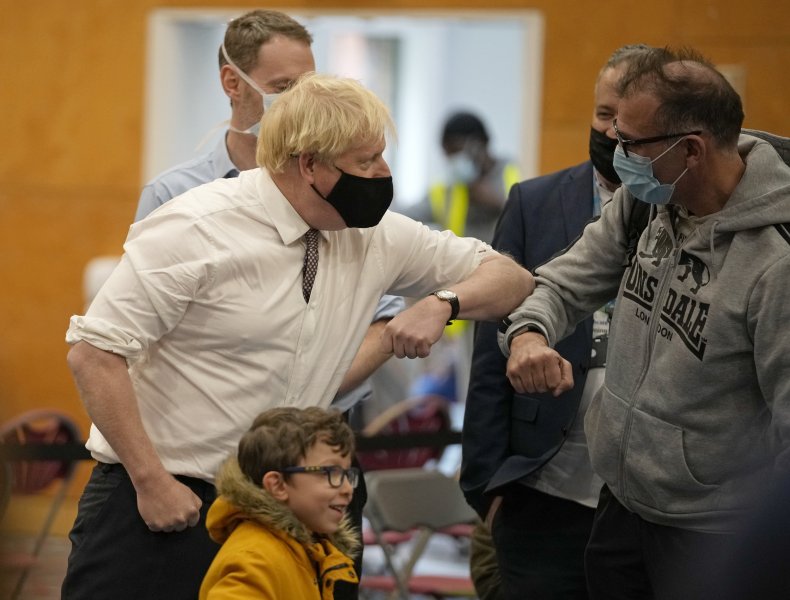 Such social interactions may only increase as nations like France, Scotland and Wales give priority partying privileges to the double-jabbed—and, in the long term, perhaps only the "boosted."
Right now, a vaccine passport is required to dine inside across France, to attend nightclubs in Scotland and even potentially to watch live sporting events outside.
Americans—being unique in the Western world about their willingness to protect their God-given rights—should appreciate the importance of maintaining freedoms for all of a nation's citizens, not just those who fall into politically or medically expedient categories at any given time.
For instance, I personally am double-vaccinated. At 57 years of age, and as a lifelong smoker, it made sense for me personally. But state bullying is loathsome, and multi-tiered societies are a reminder of dark days from centuries past.
Now, some of America's own statesmen are joining the push toward this tyranny.
Speaking to the BBC this past weekend, former presidential candidate Hillary Clinton demanded of Prime Minister Boris Johnson: "I do think it is imperative that the prime minister do what he can to stop the rise in COVID in the U.K. He doesn't need to shut the society down, but he does need to mandate vaccines."
Her intervention could not have come at a worse time. British case numbers have once again started to trend downwards, as the political appetite for further lockdowns wanes in the face of a weary public.
The same, perhaps, can also be said for the United States.
Images and videos of protesting workers, parents and even Black Lives Matter activists may scarcely adorn the nightly news broadcasts. But direct action is happening, and the resistance to vaccine mandates across the Western world is growing, not shrinking.
In France, the vaccinated are seen to march alongside the unvaccinated, in solidarity with their personal health care decisions.
I hope Americans can find it within themselves to tolerate the decisions of their fellow citizens, rather than bumbling into a class-based society that will not stop at two jabs, two jabs and a booster, two jabs and two boosters, or more.
Freedom is only ever one generation away from extinction, as President Ronald Reagan once said. Let it not be this one.
Nigel Farage is senior editor-at-large of Newsweek's "The Debate" platform.
The views expressed in this article are the writer's own.