Two Years After Trump Said The Economy Can Hit 6 Percent, GDP Growth Slowed to 2.1 Percent
In December 2017, Trump predicted that U.S. gross domestic product (GDP) growth would reach 6 percent. But two years later, GDP growth actually slowed to just 2.1 percent in the final quarter of 2019.
The Department of Commerce estimated Thursday that between October and December, the gross domestic product, which measures the value of goods and services produced in the U.S., grew at just 2.1 percent. Year-over-year growth was 2.3 percent last year, well below the three percent projections set by the Trump administration and nowhere close to the 6 percent the president once predicted.
"The economy now has hit 3 percent. Nobody thought we'd be anywhere close. I think we can go to 4, 5, and maybe even 6 percent ultimately," Trump said December 16, 2017. At the time, 2017 GDP growth hit 3.2 percent in the third quarter and rose to 3.5 percent in the fourth quarter.
For all of Trump's assertions that the U.S. currently has the "greatest" economy in history, GDP growth under his administration has averaged only slightly higher than it did during former President Barack Obama's final four years in office. The average GDP growth under Obama from 2013 to 2016 was 2.2 percent, while in Trump's first three years it has been just under 2.5 percent. Trump's best year for GDP growth was 2018, when it reached an average of 2.9 percent. Under Obama, annual GDP growth hit 2.9 percent in 2015 as well, which was the highest annual growth his administration achieved.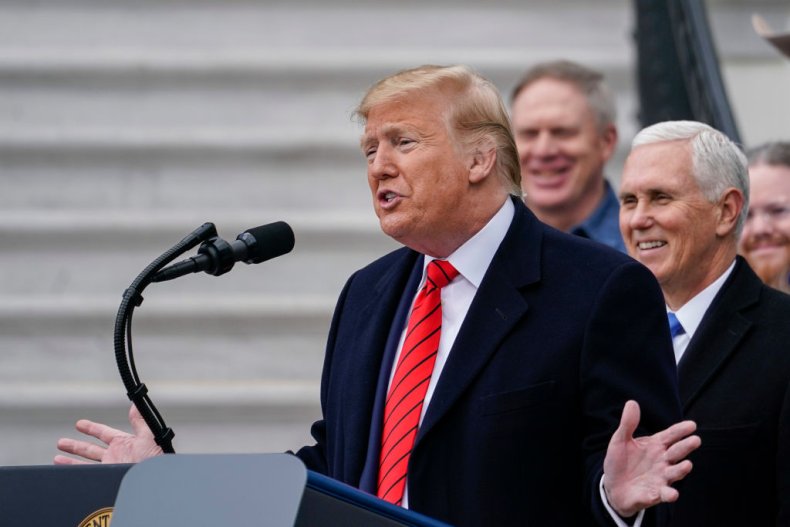 Trump's administration has also never achieved quarterly GDP growth above 3.5 percent. Under Obama, GDP growth reached 5.5 percent and then 5 percent in both the second and third quarters of 2014.
Trump and Republicans have repeatedly pointed to low unemployment and a booming stock market to tout the administration's economic achievements. But critics have raised concerns about ballooning debt and growing budget deficits. The president's tax cuts, which he and his supporters claimed would bring a boom of economic growth, have fueled the deficit while largely benefiting the wealthiest Americans and corporations.
Meanwhile, Trump's protracted trade war with China and trade tensions with allies have taken a toll on the economy. But the president this week signed the landmark United States-Mexico-Canada Agreement (USMA), which has replaced the previous North American Free Trade Agreement (NAFTA). He also signed a "phase one" trade deal with China this month, suggesting that some trade tensions will improve over the coming year.
Despite criticisms of Trump's economic policies, the continued GDP growth will be viewed positively overall. Economists have previously raised concerns about the possibility of another recession, so sustained growth is a welcome sign.
"That is an unusual degree of consistency for what can be a volatile series, and it is the sort of thing that will please policy-makers," said Eric Winograd, a senior economist at AllianceBernstein, told Business Insider. "Two percent is strong enough to avoid being too close to recession but not so strong as to suggest overheating."