Consumer Confidence Fell After Trump's New Trade Agreement With China
President Donald Trump's signing of a "phase one" trade agreement with China last week didn't increase consumer confidence, which actually declined in the days following the deal, according to data from Morning Consult.
While the market research company's latest report, released Wednesday, noted that the news of the deal was seen as "moderately positive," it showed that daily consumer confidence fell last Thursday and Friday, the two days following the agreement's signing.
Meanwhile, confidence in the farming sector declined for the fourth straight week, despite China's promise to buy billions more in agricultural products. "January's monthly reading will mark the first month-over-month decrease since the height of the trade wars in August 2019," the report said.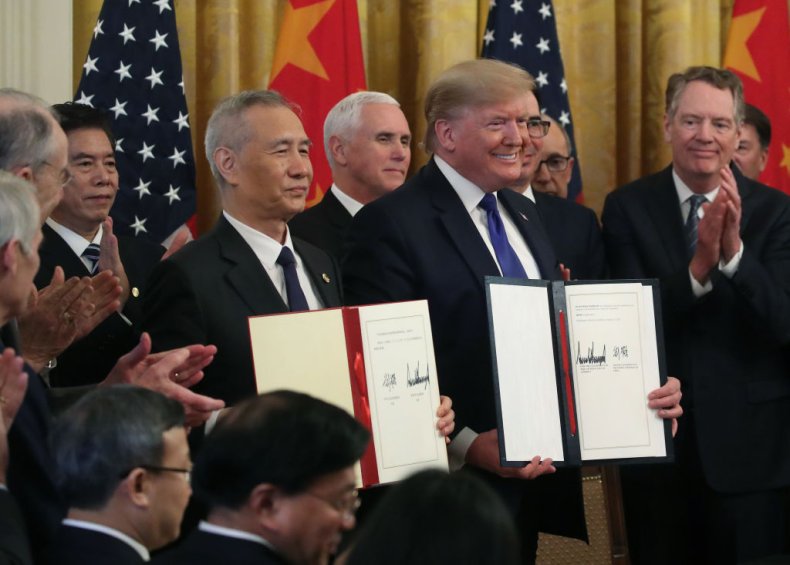 Newsweek subscription offers >
But overall, consumer sentiment was up last week, rising to 113.9 from 112.8 a week before. The report attributed the increase to positive manufacturing and housing data. Previous data released last week by Morning Consult showed that consumer confidence, even among Trump supporters, declined after the president's controversial actions toward Iran.
John Leer, an economist for Morning Consult, told Newsweek that consumer confidence is built based on a range of factors and the dip at the end of last week wasn't only related to the China deal. However, he noted there were concerns about the new deal between Beijing and Washington.
He noted that economists have "questioned the ability of China to live up to its commitments to purchase so many U.S. agricultural goods over such a short period of time, and the Chinese government has even said that its purchases under the agreement will be contingent on the strength of Chinese consumers' demand."
"The recent decline in confidence within the U.S. agriculture sector adds credence to this skepticism," Leer said. "American farmers adopted an increasingly negative view of their future economic prospects in the weeks leading up to the signing ceremony, and the details of the agreement didn't change their minds."
Newsweek subscription offers >
Trump hailed the China trade agreement as "the biggest anybody has ever seen," but economists and Democratic lawmakers were much more skeptical.
The deal "hardly addresses in any substantive way the fundamental sources of trade and economic tensions between the two sides, which will continue to fester," Eswar Prasad, an economist at Cornell University and former head of the International Monetary Fund's China division, told The Guardian last week.
"Based on what we know of this so-called 'Phase One' deal, China hasn't agreed to substantively do anything new, and now it seems that the Trump tariffs will remain in place even after the deal is signed," Senator Chris Murphy, a Connecticut Democrat who sits on the Foreign Relations Committee, said in a statement emailed to Newsweek last Wednesday.
"So my question remains: what exactly is the reason for this high-profile White House ceremony other than a photo-op to be used for political purposes?" he asked.
Trade tensions between China and the U.S. escalated in 2018 as Trump began placing new tariffs on billions of Chinese imports. Beijing responded in kind, adding its own tariffs to American products along with other retaliatory measures. The new deal has not removed the tariffs but has held off additional levies threatened by the White House and reduced the rate. China, for its part, has agreed to purchase more U.S. goods and take further steps to open up its market to American businesses.
The trade dispute's impact has been felt especially hard by farmers throughout the U.S., many of whom were reliant on the Chinese market for a large share of their profits. Reports have shown that bankruptcies among farmers, as well as suicides, have risen as the tensions persisted.
This article has been updated with comments from economist John Leer.
Consumer Confidence Fell After Trump's New Trade Agreement With China | U.S.