Trump Supporters Are Less Confident In The Economy After The Iran Crisis
Consumer confidence in the U.S. economy among both President Donald Trump's supporters and critics dropped for the first time since October last week amid heightened tensions with Iran, according to new survey data.
The latest polling from Morning Consult showed that during the week ending January 12, approval of Trump and consumer confidence both dipped as many in Washington—Democrats and some Republicans—raised concerns about the president's Iran policy. Among Trump supporters, confidence dipped by 1.4 points, while it fell by 2.3 points among those who disapprove of the commander in chief.
Moderates from across the political spectrum showed the biggest decline in consumer confidence in the economy, falling by about 2.4 percent. When dividing the country into four regions – Midwest, Northeast, South and West – approval of the president dropped significantly in each part of the country.
Trump ordered a U.S. military drone strike to kill Iran's top military commander Qassem Soleimani on January 3 after the government official arrived in Iraq. The controversial decision, which he made without consulting leaders in Congress, was strongly condemned by Democrats, as well as some Republicans, who argued that the strike would make Americans less safe and bring Washington and Tehran closer to war.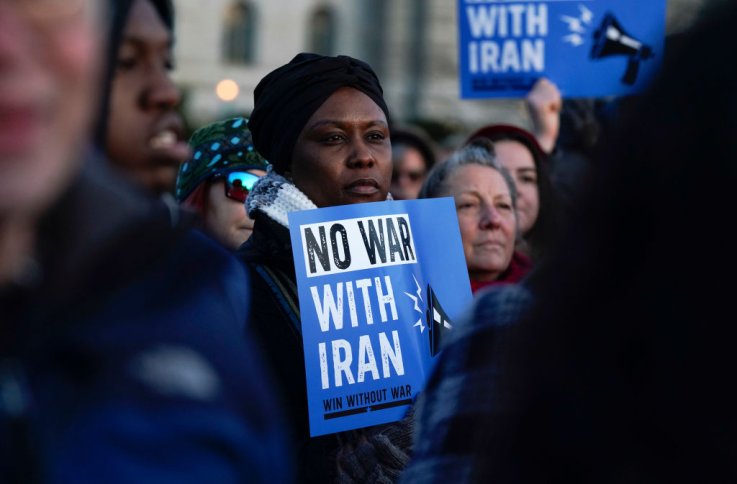 "I think there is much more likely to be attacks now with his [Soleimani's] death," GOP Senator Rand Paul said last Tuesday.
Morning Consult's data, which was compiled from surveys of 7,500 American adults, appeared to line up with other polling data, which showed that the majority of Americans disapproved of Trump's actions towards Iran. An ABC/Ipsos poll released Sunday showed that 56 percent of Americans disapproved of Trump's handling of Iran policy, while 52 percent believed the killing of Soleimani made the U.S. less safe.
Similarly, a USA Today and Ipsos survey released last week found that 55 percent of Americans believed the killing of Soleimani made the U.S. less safe, while another poll by Reuters and Ipsos showed that 53 percent of Americans disapproved of Trump's handling of tensions with Iran.
Members of Congress scrambled to pass War Powers resolutions in a bid to limit the president's ability to escalate tensions with Iran. The House of Representatives passed bipartisan legislation last week, which was largely viewed as symbolic, and Senators are pushing for more binding legislation in the upper chamber of Congress.
Democratic Senator Tim Caine of Virginia said on Tuesday that there were enough senators planning to back the measure for it to pass. The bill would require Trump to seek approval from Congress at least 30 days before carrying out any military action against Iran. However, if it passes the House and the Senate, Trump is expected to use the seventh veto of his presidency to block it.
Trump Supporters Are Less Confident In The Economy After The Iran Crisis | World