Tyler Breeze Talks Finally Winning NXT Gold, Fashion Files & Tag Team Wrestling
Capturing gold in the WWE has been a long time coming for NXT superstars Tyler Breeze and Fandango.
After defeating Imperium for the NXT Tag Team Championships in August, Breeze and Dango can finally be called champions for the first time in their 10 years in the company.
"It's taking us a long time to [become champions] and just because we beat Imperium once doesn't mean we can do it twice," Breeze told Newsweek on Tuesday. "We have to prove that we can beat them again."
Both Breeze and Dango had separate stints in NXT before arriving on the main roster as singles stars. The duo would become the tag team known as Breezango in 2016 where their comedy stylings and viral backstage sketches called the Fashion Files would garner them praise from WWE fans.
However, there was a ceiling to their act and they would never capture tag team gold even at their peak of popularity. After Fandango was injured in 2018, Tyler Breeze would be off of television until he re-appeared on NXT in early 2019.
After a short singles run, Fandango would return from injury on the black and gold brand later that year but suffer another injury that would sideline him until 2020. The reunited duo with their new, more serious, in-ring attitude, would climb the ranks of the NXT Tag Team division and eventually win the gold.
"Imperium doesn't enjoy a lot of the funny stuff, they think we make a mockery of wrestling," Breeze said. "We found our balance and we're going to show them that we can make you laugh, but also why we're the NXT Tag Team champions."
Newsweek caught up with one half of the NXT Tag Team Champions ahead of their rematch against Imperium this Wednesday to talk about their journey, revival on NXT and the state of tag team wrestling in WWE.
Note: This interview has been lightly edited for clarity and length.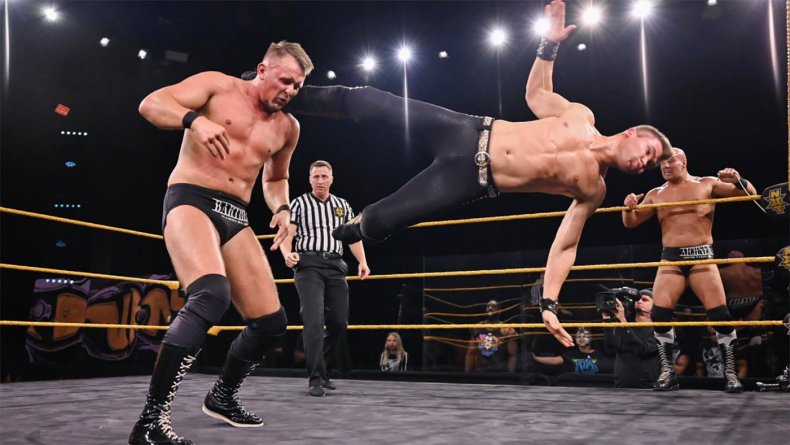 You've been in the WWE for quite some time. How does it feel to finally hold gold?
It's kind of a foreign feeling for me. Like you said it's been about 10 years now that I've been in WWE so the fact that we got to where all WWE superstars want to be has been worth it.
If you've been a fan of mine for a long time, you've been watching, you know the stories, you know the ups and downs and you've watched as I've gone from NXT up to RAW, Smackdown back to NXT. Everybody's been along for the ride so it's kind of very cool where me and Dango have been a tag team for five years and to finally get to that point where we [won gold] and it's cool because it doesn't feel like it's just us it feels like there's a whole group of people that said, "yes, they did."
It seems a lot more like a group effort than just me and Dango so the fact that we're finally here and we're finally NXT champions is a very sweet feeling and it makes us excited to just do more and more and more.
When Fandango arrived in NXT, you already made your return. Was that decision his or did you convince him to come to the black and gold brand?
it was a little bit of both because initially he got injured and he needed surgery on his shoulder so he was out and then he ended up being out longer than expected. I think when they went in for the surgery, there were a couple more things that popped up so he ended up being out a lot longer and I was just kind of on my own [on the main roster] and not really doing a lot and I thought "I can do more, I want to do more." So I actually asked about going to NXT and saying, "hey, I'm not really doing much here on RAW or Smackdown, is it possible for me to go to NXT and do some stuff there because I think I could have some fun."
It's a whole new roster basically [from when I was there] so I think I can have a blast down there and put me on 205 Live too. Give me anything that I can do if you don't need me on RAW or Smackdown right now then let me go somewhere else and try.
So I went down [to NXT] and started doing my thing and all of a sudden it was kind of time for Dango to come back and we went, "okay what are we gonna do here? Do I now go back up to RAW or Smackdown and come back as a tag team, what are we gonna do?"
Fandango was a part of the original NXT when it was more of a game show and he'd never been a part of what NXT turned into so I just said, "look man like this can be very exciting and you have not experienced this before" and he said okay, let's try and see.
When he came back with his original return [in 2019] and we went back to the locker room he went, "man, that's the best reaction I've ever gotten. That was a blast" and I said, "that's how it is down here man, we have a lot of fun." The crowd is so different it's very interactive and they love like surprises and returns and they love to give you everything they have and it makes us want to give them everything we have so he was very pumped up as soon as he had his first appearance and he was like, yep we're sticking around here for a while so now obviously we're gonna stick around a little longer because we're the champs.
So there was a possibility of you going back to RAW or SmackDown?
The thing with WWE in general is anything can happen from week to week. So I could be on NXT this week and then I could be on RAW or Smackdown next week, it's just kind of what happens.
You're not written in stone anywhere you can kind of move around because the company has so many different avenues that they can use you in. I could be used on 205 Live I can be used in NXT I could be on NXT UK I could be on RAW, Smackdown there's so many different avenues that if they go "hey, I think you'd be a really good fit here" even just coming in for a couple weeks or month or whatever it's very possible that you can show up anywhere.
That's also what makes the programming exciting because you don't know who's going to be on which brand from week to week. So when Dango was ready to return it was one of those things that we went, what's the best course of action here? What should we do? And at the time I was very much pushing for NXT just because I know we weren't gaining a lot of traction on RAW or Smackdown and we needed a break from it so if I get to choose my votes with NXT and Dango said, "cool, I like that" and we tried it out and we stuck around.
When you and Fandango were on the main roster you two were, for lack of a better term, a "comedy act" but on NXT you've gained an edge. How did you find that balance?
With anything you do you have to have a balance so if you get introduced as, let's say, these monsters that are big tough guys and they're beating everybody up that only goes so far. And the same thing goes if you go out there and make everybody laugh. You need to have a mix of things.
We like people that make us laugh and we like to cheer those guys, but if you make people laugh now you got their attention and they're gonna say, "I like this guy, but what else can you do?"
When the bell rings you have to be able to deliver in the ring too, so if you have too much of one thing and not enough of the other the balance is off and that's what we did when we were on Smackdown doing the Fashion Files. People loved us, but we rarely stepped inside the ring and when we did there were usually pretty short and they were not in our favor.
This time we take all of our skills that we've learned and honed over the ten-plus years that we've been with WWE and five years as a team and you find that balance. We're still doing the entrances and you're laughing and you like the music and outfits, but now the bell rings and all of a sudden we're actually getting it done in the ring too and people go "holy crap."
That's what you have to do, you have to be well-rounded otherwise you're not going to be able to hang with the guys who are. In WWE a lot of those guys are very well-rounded, they have what it takes when they have the microphone, when they're all dressed up and have what it takes when the bell rings. So now that we found a balance I think that's the reason why we've become NXT tag champions. It requires that [balance] otherwise the other guys are going to eat you up because they're very good and we have a talented roster.
You spoke about the Fashion Files and we haven't seen them in NXT. Does NXT's format not fit those sketches or is it a decision from you guys?
I think that's the beauty of WWE and in sports entertainment in general that anything can work so I think NXT would be a perfect place for Fashion Files. I think RAW would be a perfect place for the Fashion Files, it's one of those things that if you use it properly and you write it into a show it will work because it worked for eight months, and it's not one of those things that we're just saying it worked.
The whole reason [Fashion Files] survived was because of social media and on a show where you have so much talent when you're the number one trending topic on Smackdown people take notice and we're asked to do it another week and another and eight months later we're still alive because everybody's saying "give us another Fashion Files." That tells you that in any scenario it's going to work so I know myself and Dango would both love for it to come back in the right scenario with the right writing and if it works for what we're doing I guarantee people will go "man, that was really cool. I miss that."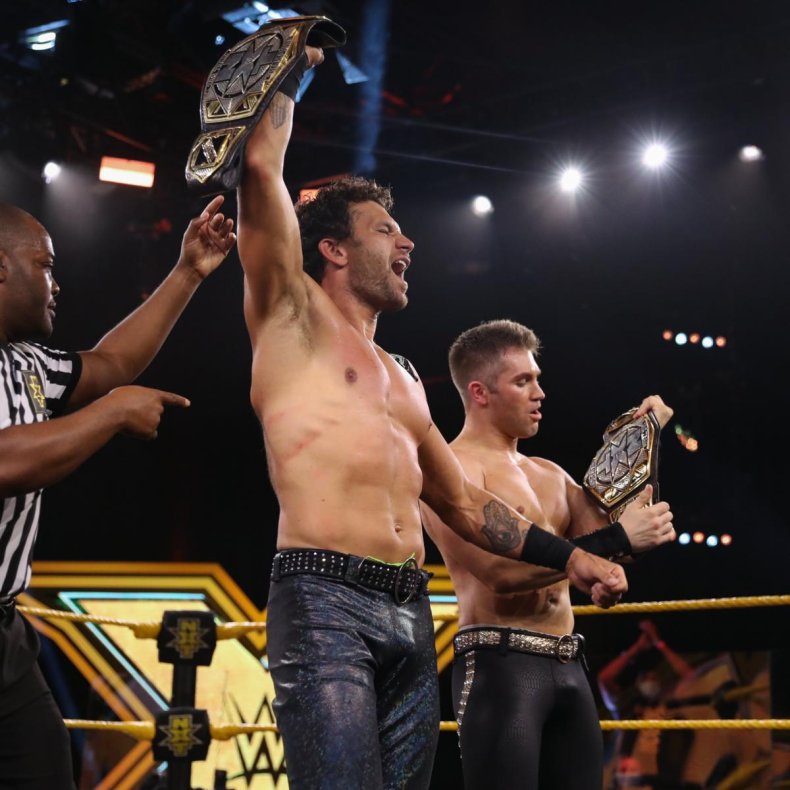 There are critics of WWE's handling of tag team wrestling and how there doesn't seem to be much focus on that division. What are your thoughts?
Wrestling in general goes in phases. I think it's just one of those things, and in today's society everybody has an opinion and everybody feels their opinion should be heard and it's very important, so I think it goes in phases.
Everybody goes "there's no tag teams'' so all of a sudden there'll be a bunch of tag teams come out of nowhere and then all of a sudden you'll switch to "there's too many tag teams" so then all the tag teams will go away. We want everybody's opinions we want feedback, but at the same time if there's only a couple tag teams it doesn't mean that tag team wrestling is dead or it's struggling it just means there's been a couple things that have happened and now we're waiting for more teams to kind of emerge and become a thing, which that's just the natural course of wrestling in general.
I think that WWE tag team wrestling is very strong and it has been for years. I think even back when we were on Smackdown and there were teams like Gable and Jordan and New Day and The Usos and everybody else. You have all this talent it's just a matter of when you're gonna get to see it and when it's going to be on a show.
Even now you got a guy like Cesaro who you can toss with literally any partner and they're going to be an extremely talented tag team and he's proven it time after time. It's just a matter of what we want to do, when we want to do it and it's just a matter of patience of when you're going to see it.
Cesaro and Shinsuke Nakamura took on The Street Profits in a champion vs champion match this week. There's been a lot of chatter from fans who want to see the tag titles unified. As a tag team champion yourself, would you want to see one pair of tag titles floating between all three brands?
There are times like Survivor Series last year when RAW, SmackDown were coming to NXT and vice-versa where everybody was kind of intermingling, but that also is why things like that are special because we don't overdo it, we don't do it all the time.
If every week you saw RAW and Smackdown guys on NXT and NXT guys on RAW and Smackdown everyone will go, "oh we should have separate brands again." It's one of those things where I want to keep it special. You do it at certain times at the right time and that's when it's exciting. We have a lot of options and opportunities, fans just have to be patient.
Breezango defends the NXT Tag Team Championships against Imperium Wednesday starting at 8 p.m. EDT on USA Network.