Karrion Kross became the 18th different wrestler to win the NXT Championship when he defeated Keith Lee at Takeover: XXX on August 22.
The celebration was short-lived, however, as reports from Takeover stated that Kross separated his shoulder during the match. The extent of the injury wasn't immediately known, but Kross appeared on the next episode of NXT a few days later and relinquished the title, indicating that he'll be gone for an extended period of time.
"Karrion was someone who came into NXT and was really making a name for himself and to see him get that opportunity at Takeover: XXX and to see what happened... It echoed, almost identical, to my story at SummerSlam and I felt instant sadness," Bálor told Newsweek on Monday.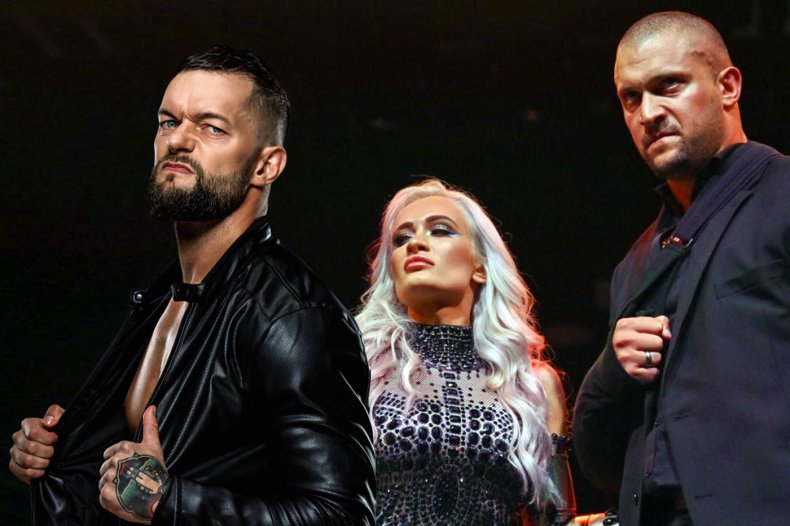 Fans of WWE may remember what happened to Finn Bálor in 2016 when he defeated Seth Rollins to become the first-ever Universal Champion at SummerSlam. During the match, Balor separated his own shoulder, tearing his labrum in the process, but finished the match and pinned Rollins. A day later, he had to relinquish the title after learning he needed surgery.
"It's very hard to explain. I knew exactly how he felt. I knew he was gonna be devastated, but I knew that he would get through it," Bálor said. "I reached out to him [after it happened], and we spoke again at the taping last week. Obviously at the time, it feels like the worst thing that can happen to you, but now, looking back, [my injury] was probably one of the best things that had happened to me."
Bálor underwent surgery and was out of action for about eight months. In that time, he told Newsweek, he went through some personal growth and learned how the wrestling business works. He also said that the time away from wrestling let him "take stock" of the accomplishments that he had achieved up to that point in his career.
"When we're chasing these goals, we don't really stop halfway up the mountain to look back down to the view, and I've been chasing that goal for 16 years at the time," Bálor said. "You work your whole life to get to that title, so you get it and you've achieved your goal. So when I got hurt, in a way, it's kind of poetic in the sense that you have to go back and reset, and start from the bottom again, start that climb again."
Bálor explained that the road back from this sort of injury will be tough for Kross not just physically, but mentally. He said that in the first few weeks you get caught up in the idea that you have to get healthy as soon as possible, so your focus shifts from being 100 percent committed to what you're doing in the ring to rehab. Then you hit that last hurdle.
"It's not until you're at 95 percent and you're waiting for that call to say you're cleared by the doctors and you're gonna get back into the ring. That's the time that I feel becomes hard," Bálor said. "When you know you're healthy, your shoulder is good and you start to question yourself right when you're about to make that comeback."
Getting your feet back, figuring out your positioning in the ring, regaining your stamina, ring awareness, confidence—everything that comes "naturally" to wrestlers after wrestling every night, you may have to re-learn, which took Bálor some time.
Although there were plenty of hardships, Bálor said he believes it made him better and that he feels the same will happen during Kross' road to recovery.
"For [Kross], I think it's gonna be the same. It's gonna be something that helps him grow not only as a performer in the ring, but as a person," Bálor said. "I think he's gonna come back better than ever and we had a good chat last Wednesday. He's a great guy, and I think he's gonna be fine. It's a slightly different injury, but I think he'll be back a little sooner than I did. Hopefully he'll come back a hundred percent and better than ever."
Finn Bálor will take on Adam Cole for the NXT Championship next Tuesday, starting at 8 p.m. EDT on USA Network.
About the writer
Phillip Martinez is a game and culture reporter for Newsweek. Prior to joining Newsweek in 2018, he was a reporter and editor for iDigitalTimes and Player.One. A Bronx native, he graduated with his Bachelor's degree in Journalism from St. John's University in 2010. An avid Nintendo fan and wrestling mark, he's always looking to become a Pokémon Master while fantasy booking this year's WrestleMania. You can contact him at p.martinez@newsweek.com