Three-hundred and thirty-five days. That's how long it's been since WWE superstar Finn Bálor made his shocking return last October to NXT, after three years on the main roster.
With a different attitude and more aggressive in-ring style unlike anything that fans have seen before in his WWE work, Bálor has reinvigorated his wrestling career these past 11 months, putting on fresh match-ups with current NXT stars like Johnny Gargano and Adam Cole, and even having a stint in NXT UK.
Now, a new era in NXT is about to begin, following the unfortunate injury sustained by Karrion Kross at Takeover: XXX. Kross relinquished the NXT Championship last week due to a separated shoulder and a new champion will be crowned Tuesday night in a Fatal Four-Way 60-minute Iron Man match.
The four competitors are all NXT legends who have held the title at some point in the brand's history.
Bálor was once the longest-reigning NXT Champion when he held it for 292 days from 2015 into 2016, and will go up against Cole, Gargano and Tommaso Ciampa.
"The first time [I was champion], I was on the rise in my career and it was a building block for me to say 'Hey, I'm here now,'" Bálor told Newsweek on Monday. "This time, it's more to prove to myself that I made the right decision to return to NXT, and when I take that title it's gonna be very hard to take it off me. I was 292 days as champion before, so I'm gonna try and break that."
Newsweek caught up with the former Universal and NXT Champion in advance of the Fatal Four-Way Iron Man Match to determine the new NXT Champion. This interview has been edited and condensed for the sake of clarity and length.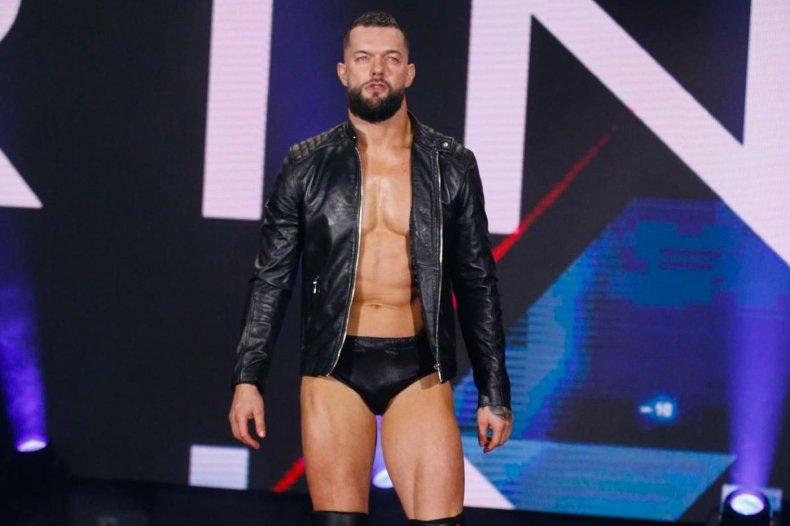 It's been about 11 months since you made your return to NXT. Looking back, how do you view your time in NXT so far?
It's definitely been a reset for me. I feel rejuvenated, refreshed and I'm feeling better than I ever have in the ring in regards to stamina, performance and confidence. So I think it's all come together. It was definitely the right move for me [to go back to NXT], and I'm feeling very confident going into this one-hour iron man match.
You say you're rejuvenated, how so? Are you talking about the grueling travel schedule?
The traveling has had a huge effect on it. The world is in a bad place with COVID, and the fact that we've been based in Florida for the last couple months as a result, I think it's helped a lot of performers with regards to physical conditioning and shape and just help them to heal up and not be so exhausted.
Something that a lot of people don't know, but a lot of the matches that you see on TV with me, whether it's with [Matt] Riddle, whether it's Damian Priest, Gargano or Ciampa, all those matches were the first time I've locked up with them.
There's very much a feeling of not only excitement, but of that "virgin lockup" and the feeling of getting to know someone right there, in the moment, on live TV. There's something very beautiful in that. You can't ever get complacent, you can't rest on what you know, you don't have any kind of concept of their body language, their movements, their nuances. Getting to learn that on live TV is something that really made me feel that it's been a very energetic 11 months.
Why didn't you get those excited feelings on the main roster?
I think a lot of it has to do with the schedule. We were touring heavily with NXT and with RAW and SmackDown. With NXT in my first run, we were all at the Performance Center every day. You get to really know [the other wrestlers] on a personal level, and on RAW and SmackDown, you worked four nights a week before you ever locked up with someone on TV.
You're having live event matches all around the country against one person, so you're very familiar with their movements and what they do on the ring.
I watched all these NXT superstars [today] and I admire them and have the utmost respect for all of them, but going in there with someone, there's obviously a lot of expectations on the match. If it's Finn Bálor returning to NXT versus Matt Riddle and we have absolutely never met, we're locking up for the first time on a Takeover with a lot of expectations, a lot of pressure, a lot of eyes on us, it's that kind of pressure that makes you feel alive.
When the red light is on, that's when you come into your own and you sink or swim, and it's been a real sink-or-swim mentality every night that I've been in the ring in NXT so far.
Is there anyone you've faced since your NXT return that really had your blood pumping with excitement?
The match with Gargano at Takeover: Portland, that was one where I felt like as soon as we locked up I felt like we got something here. I have the ultimate respect for Gargano in and out of the arena. I think he brings it every single night, he loves pro wrestling, he loves the business, he's passionate, he transcends what he does in the ring and the people in the stands can feel it. That first lockup with him, that was when I felt, "Oh yeah, now we're cooking."
How has NXT changed since your first run?
My first run in NXT, we were doing four tapings a night once a month, so obviously those nights were hectic. We went in on a Wednesday night to the NXT arena with four weeks of TV to shoot in one night. You know that's gonna be a busy night.
I think my first TV taping... bear in mind, I just came from Japan where there's no real, in a sense, TV-slash-live event matches. It's basically go out there and you do it. If you're shooting for TV or not, you're doing the same thing.
WWE's very very different. That first four-show block of taping I had three matches and one in-ring promo. Bear in mind that I never performed the WWE style or worked for time, for commercial breaks, so that was a very much trial by fire with regards to having to learn fast. I really feel like that's something that kind of over-prepared me for being on RAW and being on SmackDown.
Now, NXT is once a week live, it's a two-hour show as opposed to a one-hour show. I feel like the styles have changed a lot, but with regards to the core values of NXT they are the same. Everyone's working together, there's great direction, there's very much a mentality of everyone wants to go out there and do better than everyone else.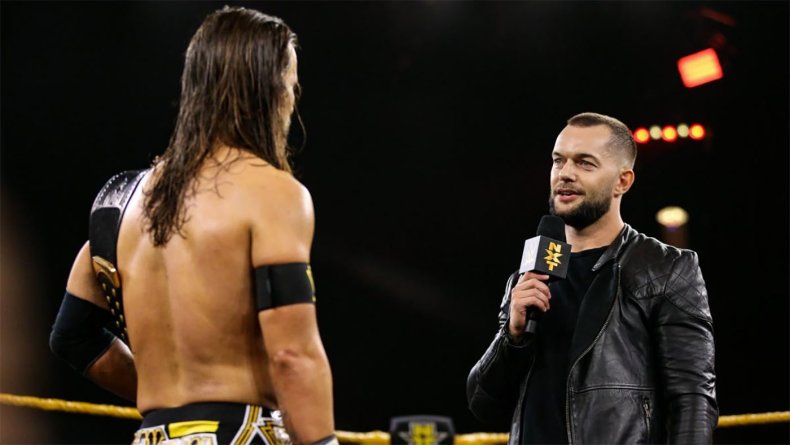 Not only has NXT changed, but your character has since your return. What brought about that change?
I don't want to say it was a new character, it was just more me and it wasn't a return to NXT, it was a return to being who I am and being true to myself.
I feel like maybe on RAW and SmackDown I was guilty of trying to please too many people and I'm not pleased myself. I feel like when I went to NXT for my second run, I wanted to first and foremost be true to myself. It's not necessarily a character change, it's not necessarily an attitude change, it's just a reflection of how I'm feeling in that moment. Sometimes it might come across as a baby face, sometimes it comes across as a heel, but it's not a character, it's just the evolution of me as a human being: 39 years old, 20 years in this business and kind of adapting to the situation and putting my personal feelings into that moment.
The character [of Finn Bálor] will continue to adapt and will continue to change and won't feel one-dimensional, as what we've seen on RAW and SmackDown. Hopefully that can be something that can keep people entertained.
You're going up against three of NXT's legends on Tuesday. What does it mean to get in the ring with Cole, Ciampa and Gargano?
All four of us have helped build NXT in our own way at different stages of our careers. I obviously have a ton of respect for all three of those guys for what they've done. The Gargano and Ciampa feud-slash-friendship has been something that's evolved over and over for four or five years. Adam Cole is someone who I believe is probably one of the most polished performers in the business right now. Someone who I have the absolute ultimate respect for.
They're the three guys that I love being in the ring with. Three guys that push me, three guys that I also feel very comfortable with in the ring, with regards to what I can do and how I can adapt, but being in there [with] all three at the same time, it's gonna be a little different.
If it was an Iron Man match with one, you know, it's very easy to prepare for each individual, but for all three, it's gonna be a little tricky. It's gonna be exciting, it's gonna be a test. The longest I've ever been in the ring up to this point of my career was the Royal Rumble performance when I done, like, 58 minutes, so it's definitely gotta be a test but as I said earlier, I feel better than ever when it comes to my physical conditioning, my wind, so I think I'll be okay.
Finn Bálor will take on Johnny Gargano, Adam Cole and Tomasso Ciampa for the NXT Championship Tuesday on NXT starting at 8 p.m. EDT on USA Network.
Uncommon Knowledge
Newsweek is committed to challenging conventional wisdom and finding connections in the search for common ground.
Newsweek is committed to challenging conventional wisdom and finding connections in the search for common ground.
About the writer
Phillip Martinez is a game and culture reporter for Newsweek. Prior to joining Newsweek in 2018, he was a reporter and editor for iDigitalTimes and Player.One. A Bronx native, he graduated with his Bachelor's degree in Journalism from St. John's University in 2010. An avid Nintendo fan and wrestling mark, he's always looking to become a Pokémon Master while fantasy booking this year's WrestleMania. You can contact him at p.martinez@newsweek.com