Super Typhoon Hagibis Throttles Japan, Leaving at Least 33 Dead and More Than a Dozen Missing
At least 33 people have died and more than a dozen gone missing in Japan after Typhoon Hagibis —reportedly one of the most powerful storms to hit the area since the 1950s—tore across the country this weekend.
Hagibis is classified as a "super typhoon" — that is, a tropical cyclone that is equivalent to a category 4 or 5 hurricane, according to the National Oceanic and Atmospheric Administration (NOAA). It has "maximum sustained winds of at least 150 miles per hour."
The storm hit Japan's main island, Honshu, on which Tokyo is located, around 7 p.m. on Saturday, according to the Associated Press. By Sunday morning, the storm had mostly spun out to sea, but had left a wide swath of destruction in its wake.
Torrential rainfall from the storm devastated some communities in its wake, causing deadly landslides as well as flooding from rivers. The Financial Times reported that Japan's Fire and Disaster Management Agency issued evacuation advisories and orders to 8 million people. Further, around 425,000 homes lost power, and a lower number were left without access to clean water.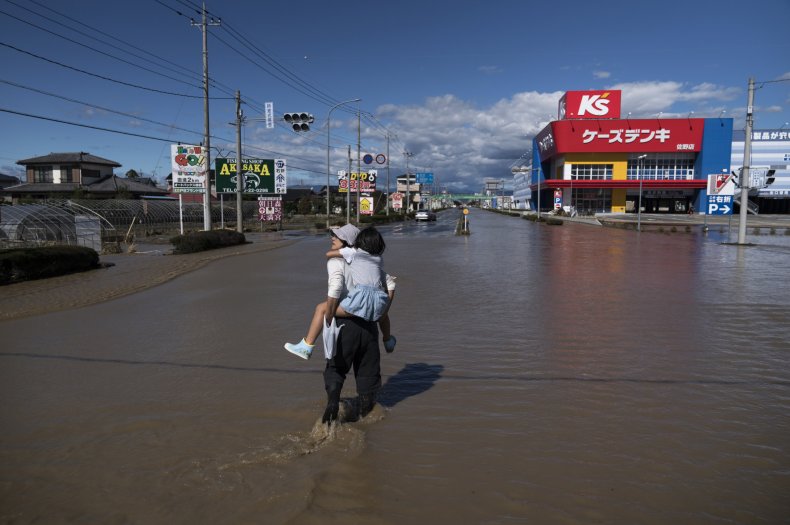 The government deployed 27,000 military service members to assist in rescue operations. This included some who flew helicopters to rescue people stranded on their roofs in municipalities that had experienced severe flooding like Nagano, according to the AP.
Authorities and meteorologists had been aware of the danger Hagibis posed for Japan for at least a week. After the storm throttled the U.S. territories of Guam and the Northern Mariana Islands, it was clear that Hagibis would likely make contact with Japan.
Japanese authorities reportedly issued "unusually strong" warnings to the public ahead of the storm, according to the Financial Times. They compared Hagibis directly to another typhoon that affected Tokyo in 1958 and caused the deaths of 1200 people.
The warnings spurred people living in areas projected to be hit by the storm to buy food and tape to protect their windows en masse, according to the Financial Times. Some entire streets in Tokyo were left "virtually empty" as convenience stores and restaurants closed early. By Sunday, the Tokyo area had mostly returned to normal as transportation services were reinstated and residents began to return.
Prime Minister Shinzo Abe held an emergency meeting in which he offered condolences and reassurance to residents affected by the storm, according to the Guardian.
"I extend my condolences to all those who lost their lives and offer my sympathies to all those impacted," he said. "With respect to blackouts, water outage and suspension of transportation services, we will do our utmost to bring about a swift recovery. We ask the public to stay vigilant in case of landslides and other hazards."