Did Tyre Nichols Have a Criminal Record? What We Know
On January 26 five former Memphis police officers were charged with second-degree murder in relation to the death of 29-year-old Tyre Nichols.
Nichols was stopped on January 7 on suspicion of "reckless driving, in Memphis, according to an earlier statement from the police.
According to authorities, after he was stopped a confrontation ensued that resulted in Nichols fleeing on foot. He was then apprehended again by the five officers resulting in a second confrontation. The police said Nichols complained of having "shortness of breath" and was taken to the hospital in a critical condition. He died of his injuries on January 10.
Memphis Police Chief Cerelyn Davis has since cast doubt on the reasoning for the stop due to a lack of evidence. Davis spoke to CNN's Don Lemon on Friday morning and said "We have not been able to substantiate reckless driving."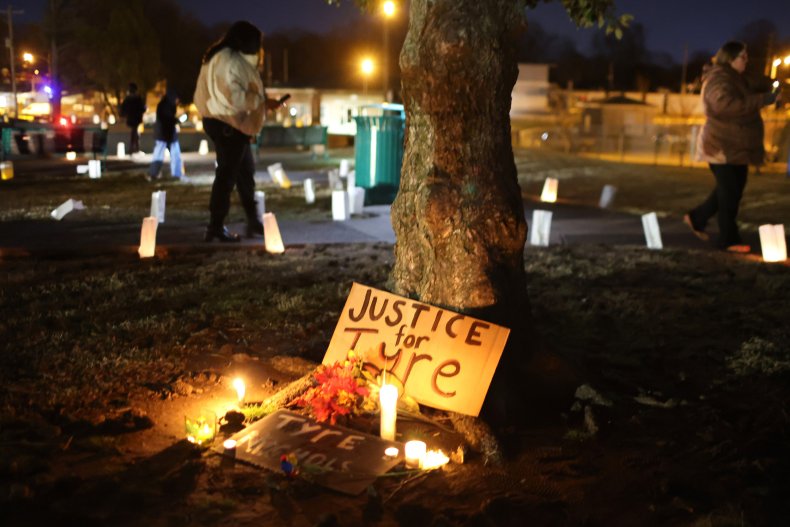 Davis did clarify that the fact they found no evidence doesn't necessarily mean that the reckless driving claim is incorrect, however.
Due to the unclear series of events that resulted in Nicholas' death, there has been a greater look into his past and whether he has previously had any contact with the Memphis police department.
Newsweek has not been able to confirm Nichols had a criminal record, had previously had any contact with the Memphis police department or had any contact with the officers who stopped him. Newsweek contacted both the Memphis Police Department and the Tennessee Bureau of Investigation.
At the time of writing, there is no evidence to suggest that Nichols has any criminal record of any kind.
The Memphis Police Department said it will be releasing the body camera footage of the traffic stop on Friday afternoon.
The five officers involved in the incident—Tadarrius Bean, Demetrius Haley, Emmitt Martin III, Desmond Mills Jr. and Justin Smith—were also condemned by Davis.
Speaking in a YouTube Video, she said: "This is not just a professional failing. This is a failing of basic humanity toward another individual.
"This incident was heinous, reckless, and inhumane, and in the vein of transparency, when the video is released in the coming days, you will see this for yourselves."
Following the announcement of the charges against the officers, President Joe Biden took to Twitter to comment on the incident.
He tweeted: "Jill and I extend our hearts to the family of Tyre Nichols - they deserve a swift, full and transparent investigation.
"Tyre's death is a painful reminder that we must do more to ensure that our justice system lives up to the promise of fairness and dignity for all."